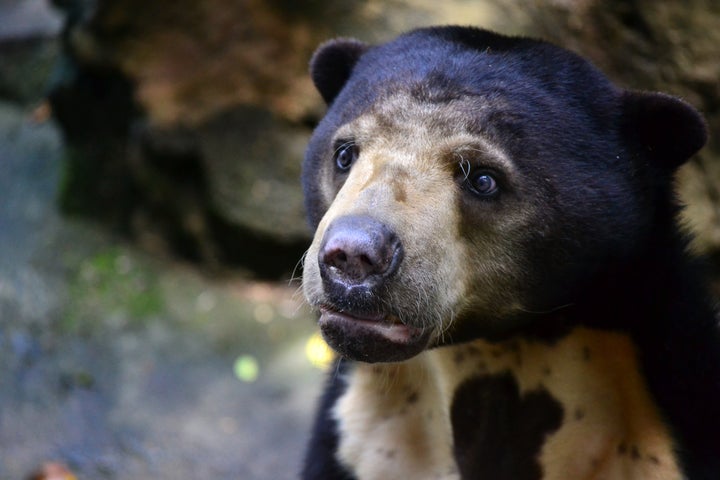 A zoo in China has been forced to publicly debunk online rumours that the animals in its sun bear enclosure weren't actually disguised humans.
Yes, Hangzhou Zoo in China's Zhejiang province addressed the rampant speculation over the weekend, which was sparked by a viral video of a black sun bear standing on its hind legs to look at the surrounding crowds.
In the clip, the bear seems to stare at the crowds while standing just like a human, and almost waving at the public. It also seems to have folds of skin around its bottom, which could be interpreted as a costume, while it appeared comically unable to catch a snack thrown into its enclosure.
The Chinese newspaper Hangzhou Daily suggested: "Because of the way they stand, some people online question whether they are 'humans in disguise'."
However, on Saturday, zookeepers released a statement from the perspective of one of the bears, Angela.
"Some people think I stand like a person. It seems you don't understand me very well," the post read.
"When it comes to bears, the first thing that comes to mind is a huge figure and amazing power … But not all bears are behemoths and danger personified. We Malayan bears are petite, the smallest bear in the world."
These bears are the size of large dogs, coming up to around 1.3m tall when standing on their hind legs. For comparison, their more famous, grizzly cousins stand at around 2.8m.
The Guardian also reported that an audio recording was circulating on WeChat, a Chinese instant messaging platform, where the zoo said the animal was real and that the public would not be deceived by a state-run facility.
Zookeepers pointed out the 40C summer means a human in a fake bear suit "would not last more than a few minute before collapsing".
Reporters were invited to visit the bears on Monday, although an employee at the zoo declined to talk to Associated Press reporters over the phone.
Other Chinese zoos have been accused of trying to trick observers over animal enclosures before.
A golden retriever was in an enclosure for an African lion in a viral video back in 2021, and in 2019 zoo workers in Changzhou admitted they were wearing gorilla costumes in gorilla enclosures, later calling it an April Fool's Day stunt.