In the footage, filmed by another rider and shared with Guardian, the cyclist is seen flying through the air after Chris Grayling opens the door of his ministerial car just outside Westminster on 12 October.
He quickly attends to the fallen cyclist, identified as Jaiqi Liu and appears to ask if he is OK as he sits on the ground.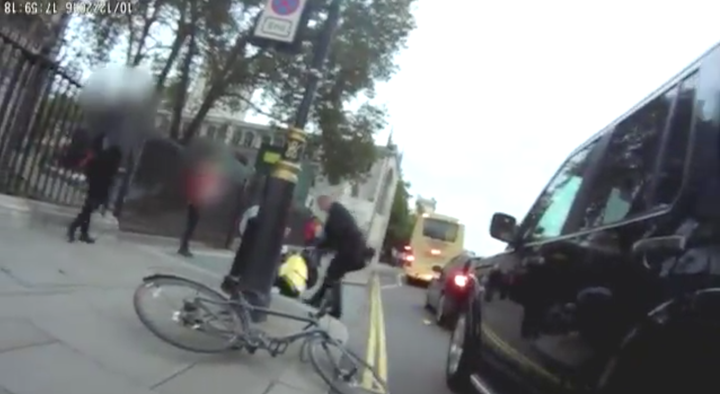 Liu, 35, said: "One thing he did say was that I was cycling too fast, which was not true.
"That made me really upset. He made out it was my fault.
"It's my first and only accident and it came out of the blue. Definitely he should stay a bit longer to check on me. But maybe he had something more important than this to rush to."
Liu, who works at the World Bank, said that he was in shock after the accident and only became aware later of pain in his back, legs and head.
He said the incident caused damage to his bike's wheel, brakes, mudguard and lights.
Liu said he had informed the police in order to ensure the incident was logged, but did not expect it to be investigated. He did not recognise Grayling at the time, reports the Press Association.
The footage came from a camera mounted on the handlebars of another cyclist, Laurence de Hoest.
Speaking about the incident, he said: "I ride into London every day and I've had a couple of close calls, so I record everything.
"This is the minister of transport and here he is swinging his door out."
He added that the incident, which occurred on a stretch of road 20 metres before a cycle lane is restored, showed that "your cycle lane is only as good as your weakest link. We need to make sure they are properly connected".
The Transport Secretary's spokesman said: "This was an unfortunate accident.
"Grayling got out of the car, checked the cyclist was OK and waited until he was back on his feet. Grayling spoke to the cyclist and apologised; they shook hands before he left."
Conservative MP Nadine Dorries came to Grayling's defence on Twitter, saying: "The advice to cyclists re undertaking when filtering is very clear. I'm amazed that so many cyclists do that. So aware of it all along the Embankment."
Popular in the Community