Lights, carols, mince pies, mulled wine and a guest appearance from Santa – it's everything you could possibly want from a Christmas pop-up, a full-on sensory overload and, in my opinion, there's no better way to kick off the festive season.
I became a Christmas at Kew convert last year after attending opening night and feeling overwhelmed at just how beautiful all of the light displays were. It was completely and utterly magical. This year, returning for a second time, I was a little nervous. It was like coming back to the scene of a great first date and I wanted to know: would the spark still be there?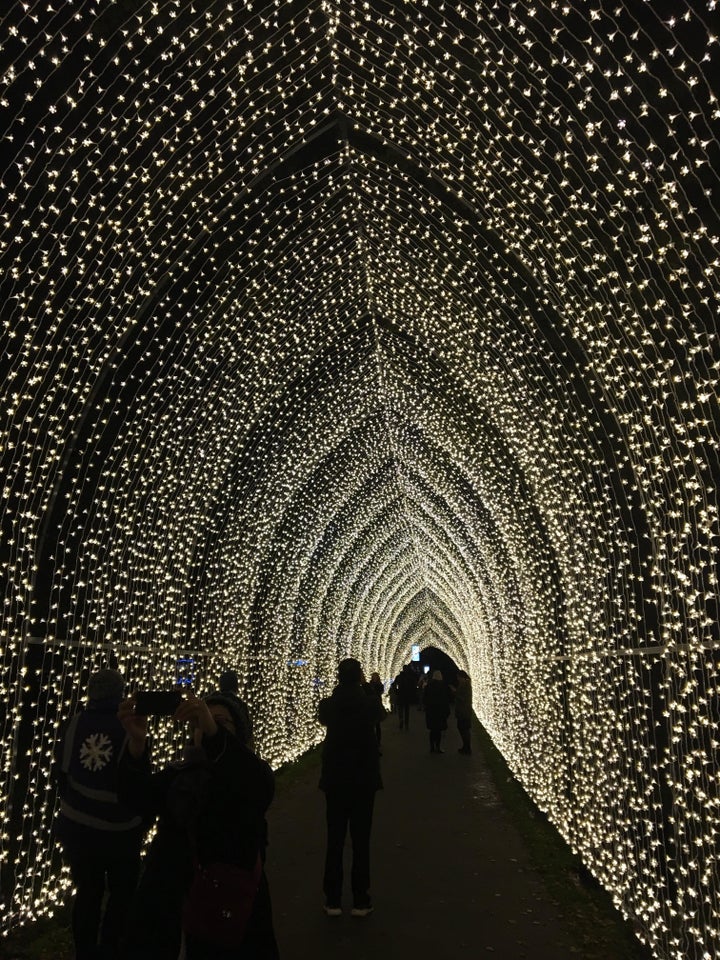 Walking through the ticket barriers you're met by the smell of spiced hot drinks and the distant murmurings of Christmas tunes, coming from the brightly lit wreath arches which mark the start of the trail. You can grab yourself a mulled wine or mince pie to kick things off but a word of warning: it will set you back a pretty penny (note for those who go: take cash).
One of the first light installations you come across is a sea of lights on the ground which flash in time to Christmas music. It's a variation on last year which featured rows upon rows of larger globe lights. It's different, but still mesmerising.
The overall Kew experience lasts for around a couple of hours, depending on whether you stop off for hot chocolate, toasted marshmallows or other treats along the way.
The first section is a little disorientating, with disco balls lighting up the floor, making you feel like you're drunk (even though you're only half a mulled wine in), followed by a laser beam forest complete with fake mist machines which, again, make you feel totally out of it.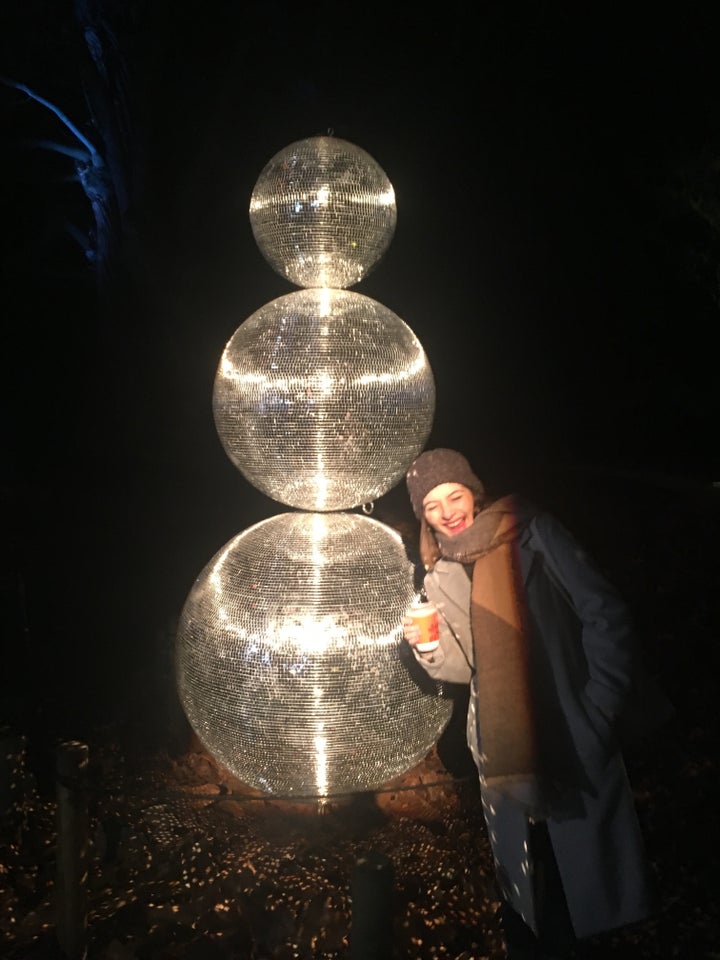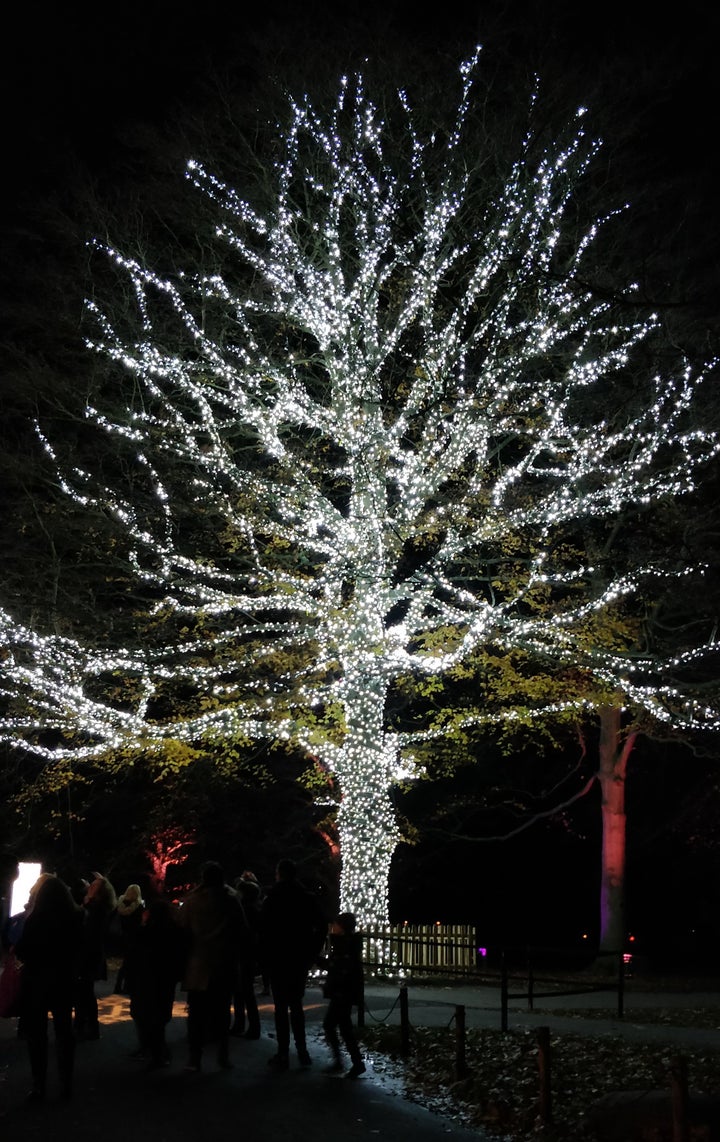 There are over a million twinkling pea-lights and thousands of laser beams in operation. But after all of this sensory overload at the start you end up suddenly at a calming lake, where origami boats float on the water and change colour in time with the music.
It's soothing, it's magical, there's an occasional interlude from a hooting moorhen (a reminder that Kew's inhabitants probably aren't that happy about our arrival) – and as you step over the bridge, feeling a bit like you've stepped right into a dream, things begin to ramp up a notch.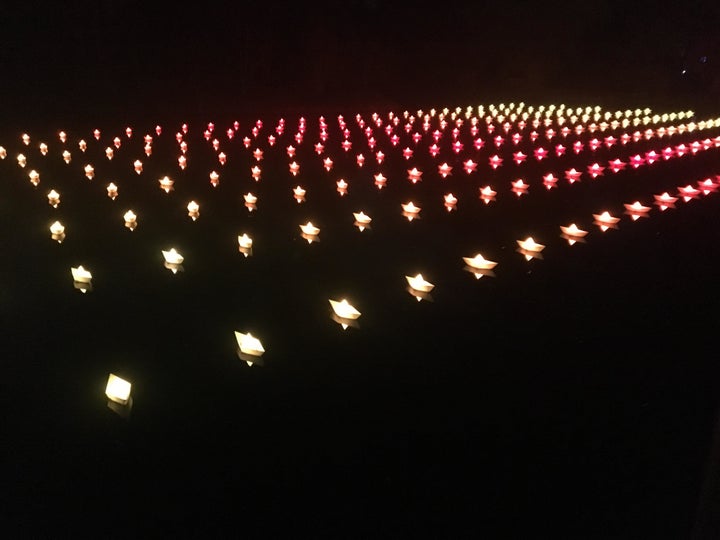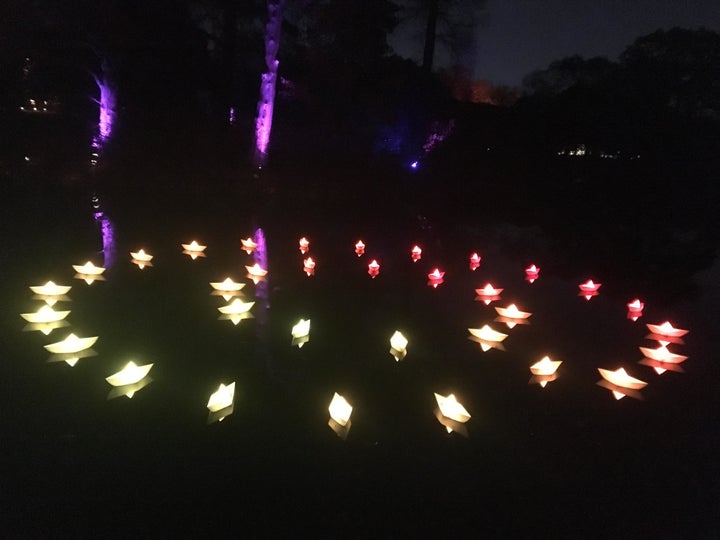 Onwards, and there are firework trees, where a speaker belts out a tune about Christmas in a theatrical voice, reminiscent of a scene from Phantom of the Opera. While all that's going on, lights shoot up and down the trees with firework sound effects playing in tandem.
Then there's the fire garden – my personal favourite – which is filled with flaming stars that sound like rushing water as they burn bright. The blissful sound and deep red glow is incredibly relaxing (like a spa experience, but minus the towel robe). The smell of burning oil adds to the sensory delight.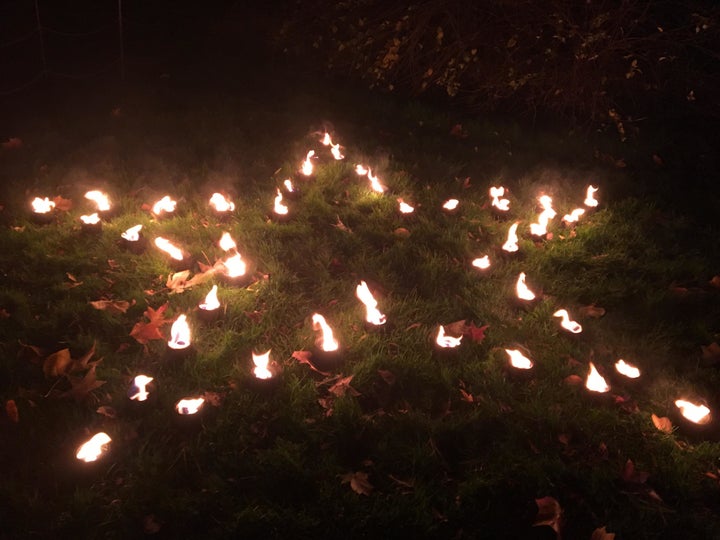 There are tunnels of dangling lights (which, to be fair, can be a bit of a faff to get through – like tangled hair – but fun nonetheless), huge light-up flower structures and a wishing tree where you'll read some pretty poignant notes from others who have visited. One which I read very nearly made me cry – about making someone's final days on this Earth happy, surrounded by loved ones.
An interactive pantomime show sees Santa visit an Ice Queen in her frosty lair (kids and big kids will love it, prepare to do some shouting), there's a fancy Champagne bar for those who have something to celebrate, a play area with a carousel and rides, plenty of food stalls, the list goes on.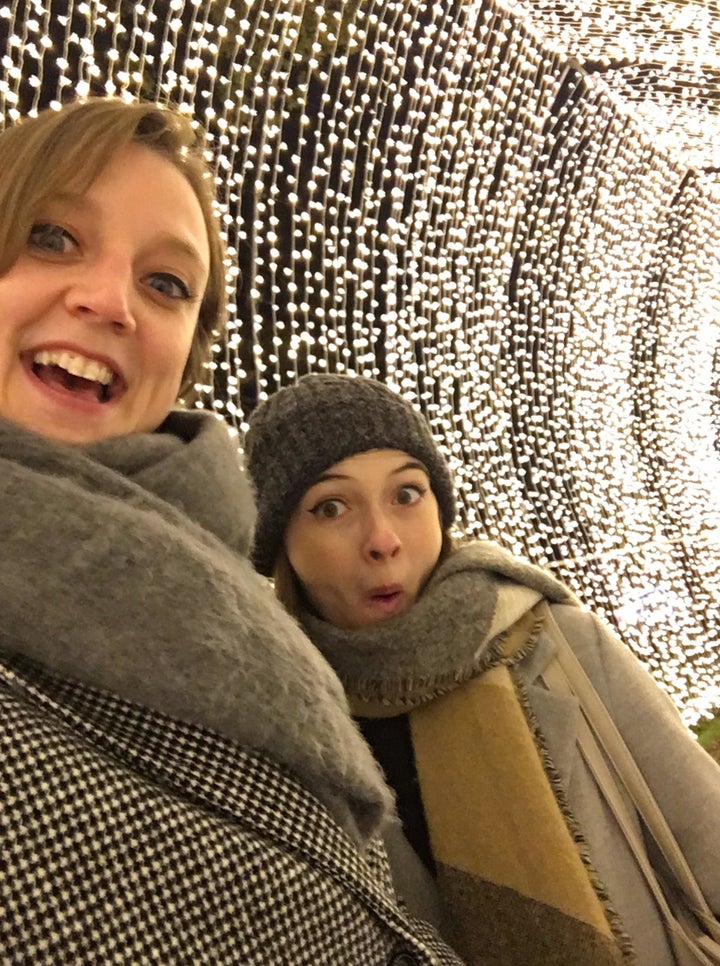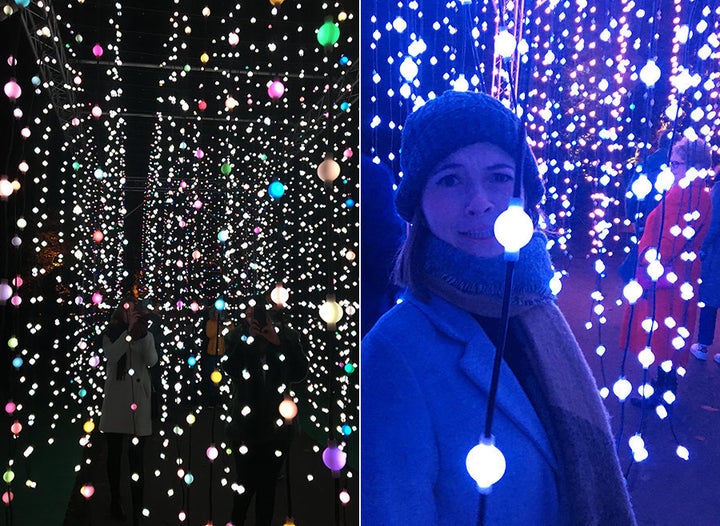 But of course the light display at the end is what we've all there for and it really is the grand finale. All I'm going to say is: it's Frozen-themed (as in the Disney film, not what's in your fridge-freezer). And it's the perfect end to a night that transported me back to my five-year-old self. While the evening isn't cheap (£19.50 for entry), I'd happily spend that to experience it again. Bring on Christmas.
The Christmas trail operates on timed admission between 5pm and 7.40pm. Gardens close at 10pm. Tickets for adults cost £19.50, while kids aged 4-16 get in for £12, and kids under four go free.