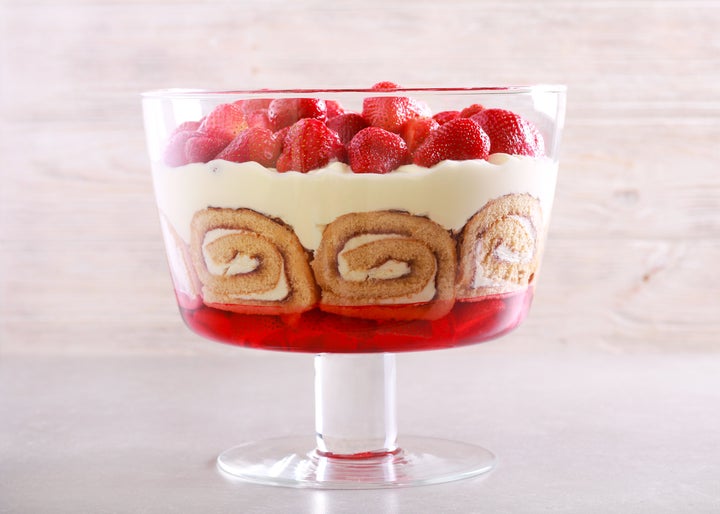 Trifle is back – and we have the stats to prove it.
The classic British retro dessert is apparently people's first choice for a Christmas dessert, according to a recent poll of more than 2,000 people.
Three in five have eaten a trifle in the past five years, and a quarter have made one in the same period, the YouGov research commissioned by Del Monte found. When asked to choose between a traditional Christmas pudding or a trifle, more people chose the trifle (41%) than the pud (33%).
More than half of Brits will be tapping in to their nostalgic sentiment and would consider making, eating or serving 'retro' dishes from their childhood this year.
Unconvinced with this survey – despite someone on the HuffPost UK Life team saying they, too, were having trifle for Christmas pudding this year – we decided to do a poll. Tasha Hinde, our life reporter, asked people to vote between four Christmas desserts. And guess which one won.
So apparently trifle really is back. But considering pud came a close second on the dessert poll, we decided to seek out a recipe that joyously mixes the two.
This recipe comes from A Life Kitchen Christmas, a limited edition cookbook with just 7,000 copies available. Oh, and it's free (you just have to pay postage).
Christmas Pudding Trifle
Ingredients:
500ml ready-made vanilla custard
8 cardamom pods, cracked with the heel of a knife
1 teaspoon ground cinnamon
2 x 150g pots of Moorish chocolate spread
1 large Christmas pudding (about 900g), crumbled
Finely grated zest of 1 orange, to serve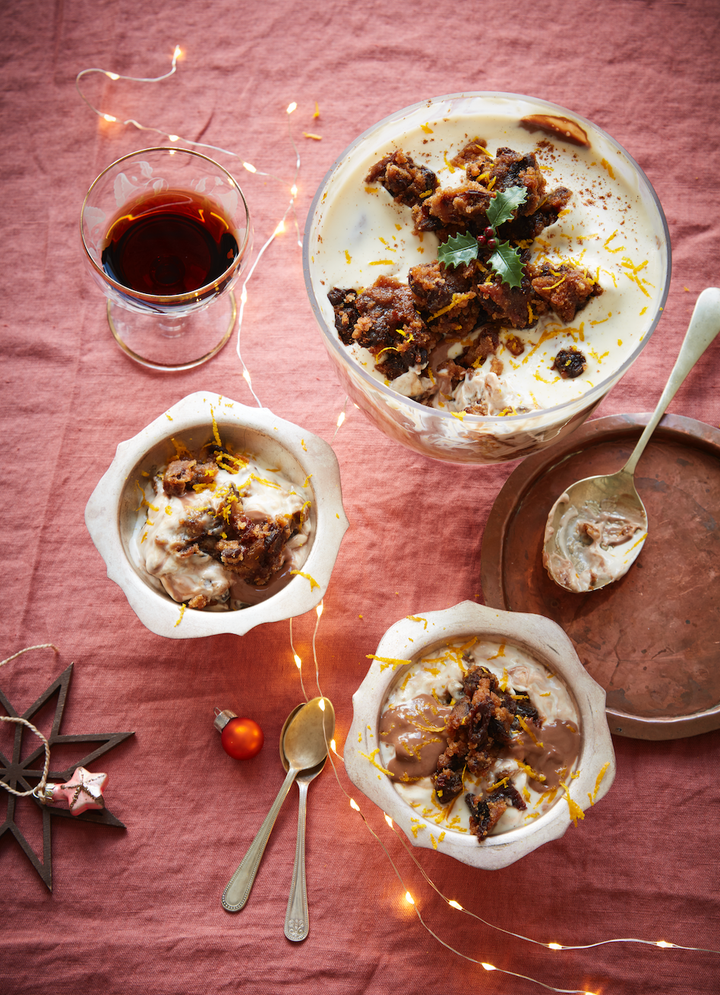 Method:
1. Pour the custard into a medium saucepan and place it on a low heat. Add the cracked cardamom pods to the custard and bring the custard to a simmer. Leave to simmer for seven to nine minutes to infuse. Remove and discard the cardamom pods and set the custard aside to cool.
2. Next, whip the double cream with the sugar and both spices until it holds firm peaks. Be careful not to over-whip as this will make the cream grainy.
3. Spoon the chocolate spread into a bowl and whip it slightly to a spoonable texture. Set aside a large handful of the crumbled Christmas pudding. Use one third of the remaining pudding to form a layer in the bottom of a trifle dish. Top with one third of the cooled cardamom custard, then one third of the spiced cream.
4. Use half the Moorish chocolate spread to create the next layer. Repeat these layers using another third each of the pudding, custard and cream and the remaining half of the chocolate spread.
5. Finally, layer up the remaining thirds of the pudding, custard and cream. Scatter the reserved handful of Christmas pudding into the centre of the trifle, piling it high. (Holly sprig optional, of course – but, well, it is Christmas!). Serve scooped into individual dishes, lavished with a sprinkling of fresh orange zest.
A Life Kitchen Christmas is available to order online now at lifekitchen.co.uk. The cookbook is limited edition, with only 7,000 copies available and is free, bar the £2.95 postage fee. Photography by Clare Winfield - Design by Lawrence Morton - Edited by Judy Barratt - Printed by Hardback Books.