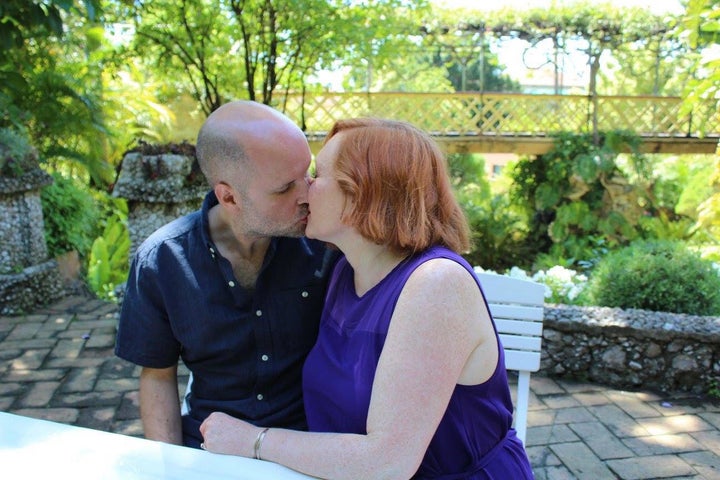 For Joanna Christina and Stephen Anderson, the news that civil partnerships will soon be extended to straight couples in the UK could not be more welcome – or timely.
The couple from Hebden Bridge, West Yorkshire, have been together for 30 years and have three adult children. They have wanted a civil partnership for four years. But time is of the essence.
"Stephen is terminally ill," Christina, 63, told HuffPost UK. "He has aggressive advanced prostate cancer and there is some urgency in us getting it done. It's great to hear that they're talking about it, but we want to know when."
The Government announcement on Tuesday followed a Supreme Court ruling in June which found that couple Charles Keidan and Rebecca Steinfeld were discriminated against by being prevented a civil partnership, which are already permitted to same-sex couples by law.
Since justices ruled that the ban on different-sex couples was "incompatible" with human rights laws, straight couples who don't see marriage as the right fit have been eagerly waiting for the arrangement to be legally extended.
Yet the timescale for government legislation is unknown.
Anderson, 57, has already written to their local MP to ask how long it might take for the announcement to come into force. Marriage was never an option for the couple, who disliked its "patriarchal" origins. Both developed feminist viewpoints at a young age and entered into their relationship with a similar mindset on marriage.
"Things were very different when I was young," said Christina. "I suppose the thing about not wanting to marry started off with the afternoon films, where the high point was that the young woman married and that seemed to be her 'sorted out', which never seemed to be entirely satisfactory.
"It's not until I got older that I realised the power of that. And then Mary Poppins came along and here was this dynamic figure ... The whole thing didn't seem very appealing to me – to be a wife – so I was never, ever going to marry."
"Life is about doing the right thing and pushing things forward, and civil partnerships, I think, are going to be the way ahead"
The pair, who have been a part of the Equal Civil Partnerships campaign, said that even if the Supreme Court ruling and Government announcement had not come through, they still wouldn't have gone down the marriage route. Now, they will be having a "right good do" in the garden, just as soon as they legally can.
"Life is about doing the right thing and pushing things forward and civil partnerships, I think, are going to be the way ahead," Christina said.
Civil partnerships carry the same legal rights as marriage, said Claire Filer, family partner at law firm B P Collins, but in a marriage, a couple must either be known as husband and wife, husband and husband, or wife and wife.
She told HuffPost UK: "The marriage ceremony, whether religious or civil, has the [couple] declare certain things to each other. So you'd say: 'I'm taking you as my wedded husband or my wedded wife'.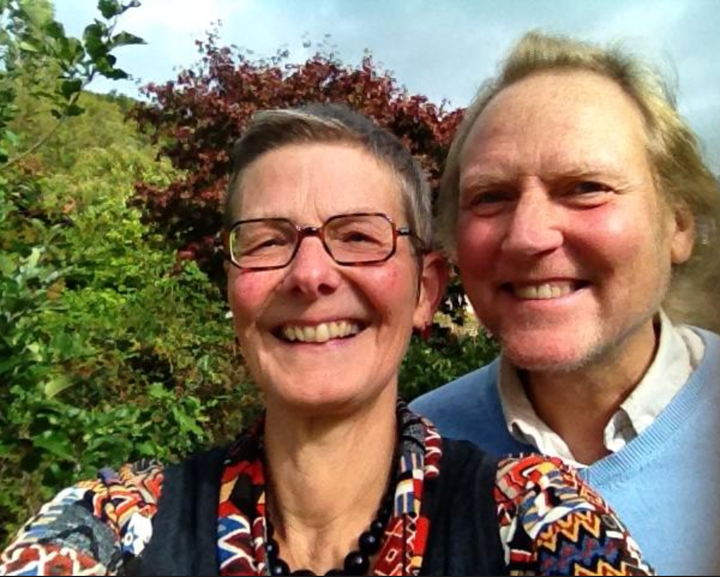 "Whereas in the ceremony for a civil partnership, a) you don't need a ceremony, you can just sign something, and b) if you want a ceremony, you can have a different form of wording such as 'we're taking each other as legal partners'."
The wording of traditional marriage was an issue for Kate Stewart and her partner, Matthew Cole. The Derby-based couple eloped two years ago to Gibraltar, where they entered into a "romantic" civil partnership with no flowers, guests or exchanging of rings involved.
Stewart, 50, is a lecturer at Nottingham Trent University. Having been married before, she felt the institution was not right for the relationship she now shares with Cole, 48.
"We wanted to avoid the usual phrases that come with a marriage ceremony, whether they be religious or civil ceremonies," she told HuffPost UK.
"A lot of the language we were uncomfortable with, as well as the broader messages of the institution of marriage, which we still felt had a very religious and patriarchal heritage to it."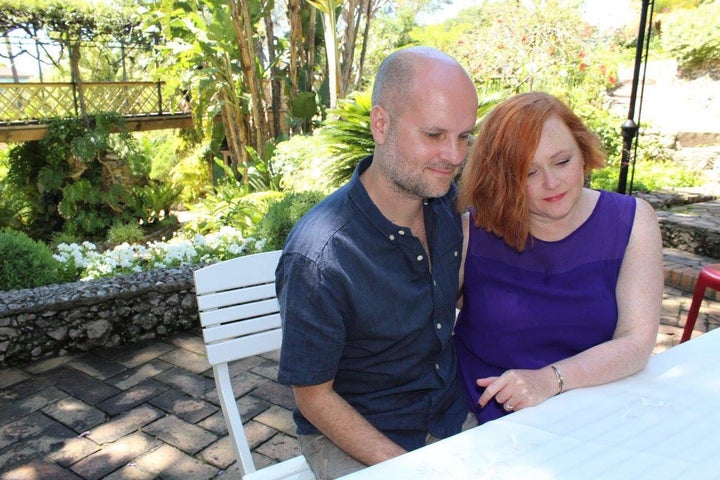 Their overseas ceremony saw Stewart and Cole each recite the same wording, using "equal language" and referring to each other as "partners", she said.
They opted for Gibraltar after looking for places around the world where they could have as low-key an arrangement as possible, while knowing it would not be legally recognised in the UK. But Stewart said the couple had "every faith" that the law would eventually change.
"I think once we saw that civil partnerships were a thing and once we learned about the Equal Civil Partnerships campaign here, we really couldn't move beyond that. It was just so clearly the right way for us to formalise our relationship that we couldn't enter into a marriage after that," she said.
The couple were uncomfortable about the traditional connotations of marriage for a woman – "of her being the property of her husband" and having fewer rights and less legal status than her husband.
"Although it doesn't apply to very, very, very many modern marriages – and I certainly don't level that accusation at every married couple that I know, we nonetheless felt that by making our commitment using that institution signalled an acceptance of that which we were uncomfortable with," said Stewart.
"Also, as a middle-aged couple, I was married in my twenties, I've had my children, I've done my family formation period of my life and it felt this was a slightly different kind of relationship for a different stage of marriage. It felt more appropriate not to have that family institution around marriage."
Similar reasons deterred Amy Grant, 33, from opting for marriage, something that had never much interested her. She and partner, Ben Piggott, 36, have been together for six years and, before she became aware of civil partnerships for straight couples, they assumed they would stay together, unmarried.
"We've got plenty of married friends and we're really happy for them but for our situation, we didn't think it was a good fit."
However, the legal protections that come with formalising a relationship in the eyes of the law were important to her. There is currently no legislation to protect couples who live together without being married or being in a civil partnership.
Grant, who lives and works in London, told HuffPost UK: "It seemed to us that civil partnerships offered a modern legal contract that suited our relationship a bit better.
"The longer we were together, the more we started thinking about the fact that, because we're not married, we don't have certain legal protections that married couples have, so stuff around inheritance and pensions and things like that were not protected in the same way.
Buying a house together two years ago "brought those conversations to the fore again", said Grant, who added that Tuesday's announcement felt "long overdue".
"We've got plenty of married friends and we're really happy for them and supportive of them and it's great that they have the choice to do that. But for our particular situation, we didn't think it was a good fit," she said.
"We're just really looking forward to finally being able to celebrate our partnership and feel a bit more secure together as well."