With all four of the big soaps having halted production due to the coronavirus pandemic, they're at risk of falling off air completely in the coming weeks, as they run out of new episodes.
But we think we've come up with the perfect solution to tide us over until the shows can safely begin filming again – to air a load of classic episodes in their place.
With a combined total of nearly 200 years on the air between them all, there's an endless amount of material to keep us entertained during these strange times.
So, here's some suggestions to get things started. Soap bosses, what are you waiting for?!
1. The plane crash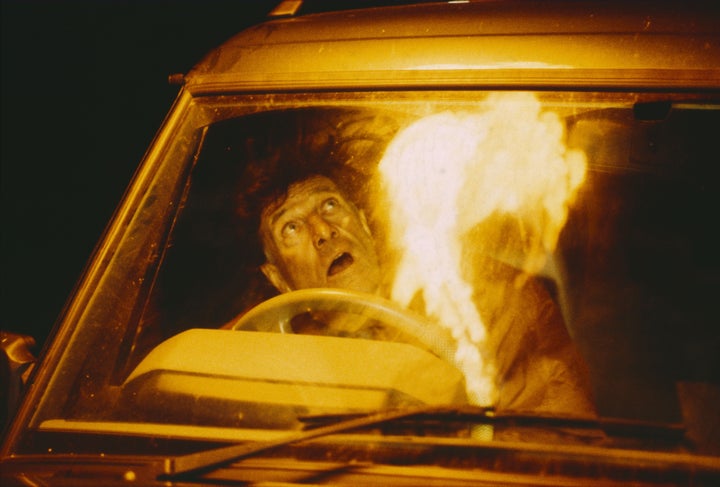 It had already been on air for over two decades at this point, but the plane crash in 1993 marked Emmerdale's arrival as one of the big three soaps, and proved it could do big drama just as well as Corrie and EastEnders. It also helped the show achieve its biggest ever ratings, with 18 million people tuning in.
The disaster came at a point when several storylines were coming to a head, and saw the village of Beckindale partly demolished and four regular characters killed off thanks to the inferno the crash caused.
2. Sharongate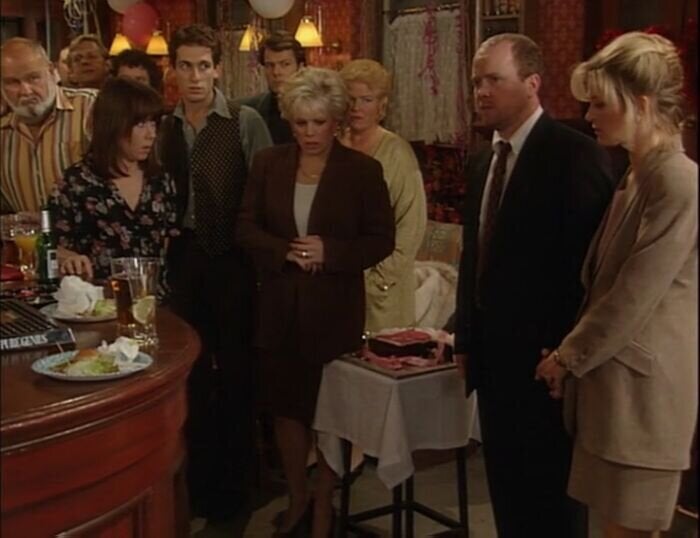 The episode saw Grant Mitchell exposing Sharon's affair with his brother Phil via a cassette recording to a packed Queen Vic, and while it was clearly the inspiration behind the Stacey/Max reveal later on in this list, it's still the original and the best.
3. Peggy, Pat and the ice cream van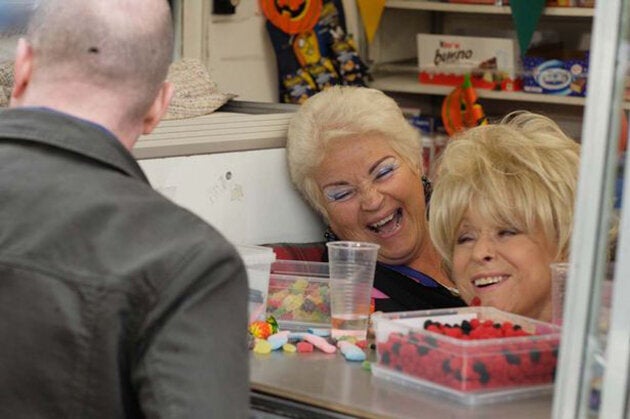 It's not very often EastEnders does laugh-out-loud comedy, but when it does, it's always something to savour.
One such case came when soap's best frenemies Peggy Mitchell and Pat Evans got absolutely sloshed in the back of an ice cream van they'd commandeered. The episode also gave us one of our favourite quotes soap has ever produced, as Pat made a call to Phil and drunkenly proclaimed: "Philip, it's your auntie Patricia here."
4. Scott and Charlene's wedding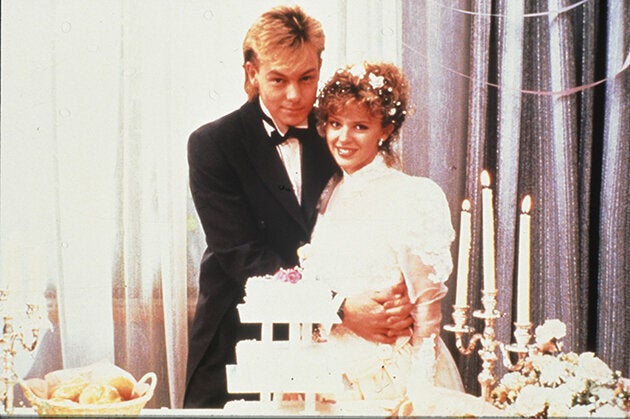 Often hailed as the greatest soap wedding of all time, it would certainly be a huge lift for the nation to see Kylie Minogue stride down the aisle to meet her handsome groom, soundtracked by Angry Anderson's Suddenly.
5. Kim Tate's exit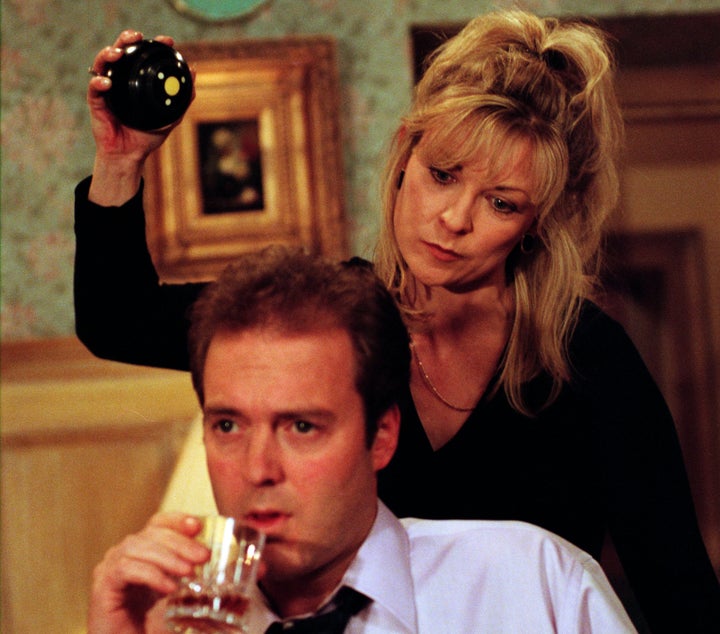 Kim Tate is the greatest "soap superbitch" to ever grace the Dales. Fact. So when she first left the soap back in 1999, of course her exit was suitably dramatic.
With the net closing in on her after her involvement in a robbery and subsequent hit and run, Kim discovered that her former step-son Chris had possession of money she'd stashed for her getaway and tried to manipulate him by seducing him, before then knocking him out with a paperweight when he failed to believe her. After telling him she'd caused his father's death earlier, she then escaped on a helicopter, not to be seen for almost 20 years.
6. Stacey and Max's affair is revealed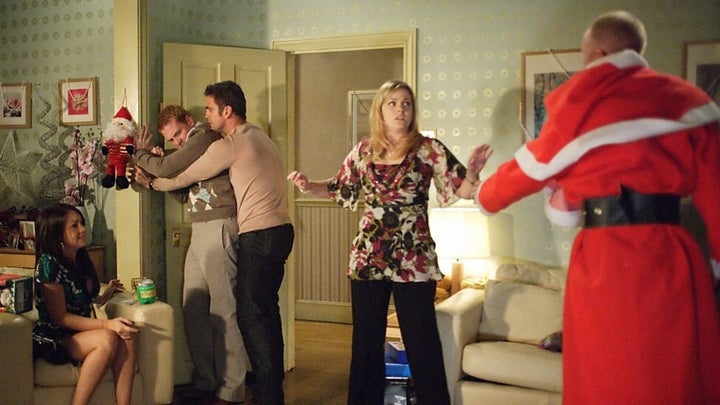 EastEnders Christmas specials don't get much better than the moment Stacey and Max's dalliances were revealed to a horrified Branning family on Christmas Day, via a DVD player (well, it was 2008, after all).
This episode saw Max's daughter Lauren air camcorder footage of the pair together from Stacey's wedding day to Max's son Bradley, just as the family had sat down to watch a nice post-Christmas lunch film. Miracle On 34th Street it was not.
7. Blanche goes to AA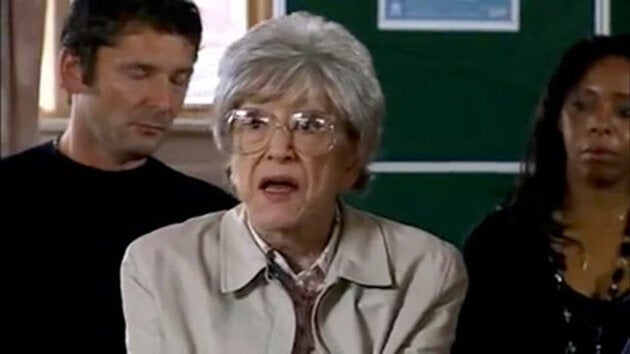 Blanche Hunt's acid tongue is much missed to this day, with her one-liners and acerbic put-downs regularly leaving Corrie fans in hysterics.
Her finest moment came during an episode where she accompanied grandson Peter to an Alcoholics Anonymous meeting and insulted absolutely everyone she came into contact with. A brilliant, brilliant soap character, and one whose wit would certainly lift the mood right now.
8. Richard Hillman is unmasked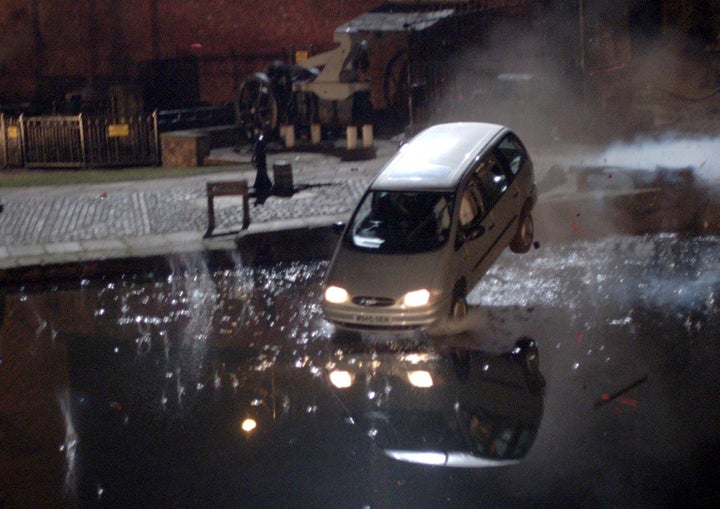 After bumping off resident crimper Maxine Shaw and doing his best to kill Emily Bishop and Audrey Roberts, Gail's third husband's true colours were revealed when he took them hostage and attempted to drive them into the canal to the soundtrack of The Wannadies' You And Me.
While there's been villains like Pat Phelan and John Stape since, none of them have come close to Tricky Dicky, whose dastardly ways had us on the edge of our sofas.
9. Who shot Phil? – the reveal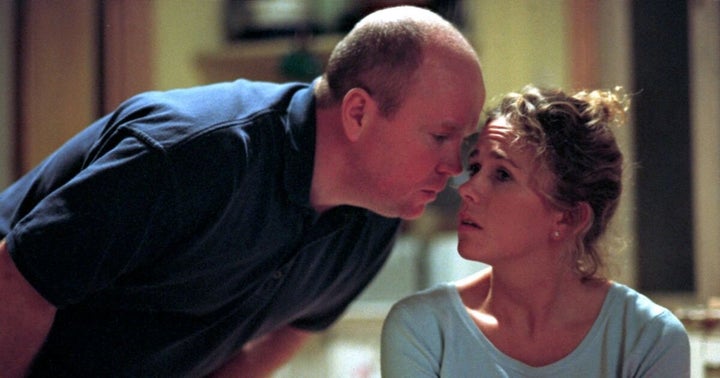 The "who shot Phil?" storyline is arguably the best "whodunnit?" in soap history, with some 19 million viewers tuning in for the climax of the plot, which saw Phil Mitchell's ex Lisa Shaw unmasked as his shooter.
The three-hander episode was a rollercoaster, as Lisa was initially unsure if Phil knew she was the perpetrator, before he threatened her and she gave an emotional confession. Lisa's words then left Phil feeling guilty about how he'd treated her in the past, and they agreed to keep the truth to themselves.
10. The tram crash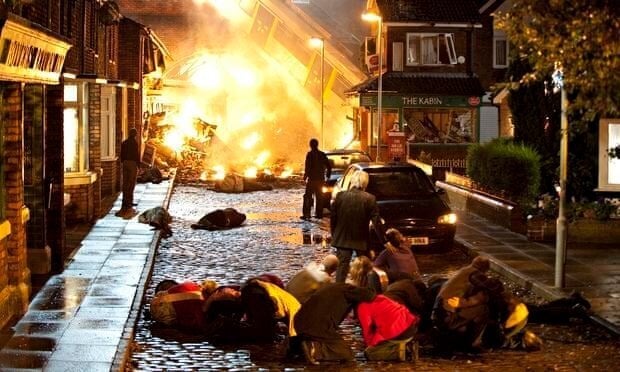 Corrie's most ambitious stunt ever took place nearly 10 years ago when the soap celebrated its 50th anniversary.
The conclusion saw a tram plunging off the viaduct that runs across Coronation Street and into Rita's Kabin and Dev's corner shop, placing a number of lives in serious danger. It was some of the best high-stakes drama Corrie has ever produced, and with the 60th anniversary set for later this year, we'd love the chance to revisit it in celebration.
11. The storm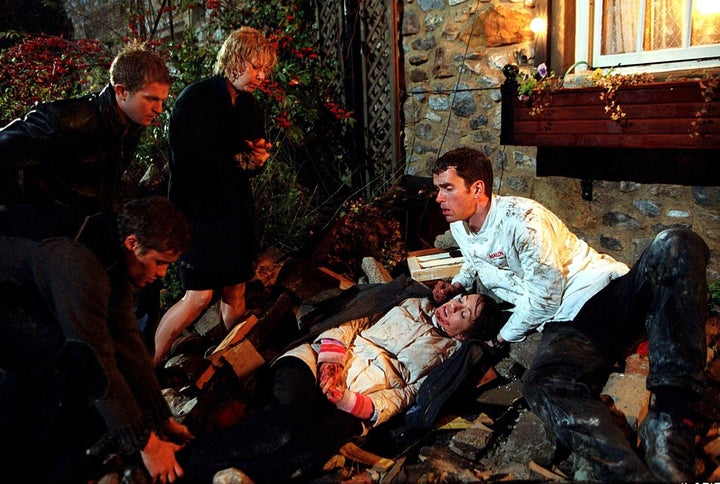 Exactly 10 years on from the plane crash, Emmerdale bosses planned another disaster to hit the village, this time coming in the form of a devastating storm that took the life of soap favourite Tricia Dingle.
She died after lightning struck The Woolpack and a wall collapsed on a helpless Tricia – and the heartbreaking moment came just as she'd decided to give cheating husband Marlon another chance, returning to tell him she loved him.
12. Deirdre is freed from prison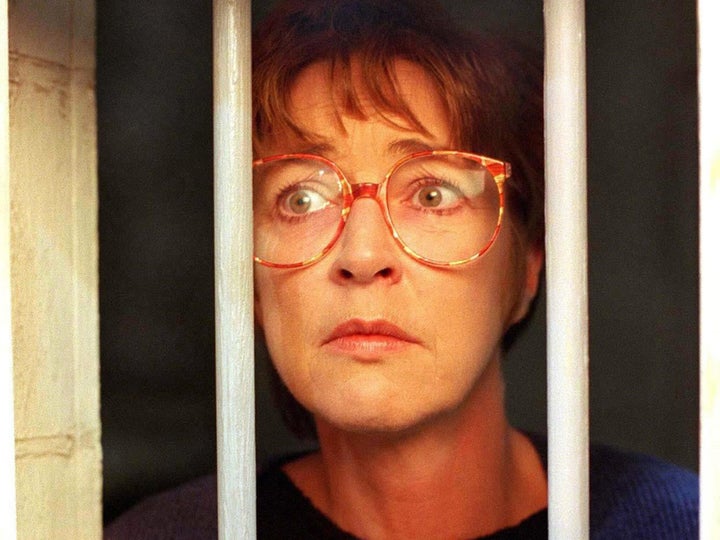 With TV audiences so fragmented these days, it's almost hard to remember a time when soap storylines captured the public imagination as much as Deirdre Barlow being wrongfully sent to prison at the hands of her conman lover did.
A national Free The Weatherfield one campaign was launched, with then prime minister Tony Blair even getting involved. The nation eventually breathed a collective sigh of relief when she was finally released from prison.
13. Gail and Eileen's brawl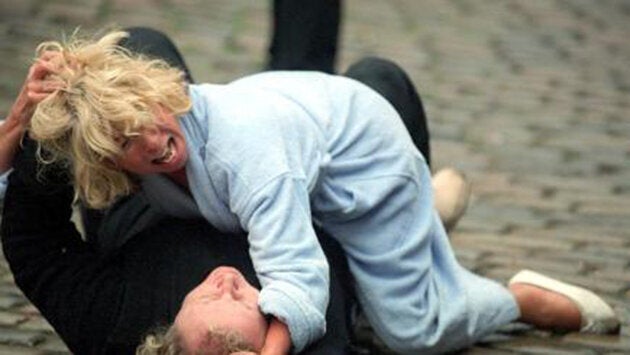 Gail Platt and Eileen Grimshaw have clashed many times during their years of living on t'cobbles together, but them brawling out on the Street after Todd had confessed to a pregnant Sarah he was gay was a classic of the genre.
14. Steve and Karen's wedding / Amy's christening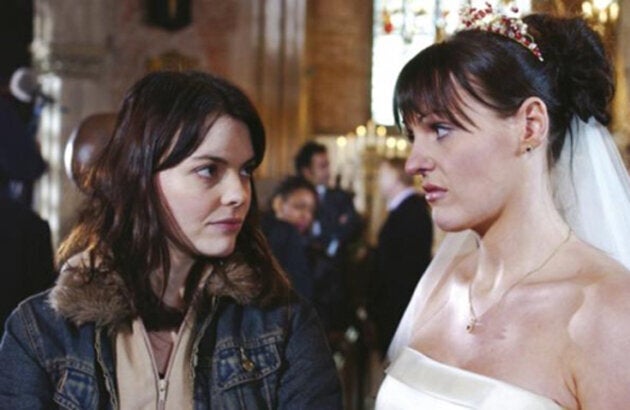 One of the greatest Corrie plots of the mid-2000s was the feud between Karen McDonald and Tracy Barlow, who were regularly at loggerheads over Weatherfield's most unlikely of casanovas, Steve.
Karen and Steve's wedding day saw Karen left distraught when Tracy ruined the event by revealing Steve was the real father of her baby, having conned Roy Cropper into believing he was the dad. Wanting revenge, Karen later crashed the baby's christening and she ended up having a classic soap scrap in the middle of the church.
15. You ain't my muvva!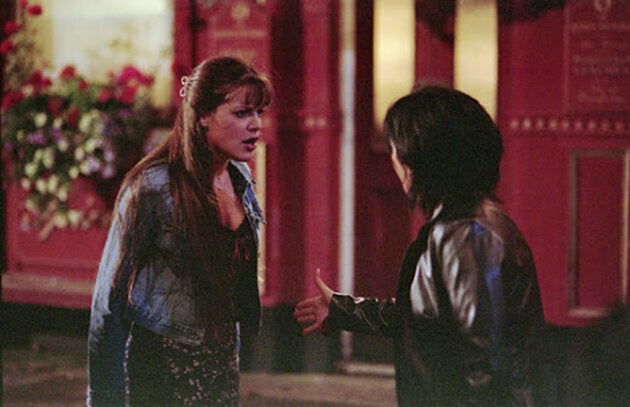 It would be remiss of us not to include arguably EastEnders' most iconic moment ever on this list.
Sure, you may feel like you've watched the moment Zoe Slater screams "You ain't my muvva!" at "sister" Kat a million times over given how much it is quoted in popular culture, but there would be nothing like seeing the whole episode and the fall out in its entirety again.