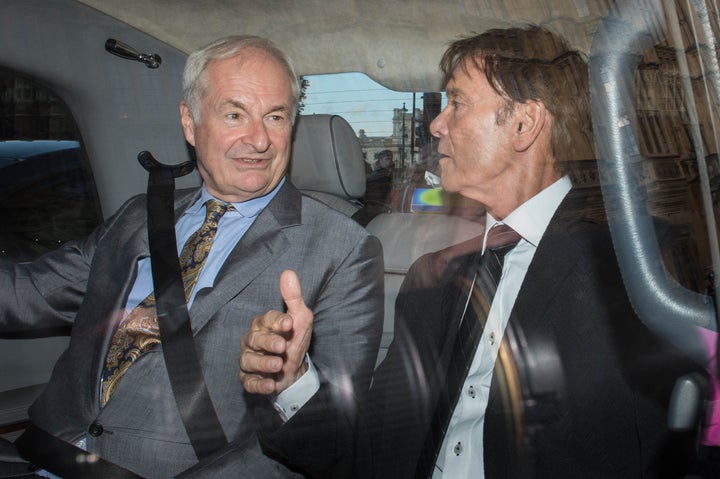 Sir Cliff Richard and DJ Paul Gambaccini have launched a petition demanding anonymity for people suspected of sexual offences.
The pair – both of whom were accused of sexual assault before the cases against them were dropped – want suspects to remain nameless until they are charged with an offence.
Radio presenter Gambaccini, who was arrested in October 2013 after it was alleged he had sexually assaulted two boys, said the country was in the midst of a "false allegation crisis".
"At the moment accusers have life-long anonymity and the accused have no seconds of anonymity," he told BBC Radio 4's Today programme on Monday.
"And this does, unfortunately, encourage everyone from liars to lunatics to make some false accusations and get in on the action."
However, while he accepted that naming suspects can encourage other alleged victims to come forward – as was the case with black cab rapist John Worboys – he said this could still happen at the moment someone was charged.
"This is not a competition, who has been hurt the most," he said.
"There are actually two crises – one is a sex abuse crisis and the other is a false allegation crisis. And anyone who has been wronged, no matter what way, empathise with other people who have been wronged."
If the petition reaches 100,000 signatures, it will be debated in the Commons.
But the project – officially launched by the Falsely Accused Individuals for Reform (FAIR) group – has faced serious criticism from some women's campaigners.
The End Violence Against Women coalition described the campaign as a move by a "group of rich, privileged men" calling for anonymity "despite knowing that it would make it harder for victims to get justice after rape".
"Of course the police should use their discretion, but they need the power to name suspects if they think there are other victims out there who can't speak out and think they're the only ones," the group said on Twitter. "This is why Jimmy Saville was never prosecuted for his abuse."
The directors of End Violence Against Women have also written a letter to Gambaccini and Richard asking them to rethink the campaign.
What Happened To Cliff Richard?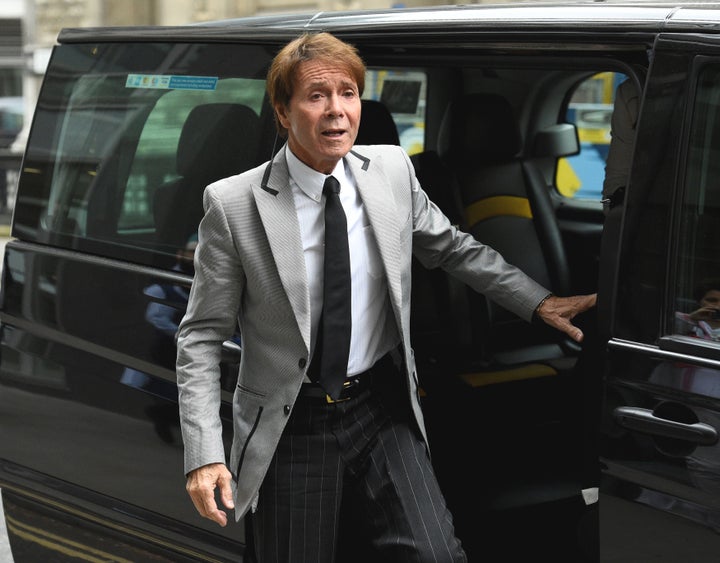 Back in 2014, Richard's home in Berkshire was raided by South Yorkshire Police as part of an investigation into an allegation of historical sexual assault.
While the singer was not arrested or charged with any offence, the raid was filmed by the BBC using a helicopter.
In 2018, Richard successfully sued the BBC for a breach of privacy, with the corporation agreeing to pay £850,000 towards legal costs.
In a statement, he called the incident "the worst thing that has ever happened to me in my entire life".
"Even though untrue, the stigma is almost impossible to eradicate. Hence the importance of Fair's campaign to change the law to provide for anonymity before charge in sexual allegations and hence my continued work with Fair in the future," Richard said.
"Had this proposed change in the law been enacted when the police decided to raid my apartment following the allegations of a fantasist, the BBC would not have been able to film this event, name me, (even though the South Yorkshire Police had decided not to) and so plunge my life and those close to me into fear and misery."