Submerging yourself in a 70-foot yacht surrounded by 20 complete strangers is a novel way to find yourself.
But thousands of inexperienced sailors are signing up in a quest to conquer the world's oceans while discovering what it means to be alive.
The deadly 11-month circumnavigation challenge encourages people from all walks of life to get lost in the wilderness where there is nowhere to hide.
The Huffington Post UK joined team Great Britain on the final race of the Clipper Round The World Yacht series, in a bid to understand why everyone from top bankers to lawyers are giving it all up to hop onboard.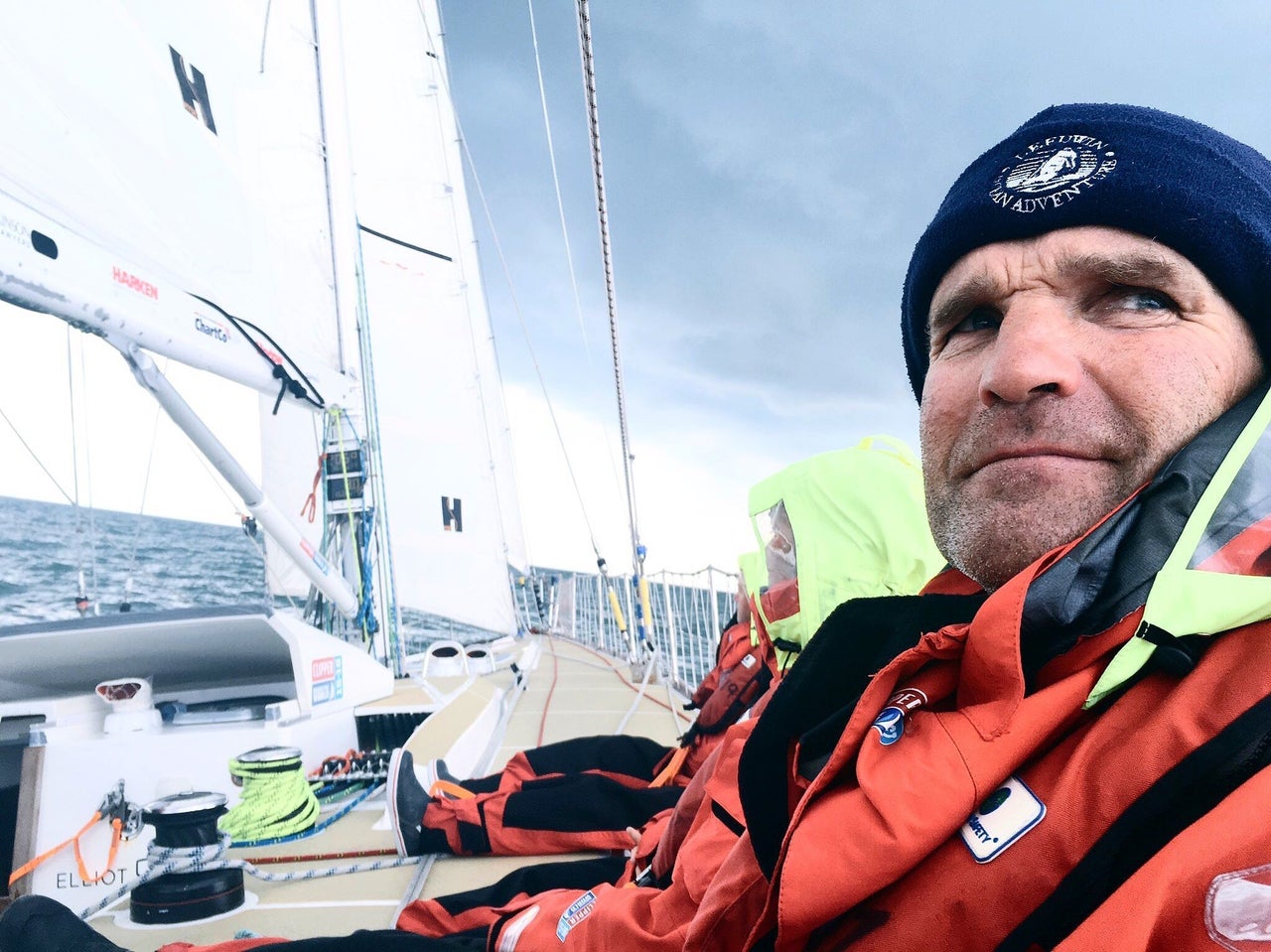 There is an overwhelming feeling of simplicity within the boat routine. A five hour watch is followed by a few hours sleep, repeat, repeat, until the boat reaches its finish line.
Eight legs of sleep deprivation and stormy seas may not seem like the perfect way to wind down, but the Great British crew have never felt so at ease.
Stood in the yacht's bustling kitchen, which doesn't seem big enough for 22, the youngest member of the crew, Matthew Connell, tells me: "It's going to be weird coming back to land, we're institutionalised here".
Part of the attraction is that only the very basics are needed to exist on the sail boat. Each member needs little more than the clothes on their back.
This is something that Solicitor Claire Chapman finds appealing. "Back home we're all caught up in our possessions and technologies. We don't look around and see what is in front of us," she says.
But if sailing the world just to find a way to escape the everyday routine seems a little extreme, Chapman tells me it isn't.
"I haven't done something like this - having a long break - since I had a gap year around five years ago, it really has helped me to revaluate where I am with life."
"We are institutionalised"
Setting sail before Brexit and Pokemon Go, the Great Britain yacht was perhaps the easiest place to be amid turmoil on home shores.
"We're now the only Brits left in the EU," crew members said jokingly, reflecting upon the British vote to leave the European Union.
While another joked "If any of my friends have downloaded Pokemon Go I'll kill them".
The form of escapism is something that self-described London 'city boy' Andrew Hendley confesses to chasing.
"I needed to get out of the machine, I needed to get away from the man," he tells me, adding that "status is nothing when your only job is to sail a boat across an ocean."
Meet the GB Crew in our original video feature:
Hendley's theory is later proved correct as two crew members are nominated on 'mother-watch', and I'm served up a thai-style curry by a former Olympian.
Cooking is one of the most important jobs for team morale and the right cocktail can even help win the race, the boat's skipper tells me.
His words stick with me as the yacht heels over to almost 40 degrees, turning my stomach, and life, on its side in the most abstract way.
Loose possessions fly across the hull while crew members use a rope just to walk across the kitchen.
The stirring sickness down below makes it obvious to see why the crew are always keen to hop up on deck.
And despite their grueling shift patterns, there's a seemingly boundless energy within the team.
Although he didn't enter the race for his love of sailing, Noel Beavis is constantly upbeat throughout my four day stay on the yacht,
"I have learnt that life's too short to wait around for things to happen, if you want to do something then go and do it. You know, take control of your life and you may find that the results are better than you could have ever expected," he tells me.
"I think that overall I have found that this trip has made me appreciate my life at home immeasurably compared to where I probably thought I was," Beavis adds.
This is the shortest race of the circumnavigation and the trip runs from Den Helder, Holland, to Southend, England.
A quick but feisty contest, Britain snatched third place, clutching the position with just one point to spare after a low 10th place finish in the final race.
The British team were welcomed home by thousands on Tower Bridge as they sailed their way to a podium finish.
The welcome was emotional for those who had been away for 11 months, but for some lies uncertainty of what comes next.
"I always had great friends and I knew I had great friends, they were always there for me when I needed them, but it was when I sunk to those depths in the Pacific Ocean that I really had to dig deep"
Every crew member I asked wanted to go on to do another challenge and couldn't digest the enormity of the one they had completed.
More people have climbed Everest than completed circumnavigation, yet something in the hearts of those on board still wanted more.
"Life is much more complicated at home" a crew member tells me in passing, looking on at the thousands lining the streets to cheer them home.
The series itself, founded by Robin Knox Johnston in 1995, has 40 percent of its crew that have never sailed before.
It is the only global yacht race for amateur sailors and spans for over 40,000 nautical miles.
The oldest competitor to date was 74, but the ages of those competing vary dramatically.
Each team is led by a professional Skipper who steers them through eight legs of the toughest courses across the world.
Thousands of applicants train to be part of the race each year, all with a different reason driving them to take one of the world's toughest challenges.