Rewind four years, and my life was a million worlds away from where I stand now. In 2014, I unfortunately endured what seemed like a relentless test on my stamina, health and mental wellbeing.
I went through a tough relationship break-up, and then suffered a heartbreaking miscarriage, just months apart. At my lowest, I honestly couldn't see myself bouncing back up. But, one afternoon spent in my flat reflecting on life's events, I finally realised I'd had enough, and wanted to kick this gloominess. I had been aware of Clowns Without Borders, a charity working with children in the South Africa and beyond and wondered if I might be able to volunteer my services as a clown. So, I reached out to Clown Without Borders, but the team said they didn't have anything that resembled a UK chapter, and asked if I would be happy to start one.
Fast forward four years to May 2018, I'm the director of the UK charity and I couldn't be prouder of Clowns Without Borders UK, a humanitarian not for profit that travels around the globe sharing moments of laughter and play with children living through the very worst of circumstances. Never in my wildest dreams did I imagine I would end up doing this.
A moment that will stay with me forever is the first time I flew into a disaster zone. I was on a tiny plane flying from Manilla to Leyte, eight weeks after Typhoon Haiyan had swept through the island killing over 6,500 people and leaving hundreds of thousands of people homeless. As we got closer to landing, I could see one collapsed building after another with mangled steel girders sticking out of the ground at impossible angles, house upon house with no roof, palm trees ripped from the ground with their roots still in tact and debris everywhere. I was scared and overwhelmed and remember thinking I'd made a terrible mistake - what right did clowns have to turn up to a situation like this?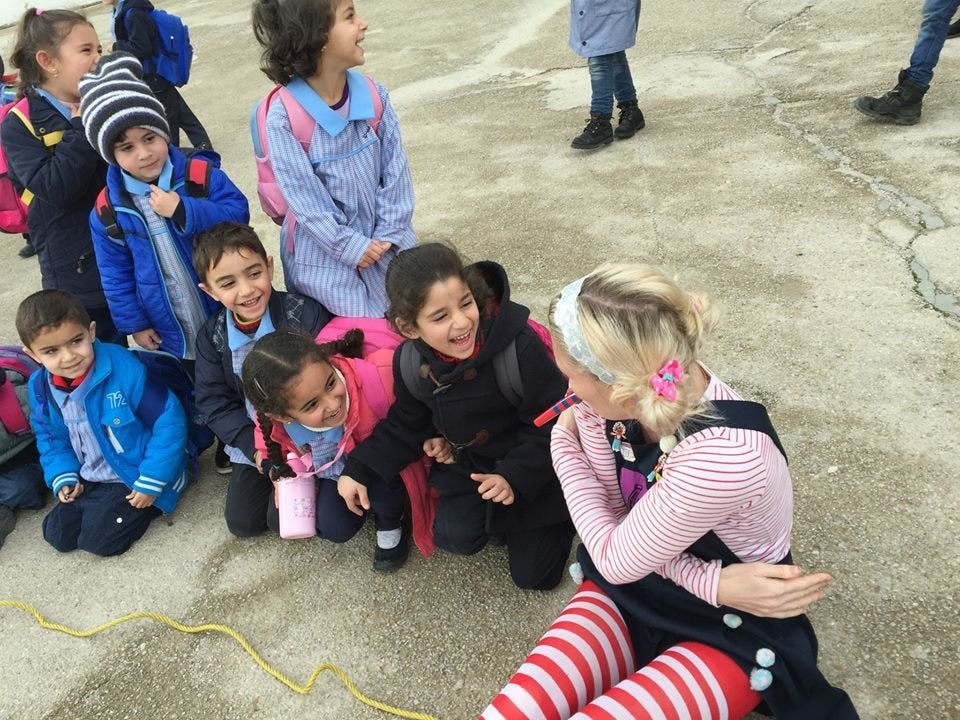 For our first performance, the NGO we were working with took us to an open-air basketball court. We performed around metal bars sticking out from ground and shards of plastic from nearby roofs. During one of our chase sequences, I ran around the back of the audience and saw a young woman put an arm around another woman to comfort her. They were both crying. My heart sank. I realised we should not be here. As soon as the performance ended, I went up to our NGO partner to talk about cancelling the project because of the distress our presence was causing. That is when I was told the women were not crying because they were sad. They were crying because it was the first time they had seen their children laugh since the disaster had happened. We went on to deliver six more days of performance and clown workshops with local teenagers. On my last day, an amazing girl called Anna-Mai said (and this is burned into my memory): "I thought it would be a very long time before I laughed again, but I have, and now I feel like I'm back." From that moment, I've been trying to make the charity a success.
It is important to say that what we do isn't a panacea, but there is glorious defiance in the work Clowns Without Borders does. It is a defiance that does not accept that crisis, conflict or the threat of violence is more powerful than children having the chance to laugh and to experience - even if it's just for a moment - what it is to be a child free from concern. I am just a clown but I have seen first hand the difference laughter can make to children struggling to make sense of the world around them. And that is why, despite the complexities of running a charity led by clowns, I will continue to find ways for us to go wherever we are needed. And while I know this won't stop disasters or the numerous wars and armed conflicts happening across the world today, I can contribute by bringing laughter to places where there is none, and by showing children we care about them and about what happens to them.
I became a mother in 2017 to a baby girl. Sometimes it feels like I have not one but two babies: Matilda, who is now nearly a year old, and Clowns Without Borders. Being a mother and running a start-up charity is extremely challenging. I suspect it has a lot to do with lack of sleep. The charity is also going through an unprecedented period of growth, which is exciting, and something we have been working towards for a while. Babies and growing an organisation don't always go together, so I feel very proud (and lucky) that I have been able to create a world where the two can coexist.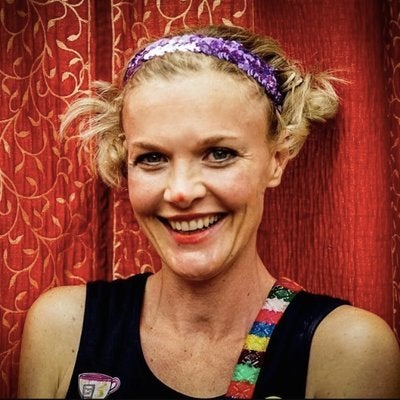 It's going to be a busy year for the clowns. We have just come back from Bangladesh and Greece, where we shared laughter with thousands of refugee children. We also provided a week-long training session in Jordan to help provide long-term support within the Za'atari refugee camp just miles from the Syrian border. Our work there has meant that the laughter and joy can continue. We have the responsibility (and privilege) of reminding the children we meet that it's okay to be a child, and that laughter and play is still possible for them. Given the scale of the tragedy in the areas we have visited this year, we are already fundraising to ensure we can make several visits back to the same destinations later this year, and into 2019.
We are incredible lucky to be supported by some truly fantastic board members, volunteers, teams and individuals across the world. Our trustee members are made up of professionally trained actors, experts in disaster response, business owners and more. Just last week, The Brighton Spiegeltent (one of the beloved venues at the Brighton Fringe) hosted a fundraising evening for us, where local acts donated their time to entertain a packed venue and raise over £1,000 for the charity to continue supporting our work.
It's easy to get carried away with the excitement, challenges and successes that running an international charity can bring – and forget to bask in the highs and learn from the lows. The success the charity has so far enjoyed has been phenomenal, and we really can't thank our volunteers and supporters enough. It's not always been an easy journey, but I like to live by the mantra "where there's a will, there's a way".
Samantha Holdworth is founder of Clowns Without Borders UK
Life Less Ordinary is a weekly blog series from HuffPost UK that showcases weird and wonderful life experiences. If you've got something extraordinary to share please email ukblogteam@huffpost.com with LLO in the subject line. To read more from the series, visit our dedicated page.