The 65-year-old was jailed for life in 2011 for killing Richard Challen, 61, with a hammer as he ate breakfast at their kitchen table.
With the backing of her two sons, Sally's appeal to manslaughter by diminished responsibility was accepted by the Crown and she was sentenced to nine years and four months, walking free from the Old Bailey due to time served. She was comforted by her son David as she told reporters she still loved her husband.
The judge accepted the killing came after "years of controlling, isolating and humiliating conduct", with the added provocation of her husband's "serial multiple infidelity."
On Monday, BBC Two will air The Case of Sally Challen, revealing the inside story of her appeal against her murder conviction and featuring interviews with Sally, her friends and family and both legal teams.
What is coercive control?
Coercive control became illegal in England and Wales in December 2015 with the introduction of the Serious Crime Act. The act made "controlling or coercive behaviour" in intimate or familial relationships an offence – closing a long-criticised gap in the law.
Those who are found guilty of the crime face a maximum sentence of five years imprisonment and/or a fine.
The law defines coercive control as a "continuing act, or pattern of acts, of assault, threats, humiliation and intimidation or other abuse that is used to harm, punish, or frighten their victim".
Controlling behaviour, which is also an offence under the law, refers to a range of acts designed to make a person subordinate or dependent.
The government warns that controlling or coercive behaviour is primarily a form of violence against women and girls – and is underpinned by wider societal gender inequality.
Examples of coercive control include isolating a person from their friends or family; depriving them of basic needs; medical support or other support services; monitoring their time; monitoring a person via online communication tools; and taking over aspects of their everyday life – such as where they can go, who they can see, what to wear and when they can sleep.
It also includes repeatedly putting the victim down, such as telling them they are worthless, enforcing rules and activity which humiliate or degrade the victim, or forcing the victim to take part in criminal activity such as shoplifting or abuse of children to encourage self-blame. There may also be threats to hurt or kill, threats to a child and blackmail.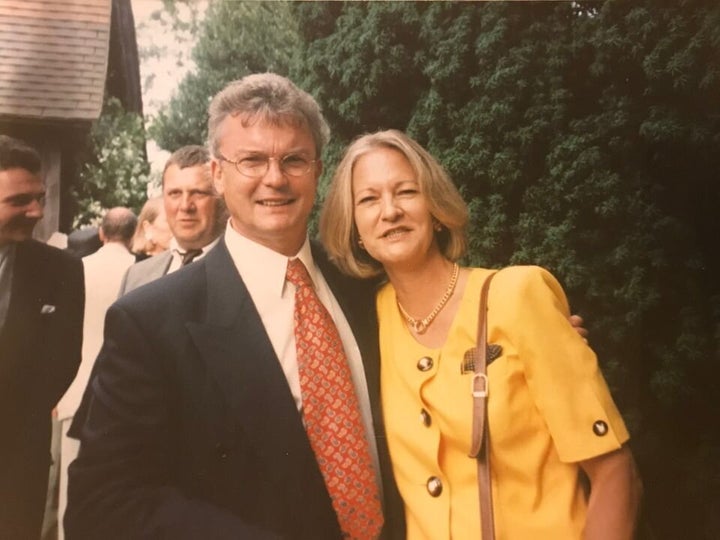 Sally's story
The Challens had been married for 31 years when Sally brought a hammer out of her handbag and attacked her husband from behind as he ate the bacon and eggs she had cooked him for breakfast at the family kitchen table.
The following day she drove herself to Beachy Head, where she was talked away from the edge by a suicide prevention team. Sally told a chaplain: "I killed him with a hammer. I hit him lots of times [...] and if I can't have him no one can."
The court heard Sally's husband had been "domineering and controlling but not in a physical way" towards Sally, who worked at the Police Federation.
He made "humiliating comments about her weight" and Sally was "put down and criticised at all turns".
On the day of the killing, it was Richard Challen's words "don't question me" that caused her to "flip" and hit him with the hammer, the court was told.
When police arrived at the marital home they found his body with a handwritten note on top reading: "I love you, Sally."
Throughout his childhood and into his teens, he knew things weren't right. He remembers his father trying to convince his mother that she wasn't sane when she found him cheating (a practice known as "gaslighting", common in abusive relationships). He remembers his father dictating when she could leave the house. He knew it wasn't normal.
Richard Challen would have pictures of himself taken on a sports car with topless models and sent them out as greetings cards to friends and family.
He inflicted horrific physical violence on Sally, including a brutal rape.
But much of his abuse was psychological, financial and emotional, and therefore much more difficult to pin down.
Jailed for life
In June 2011, a jury at Guildford Crown Court jury took 11-and-a-half hours to find Sally guilty of murdering the former car dealer.
She admitted killing him but denied murder, claiming diminished responsibility.
Sally was jailed for life with a minimum term of 22 years, which was later reduced on appeal by four years.
The prosecution case was that it was the action of a jealous woman who suspected infidelity, producing evidence that she noted in a diary when he used his Viagra tablets, kept records of his receipts and even recorded following him into a brothel.
Sally's appeal
Sally had faced a fresh trial for murder after her conviction was quashed in the Court of Appeal in February on new evidence about her mental state at the time. Evidence from a psychiatrist stated Sally was suffering from two mental disorders at the time of the killing, which undermined the safety of her conviction.
Her lawyer – the co-founder of the Justice for Women group, Harriet Wistrich – said the conviction could be reduced to manslaughter because a new law on "coercive control" had been introduced.
However, the panel of three leading judges refused to substitute a manslaughter verdict and ordered that Sally must face a retrial for murder.
Then, just weeks before that trial was due to start, the CPS accepted her guilty plea for manslaughter.
Speaking after the release of his mother, James Challen described the years of her incarceration as "hell", stating: "We have lost our father and we do not seek to justify our mother's actions.
"We believe the background circumstances are such that our mother does not deserve to be punished any further."
The Case Of Sally Challen will air on BBC Two on December 9 at 9pm.