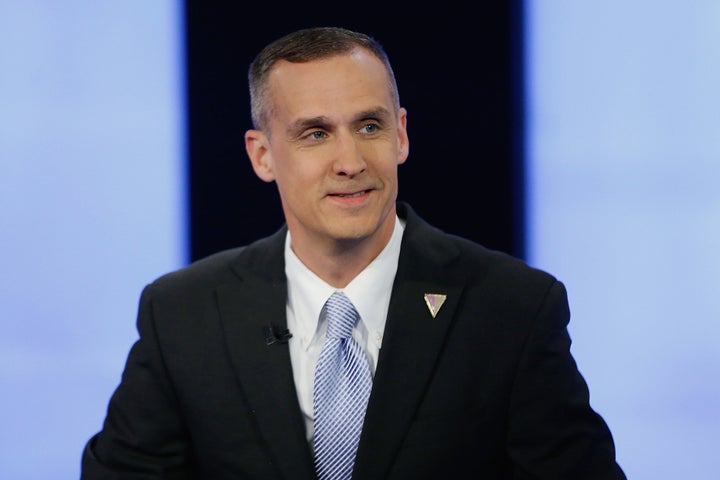 Donald Trump's former campaign manager Corey Lewandowski has credited FBI director James Comey's intervention in the campaign as giving the Republican a "spring in his step" that helped him win the election.
Speaking at the Oxford Union during a trip to the United Kingdom on Wednesday evening, Lewandowski also told Americans protesting against the election result to do so "respectfully" and accept that Hillary Clinton lost.
"With eleven days to go in this election cycle something amazing happened. The FBI director, James Comey, came out on a Friday and said they may be reopening the investigation into 'crooked' Hillary Clinton's emails," he said.
"What that did was remind people that there are two different rules in Washington, those of the elites, for the privileged - and those for everybody else."
Lewandowski said the Trump's team was spurred to "redouble their efforts" as the campaign entered its final stretch. "In these last eleven days Donald Trump was exceptionally disciplined. You saw him on the teleprompter, you saw him doing less media," he said.
Lewandowski served as Trump's campaign manager from January 2015 to June 2016. After leaving the campaign he became a paid on-air contributor for CNN - a post he quit following Trump's victory. It has been reported he may be in line for a White House position or as chairman of the Republican National Committee.
Around twenty to thirty students protested Lewandowski's appearance outside the Oxford University on Wednesday venue with chants of "no borders, no nation, stop the deportation", "No Trump, no KK, no fascist USA" and "Dump Trump, dump Corey and their pet the fucking Tories". Another protester inside the hall unfurled a sign and shouted at Lewandowski before being escorted out by security.
Lewandowski said: "There are a lot of protests taking place right now. People don't like the election results."
And he told Americans demonstrating in the US against Trump: "That's your right and your privilege in our great country. But do it peacefully and respectfully and honor the 120 million people who voted in this election cycle. Democracy works. If you don't like it in four years you have the opportunity to change it. If we don't abide by that system then chaos ensues."
During the campaign, Trump said the election was rigged and suggested he would not accept the result if he lost. Following his election he used his Twitter account to criticise protesters.
Trump has a history of encouraging violence at his rallies and told his supporters to "knock the crap out" of any demonstrators they saw. He also said of one protester: "I'd like to punch him in the face, I'll tell ya."
Lewandowski also accused the media of manufacturing accusations that Trump ran a racist campaign as it made a "very sexy story".
"President elect Donald Trump is the single greatest phenomenon to hit the US in a lifetime," he told the audience of students. "Making America great again is a very hard task - it takes time."
Lewandowski told that during the entire time he worked on Trump's campaign he "never saw him sleep" and noted the power of the president-elect's Twitter account. "I think Donald Trump is the single hardest woking individual I have ever met in my life," he added.
"At no time if he sent a tweet would it not appear on the news. Donald Trump could be in his pajamas and be tweeting something and CNN or Fox would say 'we have breaking news Donald Trump has just tweeted that he is in his pajamas watching our show'. Wow that's powerful," Lewandowski said.
"Going to a Trump rally was like going to a soccer match. why do you go? Because you don't know what's going to happen," he said. "We used the media in the sense they carried our message beyond the people in those audiences."
Questioned on Trump's policy platform including the proposal to build a wall along the US-Mexican border, Lewandowski insisted "Mexico will pay for the wall". And dismissed environmental conerns. "I do not believe in global warming," he said. "Do I believe it's a scam? Yes I do."
In April, prosecutors decided not to prosecute Lewandowski on charges of battery against a female reporter. Trump's former campaign manager said on Wednesday while he had touched Michelle Fields, formerly of Breitbart News, "there was no assault".
Anti-Trump protester ejected from Oxford Union: