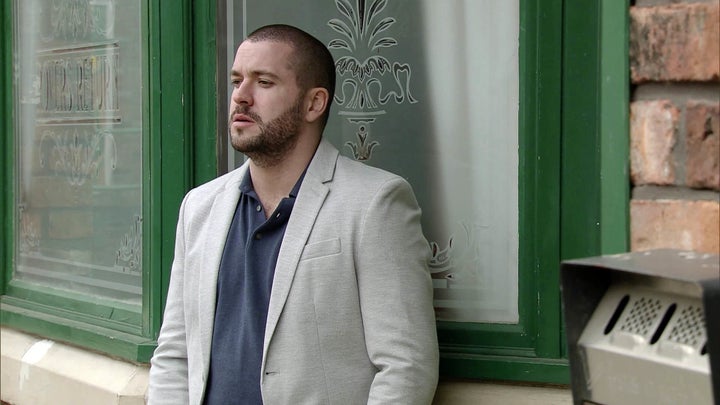 Coronation Street has worked with Samaritans to tackle the issue of male suicide in a storyline, which will see factory boss Aidan Connor, played by Shayne Ward, take his own life.
The producers at Coronation Street are to be commended for their bravery in tackling this challenging topic in a very sensitive way. Soaps can play a powerful role in helping people to grasp a better understanding of difficult issues, including suicide. We were really pleased that Coronation Street approached us for guidance on Aidan's storyline. Their producers were aware of the sensitivities attached to writing a suicide storyline and were very keen to tackle this in a responsible way.
Suicide is clearly a very sensitive topic and one that presents some distinct challenges for programme makers. This is the reason Samaritans publishes media guidelines and provides a comprehensive advice service for programme makers.
The Coronation Street team has worked extremely hard alongside our media advisory team over several months, to create this compelling story in a responsible way.
What Coronation Street have done is built in lots of important and helpful messages to Aidan's story. It not only shows the devastation caused to families who are bereaved by suicide, but also deals with other difficult issues surrounding suicide.
For example, sometimes there are signs that a person is struggling to cope with life, but in some cases there isn't. The storyline also shows the importance of talking if things get too much, and how being aware of these things means we can be looking out for each other.
Over the coming weeks, Coronation Street viewers will see the devastating impact of suicide and the effect that it has on Aidan's family and friends. Sadly, some people who become suicidal feel a burden to their family, and can reach a point of believing their loved ones would be better off if they were no longer here. This is never the case.
Aidan's story also illustrates clearly the dangers of staying silent when it feels like life's challenges are becoming overwhelming. We hope that viewers who identify with Aidan's experience will feel encouraged to reach out for help – as indeed the character David Platt will do in response to seeing what happens to Aidan.
By highlighting the potentially toxic effect of keeping things bottled up when problems begin to feel overwhelming through Aidan's story, we hope others who are struggling will be encouraged to reach out for support.
Another important issue highlighted in the aftermath of Aidan's death is those around him wishing they could have helped him, if only they'd known he was in such a difficult place.
Aidan's story is a great example of how carefully developed soap storylines can help to start vital conversations. These are often conversations that people may not otherwise feel able to raise.
People call Samaritans having been touched by something they've seen in a programme or a story reported in the news, for some this can be a lifeline. Viewers of Coronation Street will be signposted to Samaritans' helpline, via itv.com/advice following the key episodes.
We would encourage anyone who identifies with Aidan's story to reach out. Talk to someone you know, a friend, a family member, your GP or a counsellor. Or you can call Samaritans - our volunteers are there 24 hours a day, every day of the year to listen on 116 123 or you can contact our volunteers via email jo@samaritans.org or go to samaritans.org for details of your nearest branch for face to face help.
While soaps can play a vital role in shining a light on difficult issues like suicide, this is a challenging topic, and one that is not for everyone. We're pleased that Coronation Street have publicised Aidan's story ahead of next week and will be showing trigger warnings ahead of the key episodes next week, giving viewers the choice of whether or not they want to watch.
We hope that if viewers are worried about someone they know, Aidan's story may encourage them to start a conversation. This won't make things worse, which is something that can prevent people speaking out – it could start that person on the road to recovery.
Lorna Fraser is the Media Advisory Lead at Samaritans
Useful websites and helplines:
Mind, open Monday to Friday, 9am-6pm on 0300 123 3393
Samaritans offers a listening service which is open 24 hours a day, on 116 123 (UK and ROI - this number is FREE to call and will not appear on your phone bill.)
The Mix is a free support service for people under 25. Call 0808 808 4994 or email: help@themix.org.uk