Forget love, coronavirus is in the air, and it's impacting the dating scene – specifically, first dates.
As cases continue to rise across the UK, meeting up with a near-stranger you've met online is becoming less appealing for those concerned about contagion. As one colleague who's currently trying to suss out a match's holiday history put it: "You literally don't know where they've been."
Then there's the question of what quarantine may mean for a budding romance: if you both suddenly need to self-isolate, do you bed down together? In the hot throes of a new relationship, it could be bliss. But if the spark dies, you've committed to 14 long and painful days. If only we had some Love Is Blind-style dating pods to meet potential partners, strictly four feet apart.
Without such handy provision, daters appear to be exercising caution – social media is awash with tales of people cancelling or being cancelled on.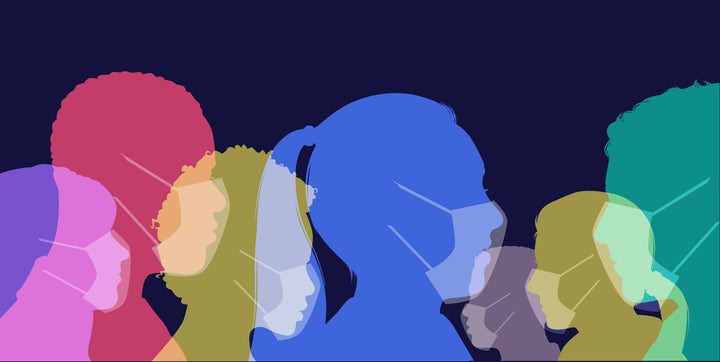 Christina*, 38, from London, postponed a date with a guy she'd met on Hinge three weeks ago. The pair were due to meet at a wine bar in Soho, aptly named Antidote. "At about lunch time he sent me a message saying 'there's something I think I should tell you before tonight' – and that's all that flashed up on my screen before I opened the message in full," she tells HuffPost UK.
As her imagination went into overdrive – was he married? – she read the full message and learned her date had a distant link to the virus. A colleague of his was in self-isolation, because someone at their child's school had tested positive. The date said he'd "totally understand" if she wanted to postpone, so she decided to err on the side of caution and rearrange after the 14-day incubation period passed.
"We finally met up in the same wine bar we'd planned to go to two weeks previously – and we didn't really get on or fancy each other at all!" she laughs.
Dating in the time of virus is feasible, says therapist Sally Baker, and it may even help people gain clarity about the kind of romance they're looking for. Is that date you've halfheartedly agreed to really worth it?
"It will mean being more vigilant about how your date looks when you meet," adds Baker. "The focus won't just be on are they handsome or pretty, but more whether that patina of sweat on the forehead is just nerves or are they running a temperature?"
Etiquette consultant Julia Esteve Boyd says if you're going on a first date and feel anxious about the virus, it's totally okay to ask them about it.
But how direct should you be? "Someone with a direct personality should ask questions outright, be upfront as you are normally," she advises. "If you feel concerned but uncomfortable, you shouldn't let that stop you from asking.
"You could handle it in more indirect manner by discussing the virus and finding out their thoughts. Take it from there until you find out all the information you need – it will take longer, though."
Of course, if you have a link to the virus but aren't yet required to self-isolate, it might be polite to flag it to your date, like Christina's love interest. And if you do both decide to go ahead, don't feel obliged to hug or cheek-kiss when you meet.
"Don't wait for them to offer the first kiss or handshake, get in there first," adds Esteve Boyd. "You could just smile, perhaps laugh a little, and ask what they prefer: 'an elbow bump or a footshake'.
"This is new territory. We have to adapt to it and I don't think anyone will think you're rude for not using traditional forms of greetings."