Louisa was one of a kind.
A caring soul and a natural leader, if you had a problem, it became her problem too. I can't count how many kids back home in India she had got educated, how many poor girls had got married because Louisa picked up their dowry tab, or how many families had food on their tables each day because she had worked her butt off.
Louisa fussed over her family no end – she doted on me like I was the son we never had, showered our granddaughter Inara, showering her with gifts, cuddles and kisses, and made every visit to us feel like Christmas.
At work, she was a well-loved, well-respected teacher, Louisa taught English in three countries on two continents – India, Singapore and here in England, notching the highest GCSE grades in English for her east London school several years running. Her students just loved her,and they would carry her bags as she walked to the bus stop from school. She could tame any rowdy behaviour at school with a tongue lashing that would instantly hard wire discipline into anyone's brain. If looks could kill, Louisa would be convicted many times over.
It was returning from school one day in March that everything changed. Louisa came home shivering, and I remember her being unable to hold her coffee steady as she swore under her breath about Boris Johnson, a "stupid, reckless b*****d. Why can't the fool close everything down?"
"The pandemic was suddenly right here, and our hearts were sinking."
She insisted her illness was not related to coronavirus but the lack of heating at her school. Nonetheless, I had a very bad feeling, and told her firmly she wouldn't go in until this fever cleared. Louisa nodded.
Days later, I hear her struggling to breathe. She sounds asthmatic with audible wheezing as I sit beside her and rub her back. I call 111 and, after a 90-minute wait, I'm told that "if she can talk sensibly it's not serious. Just keep giving her paracetamol every four hours. Wait for another 24 hours and if it doesn't improve call 999." Then, the phone went abruptly dead. I winced. That was it?
Two days later, Louisa could barely breathe. I knew instantly that Covid-19 had struck her. After calling 999, I led her gently down the stairs and into the ambulance. As they closed the doors, Louisa waved goodbye.
It would be the last time I would see my wife alive.
"Dad, you have to stay strong for mom and the children", our daughter Sandra pleads. The hospital reported she had scarring on her lungs, and was placed on oxygen and antibiotics. The next day, the registrar called again: "We have no choice but to put her on a ventilator. She will have to be in an induced coma to keep her comfortable."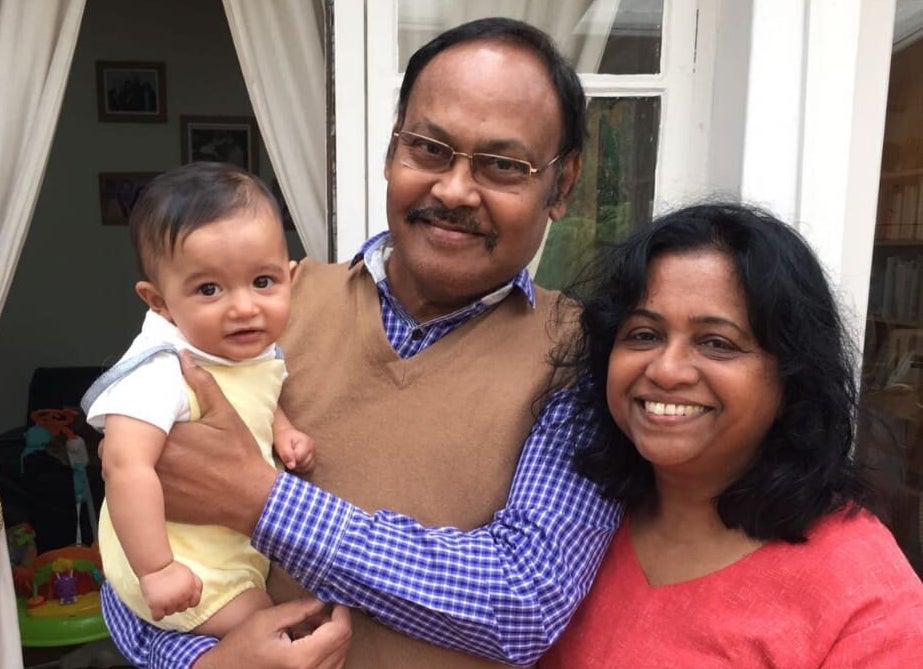 The pandemic was suddenly right here, and our hearts were sinking. Sandra goes ballistic. Our three-year-old granddaughter Inara wails and demands to see her 'Mahke' (her nickname for grandma) "right now!" To perk up, I focused on the circles of family, friends, colleagues, and church groups from New Zealand to North America that all had to be updated continuously. A pulmonologist family friend told Sandra the survival rate once you're on a ventilator is about 50%, and we began to brace ourselves for the worst, but I know deep in my heart we are losing Louisa to this heartless, vicious disease.
At 5am on April 17, my phone rang and I knew instantly that it signalled the end. "You better come over, if you want to see Louisa". I had not seen my wife for 25 days, and now they want me to go and say goodbye to her?
As I kitted up with PPE at the hospital, I looked around and realised I was in the eye of the Covid storm. I was in the middle of an unfolding nightmare as the Covid ward bustled around me.
Meanwhile, Louisa lay in absolute peace. Tubes were sticking out of her body and nearby monitors made strange electronic noises. I felt stunned, numb, before waves of anger, disbelief and shock engulfed me. This could not be real? I spent Louisa's last 100 minutes with her, talking to her incessantly. "You fought the good fight, girl. Go in peace, my angel."
On a video call, Sandra sobbed as Paul, our son in law, lifted our brand new grandson up close to the camera. "Say bye to Skye, Mom", he said through running tears. "What's happened to Mahke," queried Inara, in utter confusion. We hoped for a miracle, but Louisa's vital signs continued gradually down. As her heartbeat came to zero, I squeezed her hand and said goodbye. My Louisa was no more. Covid had taken away another joyful, vibrant, bubbly soul. What's going to happen to us?
"Louisa is still a prominent presence in the house. I still hear her booming voice everywhere I walk. I keep staring at my phone, expecting her to ring."
Since that day, I have hardly gone out. I just want to stay put, surrounded by memories of Louisa. I cannot accept she is gone, that she will never come back. Sandra and Paul have grown paranoid of Covid, while Inara washes her hands twenty times a day – Sandra had said her Mahke went over to the skies to become a star, because those dirty germs here didn't want her to be with the little one anymore. Now, when it gets dark, Inara cheekily opens the curtains and strains her eyes to look at the stars, asking Sandra to show where exactly her Mahke is in the galaxy now.
Nothing can, or ever will, fill the hole in our hearts. Six months now since her passing, Louisa is still a prominent presence in the house. I still hear her booming voice everywhere I walk. I keep staring at my phone, expecting her to ring – she would call three times a day without fail, whichever part of the world I was in. I can hardly finish a meal now – she would always eat with me when we were at home. When people talk to me, I hear without listening. A deep-rooted numbness fills my very soul. I've learned grief is a hidden, living, unhealing wound – which no medicine can cure.
Louisa was larger than life. She was unique in putting others before her, and I know her legacy will live on. She could never be reduced to a mere Covid statistic.
Life has to go on, they say, but that feels impossible when this pandemic is going on too. How many more beautiful souls will it take away? How many more families like ours will lose their loved ones to this ruthless killer?
History shows us the resilience of the human spirit is nothing if not remarkable. I know my family and others in the same boat shall surely overcome, with numbing pain in our hearts but with hope in our minds.
Until then, it will be grief that fills our heart.
Dr Gladius Kulothangan is a global management consultant and business management lecturer