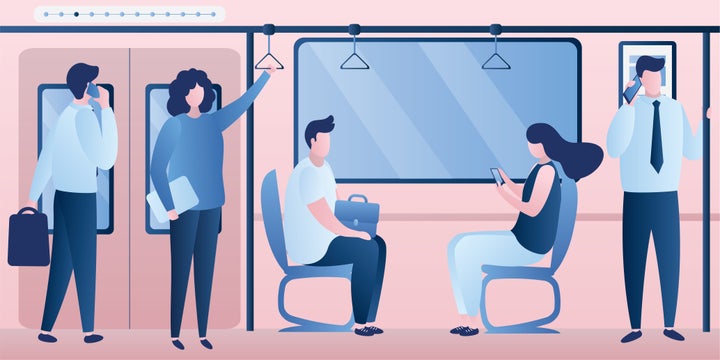 There were a lot of things I knew I'd miss about my working life when the nation locked down in mid-March. Friends and colleagues, of course. The pubs, restaurants and food vendors around my office in Farringdon. And the easy access to London – although I rarely made the most of that.
What I didn't think I'd miss was getting there and back.
As I'm sure is the case for many, I always saw commuting as a bind. An overpriced, unreliable, annoyingly necessary part of life that I had to endure, rather than enjoy. But as the months away from the city have worn on, I've found myself yearning to get back to the commute, and have come to appreciate the important role it has in my life.
Commuting for me is about forty minutes each way. From my home in a small town in the Chilterns to Euston (still London's absolute worst station). It was a journey I'd make at least four days a week, leaving in a customary mad rush before eight in the morning and only occasionally getting home with time enough to say goodnight to my two-year-old son.
It was never the worst service in the world. The daily, niggling sub-five minute delays were more irritating than disruptive. But when it went wrong, it went really wrong.
"When London's office workers were forced to say a temporary 'goodbye to all that', I wasn't sad to see the commute go."
There were the nights I'd arrive at Euston to a crowd staring up at the departure board showing mass cancellations, then down at their phones as surge pricing hit Uber and angry tweets barracked West Midlands Railway. The mornings when half-described 'faults' would mean forty minutes became an hour or more.
So when London's office workers were forced to say a temporary 'goodbye to all that', I wasn't sad to see the commute go. The absence of it meant more time at home with family, longer evenings that weren't dominated by when I might get home, and money saved as I didn't have to lose a few hundred quid every month to a rail company I couldn't see as anything more than profiteering ratbags.
But it didn't take long for the downsides of no commuting to make themselves clear.
I've always worked from home a bit, and am generally pretty disciplined about maintaining a healthy work/life balance. However, constant 'WFH' saw the boundary between the two blur – something I know I'm not alone in experiencing, with LinkedIn and Mental Health Foundation research finding that working from home during the pandemic has seen many people going well over their hours.
The fact that the distance between home and work had become a staircase no doubt contributed to this. Regardless of how you use your travelling time, the commute serves as a defined start and end to a working day – and the process of getting a train or a bus puts psychological distance between work and life, as well as physical. With that in place, it's just easier to switch from one state of mind to another.
"Because while there's no romance, joy of travel or beautiful views on the 7:59 train, there is time, there is space and there is distance."
I also noticed that a lack of commuting dented the time I could commit to my other gig as a novelist. With a full-time job and a family, I've never had much time to write at home. So, years ago I abandoned my authorly pretensions about having a nice desk or a room of my own, and took to writing on the train. It was at least an hour every day that I could commit to drafting, editing and reading. And I'd guess that a good 90% of my second novel, The Way Back, was written as I trundled to and from Euston station – often grateful for that broken-down freight train as a chance to get a bit more done.
For others, that commuting 'thing' may have been reading, watching films, gaming, music or crafting. I certainly remember the gentle tapping of knitting needles alongside the turning of newspaper pages. In the moment, it's easy to see these pastimes as distractions to fill a journey, but that denigrates their importance to our lives. A commute hobby is enriching and vital – a way to switch off and change focus, as well as another reminder that travel to work has a purpose beyond just getting there.
Recently, I've started making tentative steps back into the office, and getting back on the commute. Some things are different, like the masks and mostly empty carriages. Others are the same as they always were –notably the delays and the cost. But what I've noticed above all else is that I'm vaguely looking forward to my commute, something I couldn't possibly have imagined back in January this year, when I still viewed it as an unavoidable downside, rather than a valued part of my day with its own distinct purpose.
I've learned a lot about how I should work, relax and live this year. And I doubt I'll ever return to the commuting life I had before. But I do want some of it back. Because while there's no romance, joy of travel or beautiful views on the 7:59, there is time, there is space and there is distance.
I'll never take those for granted again.
Jamie Fewery is an author. His latest novel The Way Back is available now, and you can follow him on Twitter at @jamiefewery