Go to work. Don't go to work. Socialise, but don't socialise. Eat out, but don't help out. It can be hard to digest government guidelines when they seem to be changing so often.
But we're here to make it a little easier for you. The latest measures have been introduced to combat the sharp rise in coronavirus infection rates – including the much-talked-about 10pm curfews. Boris Johnson has also said people should assume these new rules will stay in force for six months.
So what else has changed? Here's a guide on the new restrictions. Bear in mind these rules apply to England only – people in Scotland, Wales, and Northern Ireland should follow the specific rules in local areas.
You can socialise in groups of six, but you should break 'unnecessary links' between households.
The number of people who can attend social gatherings inside or outside remains at six in England, under the 'rule of six' introduced earlier this month.
This rule doesn't apply to households or bubbles of more than six, or gatherings for work or education. It also doesn't apply to indoor sports, such as gym classes. People will be fined £200, and this will double on each further repeat offence up to a maximum £3,200, which depends on your location. Covid-secure marshals are making sure rules are being followed.
Scotland and Wales have different rules on household configurations, with under-12s not counting toward the total.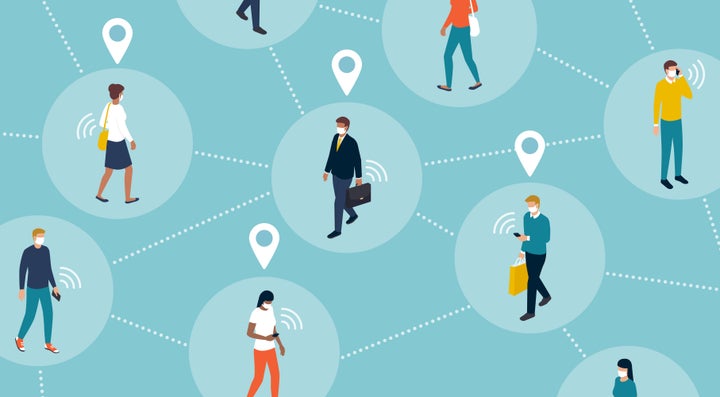 In order to stop Covid-19 cases rising, though, people in the UK are advised to "break unnecessary links" between households to stop coronavirus spreading.
It's pretty much up to you to decide on whether a meet-up is "necessary" or "unnecessary", but the idea is that we should be social distancing and limiting social contact where possible. Things like not hugging others, avoiding crowds, and reducing the amount of mixing with other households will help.
You can go to the pub, but you'll have to leave before 10pm.
The curfew will take effect from Thursday September 24 in an attempt to reduce Covid-19 transmissions. This means if you're out for a drink with your mates at the pub, last orders will be around 9pm, as you'll need to leave by 10pm.
This rule applies to pubs, bars, restaurants and casinos in England. It will not apply to theatres and cinemas, where performances may run over the 10pm deadline.
Starting from today, parts of England's north-east are already under a 10pm curfew. There's no news yet on what the fines are for flouting curfew rules.
You can go out for food, but it'll be table service only and staff are required to wear masks.
Food and drink outlets are now going to be restricted to table service only. Some had been doing this already, but it's no longer voluntary.
Pubs, bars, restaurants, and cafes must also now legally collect customers' details to aid with contact tracing. Face masks will also become compulsory for bar staff, shop workers, and waiters.
Fines for failing to wear a face mask will rise to £200 and will be extended to customers when they are not seated at a table, Boris Johnson told MPs.
You can go to work if you can't work from home, otherwise – work from home.
"Work from home, if you can," Michael Gove told the BBC's Today programme on Tuesday morning.
The latest government advice now goes back on their original campaign to encourage workers back to office. In a bid to reduce social mixing and slow the spread of the virus, there's now a "shift in emphasis" and the people of England will once again be asked to work from home if they can.
Speaking in the Commons on Tuesday afternoon, Johnson said: "We are once again asking office workers who can work from home to do so. In key public services and in all professions where home working is not possible, such as construction or retail, people should continue to attend their workplaces."
You can still attend a wedding, but no more than 15 people. Funerals still allow 30 people.
Wedding ceremonies, funerals, and team sport can still go ahead, so long as they're carried out in a Covid-secure way, in a safe venue or public outdoor space.
Restricted weddings now allow for a maximum gathering of up to 15 people, down from 30. Funerals are exempt from this rule. Plans to allow limited crowds to attend sporting fixtures have all been suspended.
Organisers of large gatherings of more than 15 people – like unlicensed music events and raves – can be subject to fines of up to £10,000 in England and Wales.