Some cot deaths could be caused by a mutated gene that causes some children to have weaker breathing muscles, new research suggests.
The cause of Sudden Infant Death Syndrome (SIDS), which leads to the death of around four babies every week in the UK, is unknown, but British and US scientists have found evidence that genetics may play a role.
The study, published in The Lancet, found that having a mutation on a gene that helps regulate the muscular control of breathing could mean some children are less able to correct their breathing when they encounter stresses such as tobacco smoke, getting entangled in bedding, or a minor illness.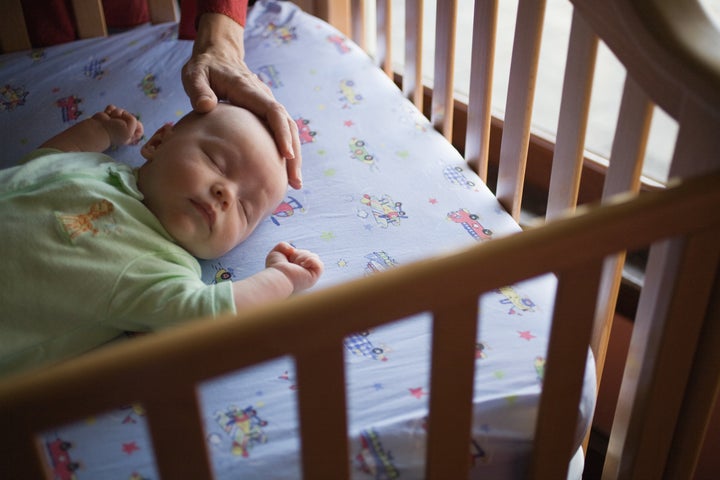 The study found four out of 278 babies who died from SIDS had the mutations. This may be a small number but the researchers say it is significant because SCN4A mutations are very rare and are normally found in fewer than five people in every 100,000.
The authors caution that this gene mutation doesn't explain the majority of SIDS cases, but it could allow parents who were thinking of having another baby after a cot death to undergo IVF, with a view to screening embryos for the gene mutations.
One of the study authors, Professor Michael Hanna, from University College London, said: "While there are drug treatments for children and adults with genetic neuromuscular disorders caused by SCN4A gene mutations, it is unclear whether these treatments would reduce the risk of sudden infant death syndrome, and further research is essential before these findings can become relevant to treatment."
Francine Bates, CEO of The Lullaby Trust cautioned that larger studies, including genetic testing of the parents, are needed before it can be understood how much of a contribution gene mutations make to SIDS.
"We are very pleased that leading researchers continue to try and identify the cause of SIDS," she told HuffPost UK.
"In the meantime, we urge all parents to continue to follow our safer sleep advice to reduce the risk of SIDS: always place your baby on their back, in their own cot or Moses basket, in the same room as you for all sleeps, day and night."
The Lullaby Trust offers the following advice for reducing the risk of SIDS:

* Always place your baby on their back to sleep.
* Keep your baby smoke free during pregnancy and after birth.
* Place your baby to sleep in a separate cot or Moses basket in the same room as you for the first six months.
* Breastfeed your baby.
* Use a firm, flat, waterproof mattress in good condition.
* Never sleep on a sofa or in an armchair with your baby.
* Don't sleep in the same bed as your baby if you smoke, drink, take drugs or are extremely tired, or if your baby was born prematurely or was of low birth-weight.
* Avoid letting your baby get too hot.
* Don't cover your baby's face or head while sleeping or use loose bedding.