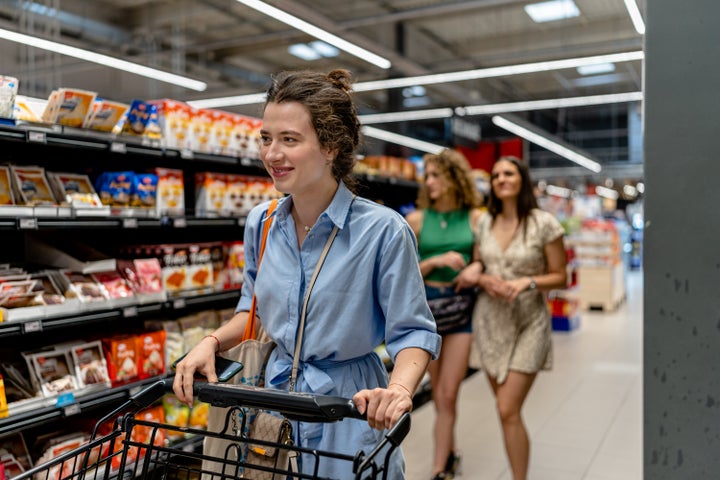 Good news! Your regular food staples just got cheaper.
But, as ever, don't get too excited – they still aren't a patch on last year's prices.
According to research from the British Retail Consortium (BRC), the average shopping basket was a little less pricey in September compared to August.
Why are prices falling?
Produce which is often part of own-brand lines such as dairy, margarine, fish and vegetables, all dropped in price due to competition between supermarkets.
Helen Dickinson, chief executive of the BRC, said this was due to "fierce competition between retailers."
She explained: "This brought year-on-year food inflation down to single digits and contributed to the fifth consecutive monthly fall in the headline rate, helped by easing cost pressures."
What does this mean for inflation in general?
Inflation is the rate at which prices change compared to 12 months ago. If inflation goes down, it does not mean that prices have fallen.
But, it is starting to ease.
The Office for National Statistics (ONS) previously found that overall inflation rates unexpectedly dropped from 6.8% to 6.7% in the year to August, compared to the year up to July.
According to ONS, this was aided by declining prices for milk, cheese and vegetables.
And BRC's numbers for September subsequently suggest that food inflation is still in the decline.
According to the trade association, food inflation was at 11.5% in August and then declined to 9.9% in September – meaning it is now significantly below the 3-month average inflation rate of 11.4%.
BRC also found shop price inflation dropped from 6.8% in August to 6.2% in September – which is below the 3-month average rate of 6.8%.
That's the lowest rate for a year.
On top of that, households have been helped by price cuts on school uniforms and other items for September's return to school, helping over shop price inflation drop.
The ONS is yet to reveal the annual inflation rate for September as a whole.
What might happen next?
While it's always hard to predict what will happen next with the economy, the BRC's chief executive Helen Dickinson, said inflation should slow for the rest of 2023.
Dickinson said: "However, there are still many risks to this trend – high interest rates, climbing oil prices, global shortage of sugar, as well as the supply chain disruption from the war in Ukraine.
"Retailers will continue to do all they can to support their customers and bring prices down, especially as households face being squeezed by higher energy and mortgage bills."
Bank government Andrew Bailey said inflation was expected to still fall, but there were "increasing signs" that the ongoing high prices were damaging the economy.
Mike Watkins, head of retailer and business insight NielsenIQ, also noted that pressures on households are yet to ease.
He said: "There continues to be pressure on budgets with over half of households still feeling that they are significantly impacted by the continued increases in cost of living."
How can you save money on your food shop?
So here are just a few ways you can save money during your regular shop:
Take stock of what is already in your cupboards to prevent buying duplicates
Plan your meals – for the week and stick to it
List your essentials first, prioritising fresh produce, proteins, grains and staples
Set a budget to help you make conscious choices about what goes in your basket
Don't go to the store hungry – you'll probably buy more than you need!