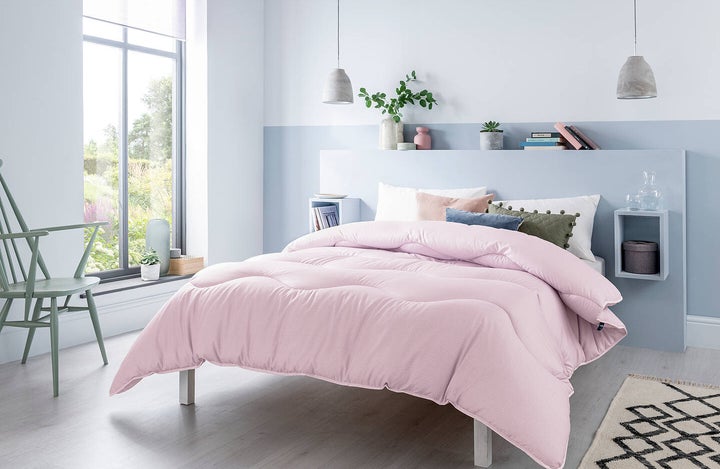 Is there anything better than snuggling under a freshly-washed duvet? Soft sheets coupled with the gentle scent of fabric softener make me feel like I'm sleeping on a cloud.
But there's one thing standing in between me and my lovely, fresh bedding: changing the bed. It's one of the worst parts of my week. A wrestling match I'd almost avoid if it wasn't for the lovely feeling that awaited me post-struggle – and, y'know, cleanliness.
So when I first heard about coverless duvets, I was eager to find out whether I could I get the best of both worlds.
The 10.5 tog duvets have a lightweight fibre filling, while block colour design means there's no need for a separate duvet cover. So does it live up to the appeal? I tested it for a week to find out.
First impressions
The pink duvet arrives in a soft drawstring bag, and I'm surprised as to how light it is. Compared to my usual duvet, it's pretty thin, even though it looks thick. It feels more like the cover I'd want in the summer, rather than the depths of winter.
The light pink design is slightly textured, it's giving me quilted throw vibes (in a good way).
But I can't help but think it won't keep me warm, especially as my house feels like the Arctic at times. There's just something about having a weighty duvet on top of you in the winter which is comforting.
The cosiness test
On my first night with the duvet, my fears of being too cold in the night get the better of me. I chicken out and reach for my trusty thick duvet cover after an hour or so. The following night, I'm more successful.
The duvet keeps me warm all night, just as warm as my regular duvet. But I miss the cosiness of a heavy cover over the top of me, particularly with it being so chilly out. (Perhaps there's something to be said for the benefits of weighted blankets.)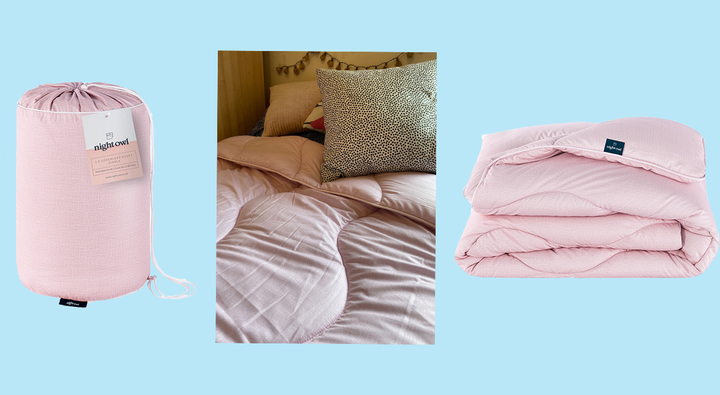 The big moment
After a week of using my duvet, the big day finally arrives – it's time to wash the duvet. But will it meet my lofty expectations?
As it's filled with compressible fibres, it's easy to squeeze into the machine drum – so I put it on a quick wash one week in. When I take it out and hang it to dry, it doesn't feel soaking wet – and very quickly returns to its original plump and fluffy state.
A few hours later, after going out for dinner and coming back, the duvet is completely dry. Even in my cold flat. It's ready to use on the back of my bed that night. 10/10 for ease of washing.
The verdict
I'm impressed with the duvet – my only drawback is how light it is, reducing the cosiness factor slightly. It'll be a duvet for the spring and summer months for me, for sure. For now, I'm doubling up my duvets to get through the chilly winter.
We all work hard to earn our money – so it shouldn't feel like hard work to spend it well. At HuffPost Finds we'll help you find the best stuff that deserves your cash, from the ultimate lipstick to a durable iron to replace the one that broke (RIP). All our choices are completely independent but we may earn a small commission if you click a link and make a purchase.