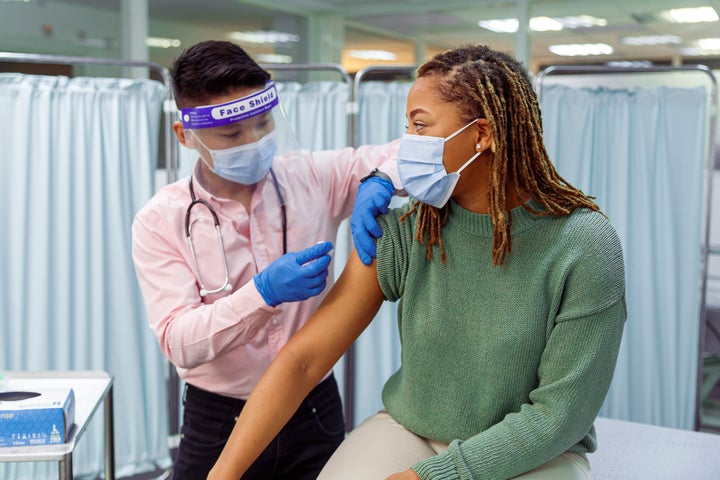 Those getting their Covid booster jabs now may be more likely to experience side effects, new research suggests, but they will be mild and short-lived.
Regardless of which vaccine you received for your first and second doses of the vaccine, your third 'booster' dose is likely to be the Pfizer-BioTech vaccine, as recommended by the Joint Committee on Vaccination and Immunisation (JCVI).
New data from Oxford University's ongoing Com-COV study, which looks at the impact of different Covid vaccine regimes, suggests that receiving a Pfizer jab after getting AstraZeneca jabs for your first and second doses may lead to slightly more noticeable side effects.
Most of those currently eligible for boosters are over the age of 40 – and are therefore more likely to have received AstraZeneca for their first two jabs.
The Com-COV study recruited 830 volunteers over the age of 50 in England, who were given two doses of either AstraZeneca or Pfizer, or one followed by the other (AstraZeneca then Pfizer, or Pfizer then AstraZeneca) and were asked how they felt in the seven days after the second jab.
Among those given AstraZeneca followed by Pfizer, around 78% had fatigue compared to the 53% who had two Pfizer jabs. Meanwhile 65% suffered from headaches after mixed vaccines, compared to 42% of those who had the same vaccines.
Joint pain, fever and muscle aches were also more commonly reported among those who had mix-and-match vaccines. But the vaccine side effects reported were mild, the research showed – lasting no more than 48 hours.
One in four people experience "mild, short lived" side effects – sore arm, fatigue, headache – after receiving either vaccine, the Zoe study found. Most peaked within 24 hours after vaccination and usually lasted one to two days.
Politicians and health leaders are encouraging everyone eligible for a Covid booster jab to book one, after availability opened up to all those aged 40 or above who got their second dose of the vaccine six or more months ago.
Research from the Com-COV study published in June showed that while two doses of Pfizer produced the highest levels of antibodies against Covid, a shot of AstraZeneca vaccine followed by a Pfizer was nearly as potent in protection.
In separate research, published this week, booster jabs were shown to give more than 90% protection against symptomatic infection in adults over 50.
The study by the UK Health Security Agency (UKHSA) showed that two weeks after receiving a Pfizer booster dose, protection against symptomatic infection was 93.1% in those who had initially received Oxford/AstraZeneca, and 94.0% for Pfizer/BioNTech.
Professor Wei Shen Lim, chair of Covid-19 immunisation for the JCVI, also stressed in a Downing Street briefing on Monday, that boosters "markedly" strengthen protection against coronavirus.
"We are advising now that the data tells that the booster dose markedly strengthens existing protection and will extend the duration of that protection against serious disease," he said. "We therefore urge people who are eligible for a booster to step and have your booster and maximise your protection."