This Easter why not enjoy making some easy Easter decorations with your children and adorning your home with your homemade creations?
Here's some inspiration for simple but stunning Easter crafts.
Bunny bunting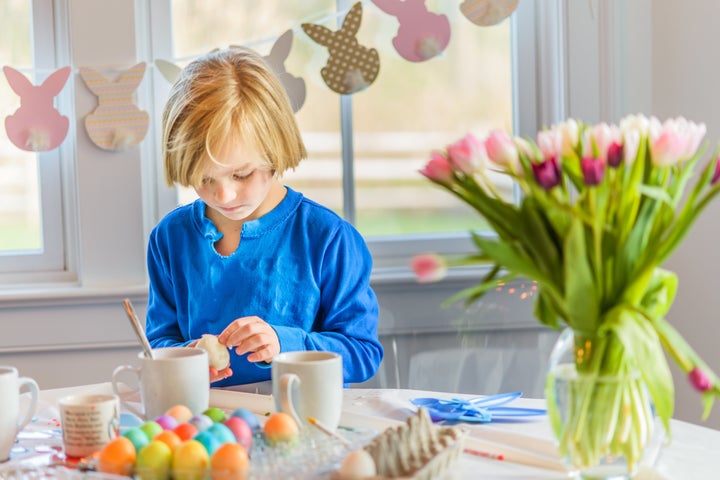 You will need: a length of pretty ribbon or string; a hole punch, cardboard cut into bunny shapes, cotton wool for bunny tails, any other decorations (pens, paint, glitter).
Decorate your individual bunnies, punch holes in each of the bunnies' ears, thread through with the ribbon or string and hang up.
Eggs on a branch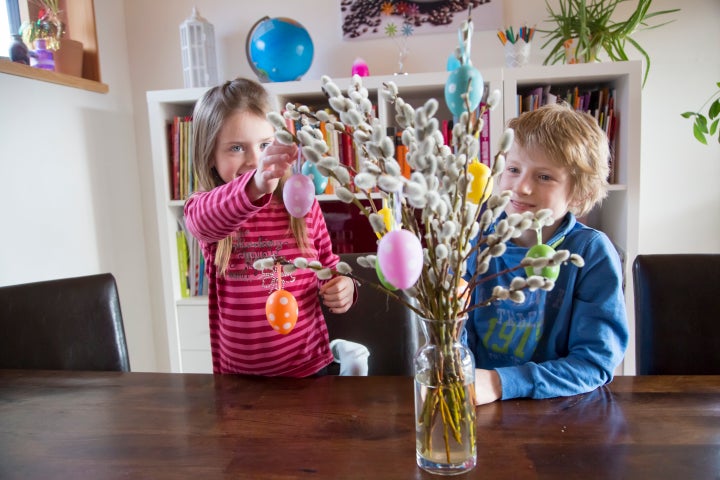 Choose pussy willows, shiny red stems of cornus, bright yellow winter jasmine or whatever takes your fancy. Pace them in a large vase then children can proudly hang their individually decorated eggs from the branches. This makes an eye-catching window or mantelpiece display. See below for how to decorate eggs.
Handy Easter cards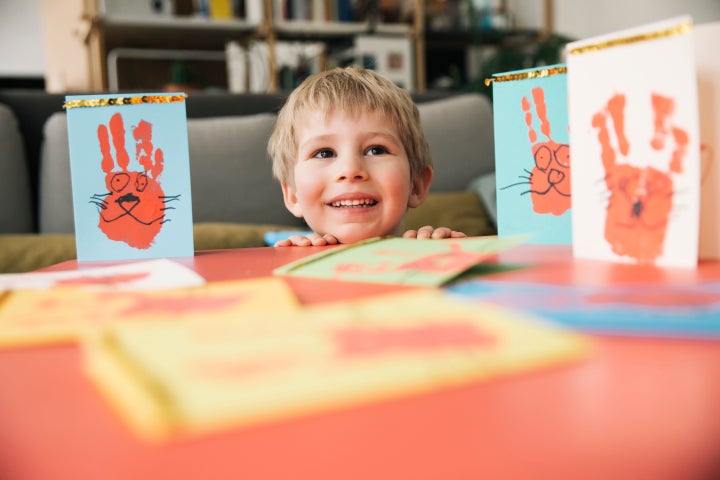 Younger children love getting messy with hand prints and bright coloured poster paint. You will need: card, poster paints, felt tips. Easy peasy!
Once the paint is dry, kids can draw on funny bunny faces. These would make much admired individual card place settings if you're having friends and family round for Easter lunch.
Eggshell flower pots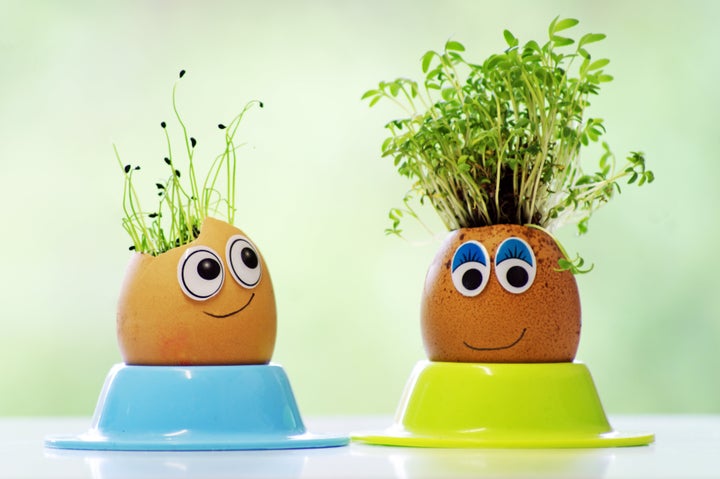 Budding gardeners will love pushing soil into halved eggshells, then the seeds, giving them a water and putting them on the window sill to wait to see what appears - with shoots appearing within a day. It's their choice whether to decorate the shells or not. For extra fun, you can stick on googly eyes and draw smiles. Cress, mustard and chives all reward you with instant greenery. Little kids will love giving them a haircut - and sampling the hair snippings!
A basket of decorated eggs
There are different ways to decorate eggs.
The easiest method is to hard boil eggs, then let children loose with poster paint, dyes (see below) and their imagination. You can use these same eggs for egg rolling competitions - whoever's egg goes the furthest down a hill wins.
For older children with a little more patience and a delicate touch, blowing eggs is a wonderful traditional Easter craft to practise and, if carefully packed away, the eggs with keep year after year.
You will need: eggs, a drawing pin, a bowl, a straw, a toothpick (optional)
Pierce the shell at either end of your egg with your drawing pin. The bigger the hole in the shell, the easier it will be to blow out the yolk and white. A good trick is to poke a toothpick into one of the holes in the egg and wiggle it round to break up the yolk and white and make them come out more easily. Hold the egg over the bowl, and either blow hard over the more pointed end of the egg or through a straw into the hole. Once all the egg inside has run out, rinse the shell under warm water and leave to dry.
Dying eggs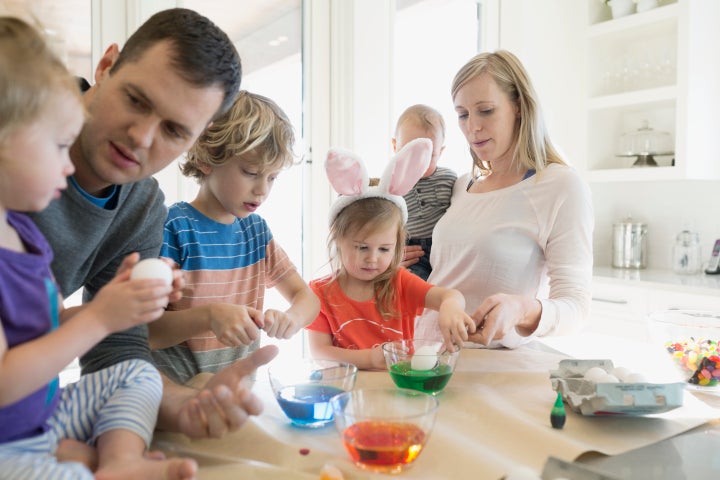 In bowl, mix a teaspoon of food colouring, a tablespoon of vinegar and enough warm water to cover the egg. Lower the egg into the dye carefully using a slotted spoon. The paler the egg, the better the dye will show up; the longer you leave the egg, the deeper the colour.
You can create patterns on the shell by wrapping rubber bands around the eggs or adding sticker spots before placing in the dye, then removing once the egg is thoroughly dry. You can also make individual eggs by writing names or drawing patterns with a wax crayon before dying.
Spot the chick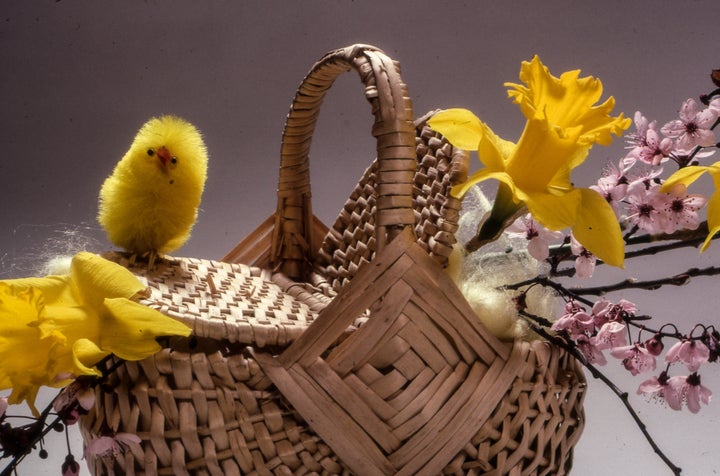 Children love picture books with little characters peeking out waiting to be spotted. Now together you can create a real life version by placing fluffy yellow Easter chicks peering out from behind the furniture then challenge guests to spot them all.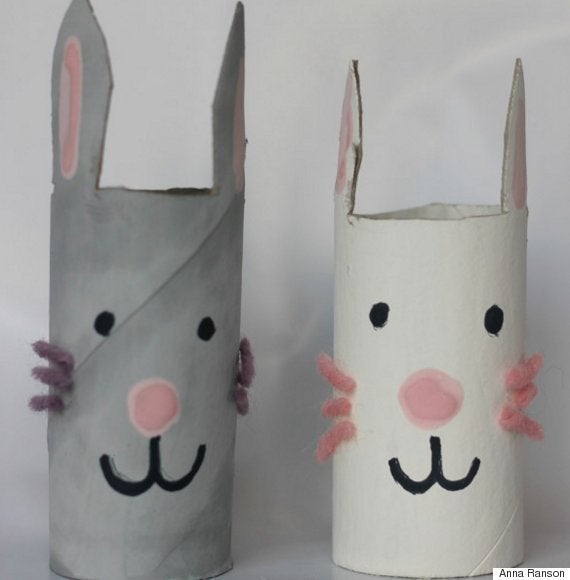 Make cute table decorations or a family of bunnies on display.
You will need: loo or kitchen rolls, paint, felt tip pens, glue and cotton wool.
Paint the rolls and leave to dry. Cut out bunny ears and draw on the face. Glue cotton wool on for the bunny tail.