Though there are many wonderful activities available for our leisurely pleasure on this funny little planet called Earth, surely the happiest, worthiest and most fulfilling pursuit a person can undertake is popping along to the movies. Going with friends. Going with loved ones. Taking an incredible journey from the safety of a cinema seat, surrounded by like-minded fellow travellers.
The ultimate evolution of art, entertainment and science, films combine the best of books, design, illustration, music and theatre, creating a single, deliciously superior experience that engages the brain, stirs the emotions and feeds the soul.
The question is - and it's not a tough one: Where's the best place to see a film? Which of the many available formats allow films to really be themselves? On your tiny phones maybe? The back of an airplane seat? How about at home, alone? No, no and no. The best place to see a film – obviously - is at the cinema.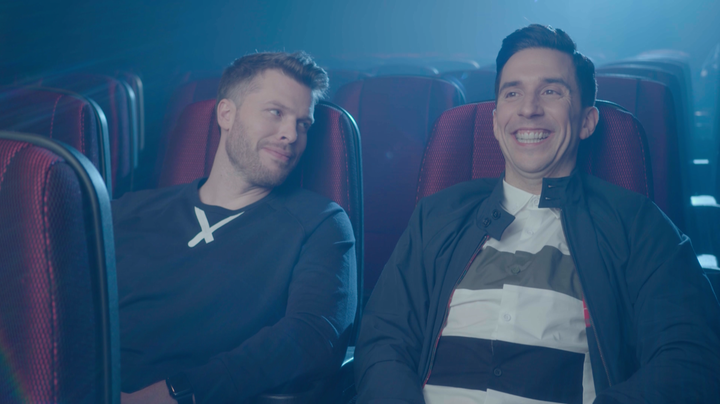 For starters, there are the technical reasons. The screen is bigger and clearer at the cinema. The sound is louder and sharper. People are more fragrant and attractive. Going to the cinema kills 99.9% of all known germs and regular attendance will certainly prolong your life, sometimes by decades. Most probably.
Rather more abstract is the feeling you get when you're going to the cinema. The rising excitement. Then when you get there, the sights, smells, atmosphere.
We love the ritual of it. From walking through the doors, queuing for the popcorn and soaking up the trailers, to losing ourselves in a film, surrounded by our mates, before whiling away the remainder of the day debating every single aspect of the experience. It's not so much an activity as it is a way of life.
We love the escape. We love the focus you get from sitting in a darkened auditorium, before a dazzling shiny screen, enrobed in swirly, mellifluous soundscapes.
Then there's the nostalgia. The joyful regression. The opportunity, every time we visit the cinema, to revisit our childhoods. Though certainly the experience has evolved over the years, in most of the ways that matter, it has hardly changed at all.
What we love best though, we've saved till last: The collective experience. Films, like life, are meant to be shared. We're not here alone, people. Experiences are surely better when you experience them with fellow 'experiencees'.
When you sit in the dark, surrounded by your friends, and beyond them, relatable strangers, and you all laugh, or gasp, or cry at the same time… That is what the cinema means to us. It means everything. It is our favourite place in the world.
Movies are better with two, which is why only comparethemarket.com customers get 2 for 1 cinema tickets from MEERKAT MOVIES.
Qualifying purchase required. Tuesdays or Wednesdays, participating cinemas. Standard tickets only, cheapest ticket free. 1 membership per 12 months. Conditions apply.
Related