"There was a time where you'd wait at the baggage claim and he'd always lunge for the heaviest, biggest box," remembers Jonnie Hughes, David Attenborough's director-producer since 2000. "There's so much kit on these shoots and he wants to help out, and he does," Jonnie adds. "I'm 50, and I've got to be careful with most of those bags."
Attenborough is now 94, so Jonnie and the crew have "trained him to stop" grabbing the heaviest luggage when they're away filming, as they did in Kenya and Ukraine for their new documentary, David Attenborough: A Life On Our Planet.
"He takes this tiny little bag around with him. That's his suitcase," Jonnie says, revealing the only sign yet that the giant of broadcasting is making sacrifices in his nineties.
In the new 80-minute film, David gives what he calls his "witness statement" to an Earth being destroyed by humans.
Reflecting on his seventy-year career in broadcasting, he reveals soberly how he first experienced the beginnings of climate change in the late-seventies while filming with mountain gorillas.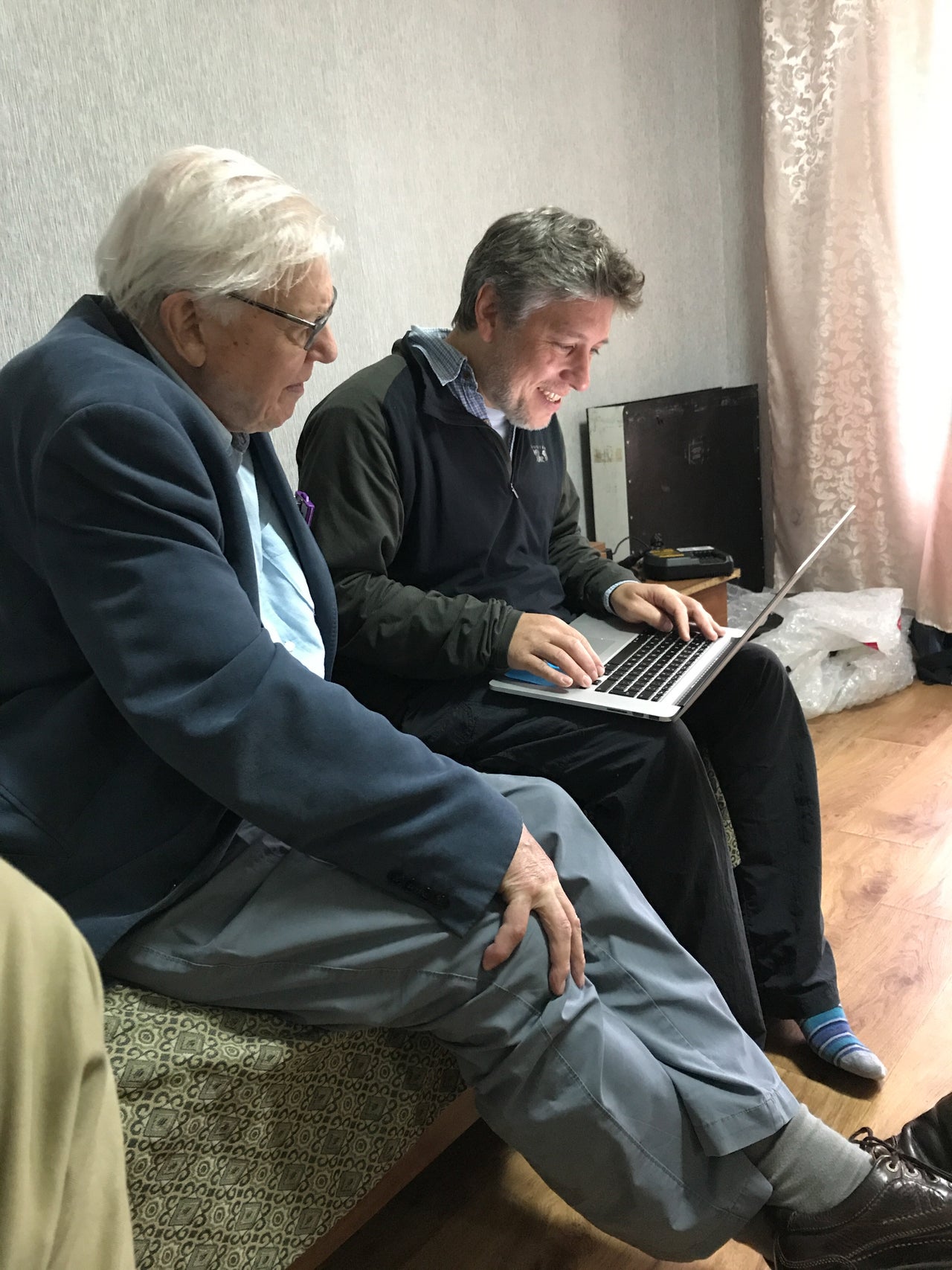 David has long spoken about climate change, but this feels different. Rather than using tales of dwindling animal populations to illustrate his fears, David reveals how climate change has made him see his earliest, most formative experiences with nature in a new light.
"I look at these images now and I realise that although as a young man I thought I was out there in the wild experiencing the untouched natural world, it was an illusion," he says in the documentary.
But rather than lamenting a lost past, Jonnie and David aim to change the way we think about climate change to help secure our futures. They say that if we want it to, it can feel joyous for us to save our planet, rather than a chore. Also that climate change has become a "communications issue" these days, rather than about needing to develop any shiny new tech. Most of the solutions already exist.
"We wanted to express that the sustainable future is an aspirational future. We should be looking forward to it, we shouldn't be thinking of sustainability as a sacrifice, we should be looking at it as something to embrace, that should improve our lives," Jonnie says. "The actual solutions we've got leads on and many of them are very progressed, so therefore it's all about getting the will to do them, and that's a communications issue - and David's a great communicator.
"So this whole project really was about finding a platform in which David can do what he does best: communicate a story."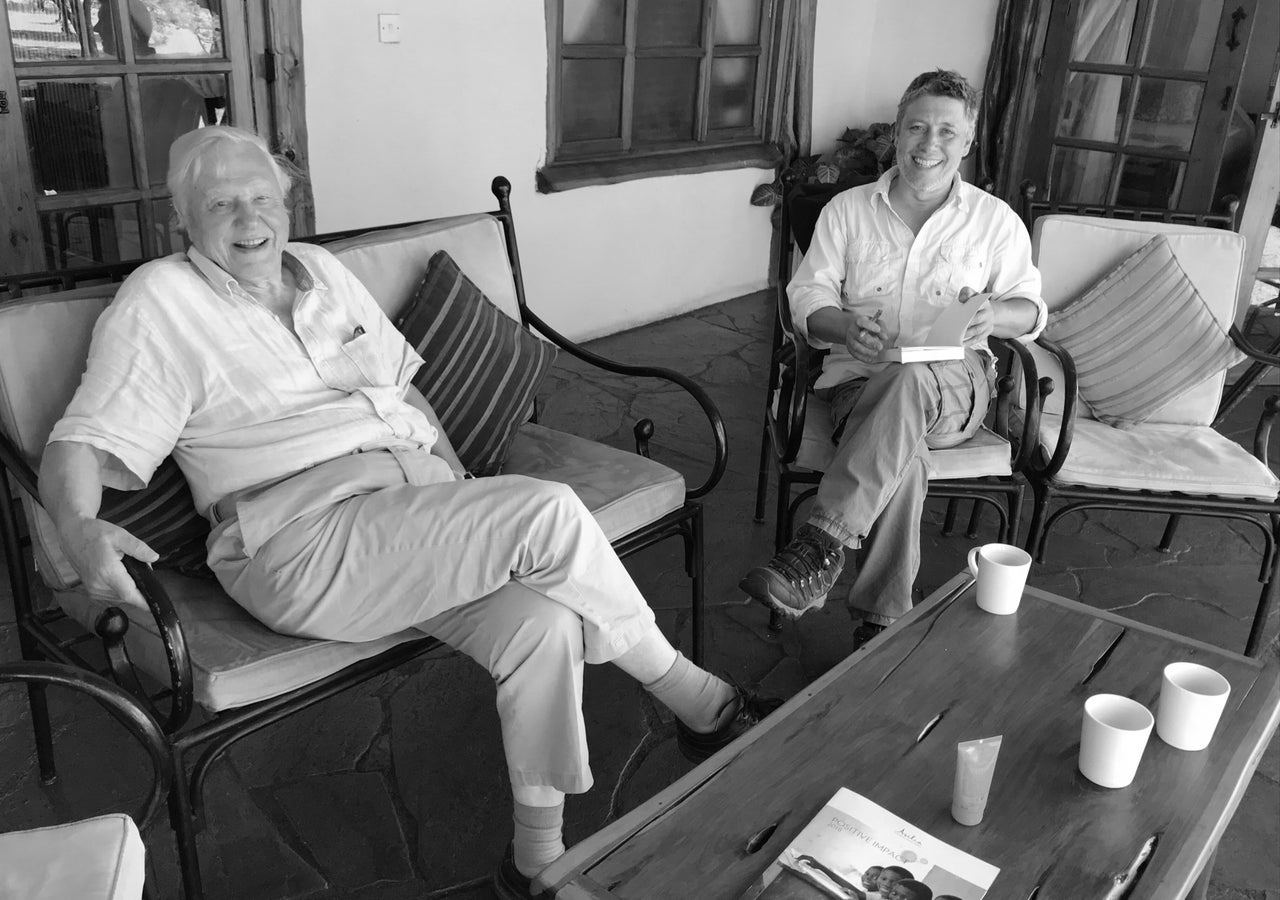 Scenes filmed in Chernobyl, the site of the nuclear blast in 1986 which led to 116,000 people evacuating their homes, bookends the film.
It's a metaphor for humankind's capacity for destruction. "We had an idea that Chernobyl could be the perfect physical manifestation of both the wreckage we can create but also the ability for nature to recover," Jonnie says.
Now a mecca of biodiversity, Chernobyl is where animals run free among the abandoned laundrettes, riverfront coffee shops and public spaces. "You couldn't get a better demonstration of how the world would recover if we weren't around," Jonnie adds weightily.
There was another reason for filming there. "It's one of the few places that David had never been, so that was one thing that we could offer him," reflects Jonnie of their week together in Ukraine. "You recognise all these things, the hairdressers, the cafe by the river, the municipal swimming pool, the hospital. All the schools with the books still on the floors and things like that," he says of the Chernobyl scene-scapes.
Jonnie's job as director-producer was to scope out the best abandoned scenes to make for good visuals, but for David Attenborough, the disaster site felt more bleak. "David said to me it felt like a place of real despair," reveals Jonnie. "That's the way he read it, but I guess maybe that's because he was consciously aware of the power of us humans to get things so wrong."
David spent about a week filming in Chernobyl, another few days with the crew filming wildebeest herds in Kenya, and a few days in Leicestershire near where he grew up as a young boy.
Back in the studio, the veteran broadcaster recorded what he has called his witness statements - personal, evocative monologues to camera relating exact moments from his BBC career to the timeline of destruction of the planet we all share.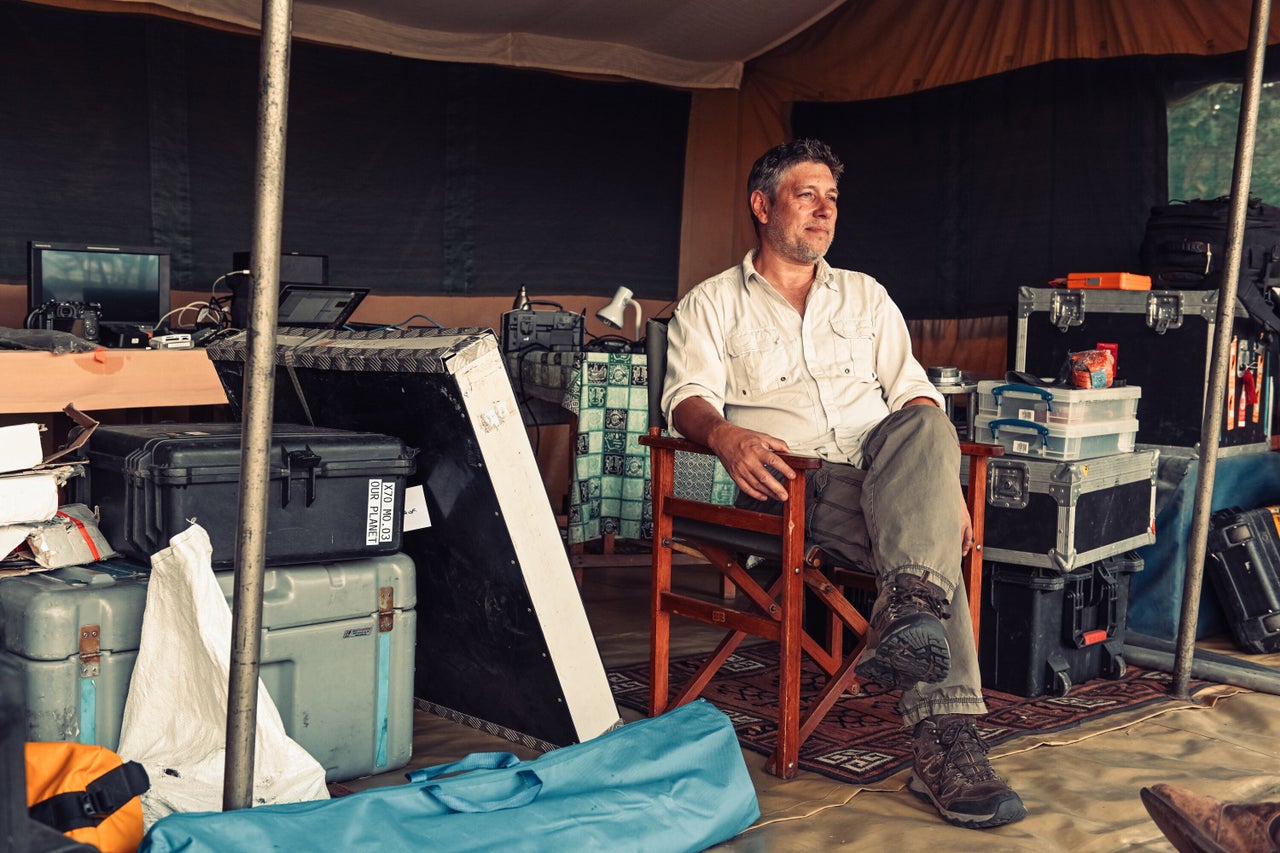 David directs his sentences like gentle but fatals blows into the camera. "Human beings have overrun the world. We're replacing the wild with the tame," he laments.
"I hope you found those really powerful, almost like you've never seen David before," says Jonnie of the monologues. They were shot in six days spaced out over a whole year to allow David and the crew time to reflect on the pertinency of the sentences. Jonnie and his team would watch early cuts in a pre-edit and return to David to add new segments to his statement, which is being seen as a sort of legacy piece.
"We came back to it a few times," recalls Jonnie. "We did a couple of days, leave it six months, come back to it, keep adding things, changing things, I asked questions, and then he asked to say more statements and we'd write things together.
"It was an ongoing construction if you like, like it would be with any witness statement. That's really the body of the film I suppose, that's what holds the film together, those interviews."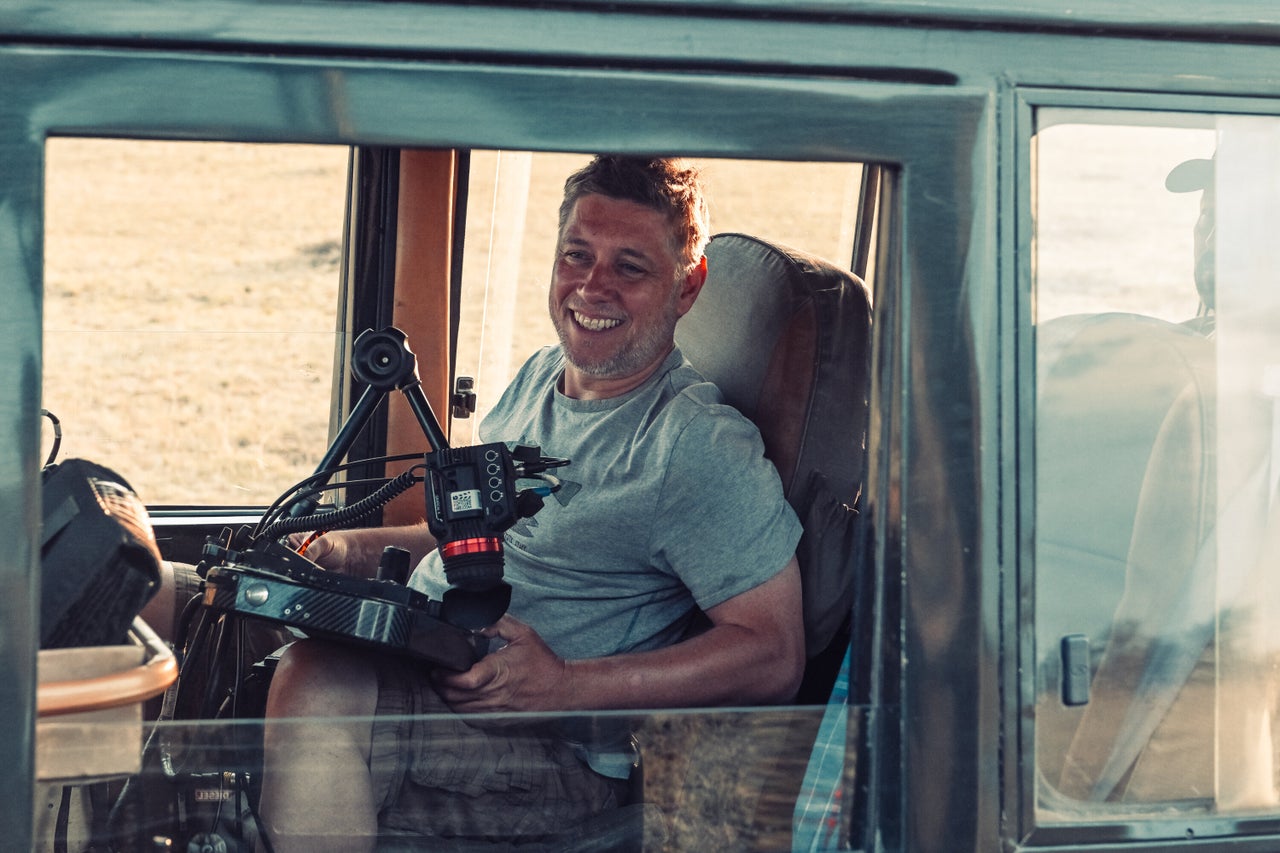 The process was long but rewarding. "We kept developing it, which was the luxury, I suppose. We didn't just have one day to do it, like a lot of people, because he was on board - it was his passion project."
After filming, David likes to relax. "That's the joy actually," says Jonnie. "It's such a privilege to work with David anyway, but it's even more fun to finish a day of filming and then go back and have a glass of wine or something."
David shares "so many stories, anecdotes" of an evening. "We can talk shop very happily, and natural history obviously he loves," Jonnie says, "but we'll talk about current affairs, and the state of politics, and economics, and education, and he'll talk about broadcasting as a sort of endeavour..."
Maybe because of the more personal subject matter, Jonnie got to know the broadcasting legend better on this project than any of their past work over the last twenty years. He describes an omnipresent sense of "boyhood excitement" in the man.
"He's got that still, that energy, just fascination with the world. You say something you discovered in a previous documentary or something that happened to you on a shoot and he'll want to know all about it because it just fascinates him."
David's lack of interest in slowing down is epitomised by how, at 94, he joined Instagram last month. "I'm exploring this new means of communication... because, as we all know, the world is on fire," he says in his first post.
Jonnie can't imagine him ever stopping working, especially now A Life On Our Planet has set a new tone; more about explaining to multinational corporations how easy it is to move quickly than it is about lamenting the losses we've already endured.
We can make change, but now it's about convincing the small majority to make the right big decisions and David, the great storyteller, alongside Greta Thunberg, his age-opposite, are perhaps best placed to keep delivering this message.
"We did talk just last week," says Jonnie. "He said: 'well, it's kind of the end of this project Jonnie, what shall we do next?'
"And we don't have an answer yet but certainly, he and I and everyone around us wants to tell this important story to as many people as possible by as many means as possible. So we will endeavour to find another outlet for that."
David Attenborough: A Life On Our Planet was produced by environmental organisation WWF and natural history filmmakers Silverback Films. It's at cinemas now and streaming on Netflix from October 4