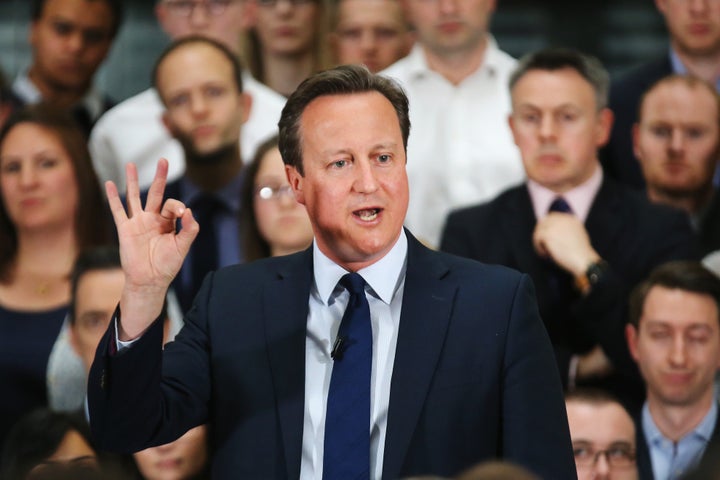 David Cameron is apparently "disappointed" Aston Villa has been relegated from the Premier League.
The Prime Minister claims to have been a supporter of the West Midlands club since watching them win the European Cup in 1982.
Perhaps he should have remained cheering on the Irons, as while they are chasing a Champions League place, Villa have been relegated for the first time since 1987.
This afternoon, the Prime Minister's Official Spokeswoman said: "The Prime Minister, like many Villa fans, is disappointed and [thinks the club] now need to focus on next season and turning it around."
Cameron apologised to Villa fans after confusing them for fellow-claret shirt wearing club West Ham.
He claimed he became confused as the day before he made the gaffe he visited the
He claimed that because the day before he made the gaffe he went past the West Ham stadium – and earlier in the speech had mentioned the West Indies – he accidently name-checked the east London club.
There has as yet been no word on how Aston Villa's other Establishment fan – Prince William – has taken the news of the club's relegation.
When he was first elected to Parliament in 2001, Cameron said he did not follow football, telling the House of Commons in a debate on hooliganism that year: "Many of those who have spoken in the debate or have written about the subject are either lawyers or football fans, but I have to confess that I am neither."
The first mentions in the national press of Cameron's liking for the club came after he was elected Tory leader in 2005. He was reported in 2006 to have written on his blog that he "half-heartedly" supported Villa and could name only three of their players. His uncle Sir William Dugdale, who died last year, was the club's chairman from 1975 to 1982.