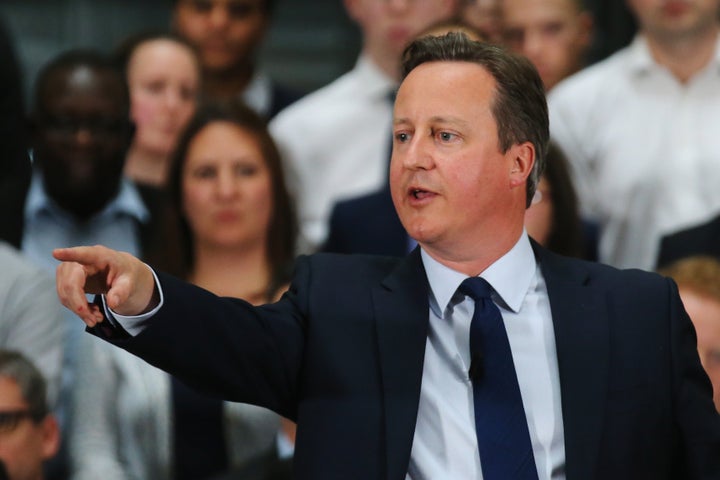 Downing Street has said David Cameron's family will not benefit "in future" from any offshore funds or trusts.
Jeremy Corbyn has demanded an independent investigation into Cameron's taxes as one Labour MP attacked the prime minister for using "privilege rather than brains" to achieve high office.
Having been accused of dodging questions over whether he an his family's tax arrangements, the prime minister or a No.10 spokesperson have now issued four statements.
1. MONDAY
"That is a private matter. I will focus on what the government is doing." - No.10
2. TUESDAY
"In terms of my own financial affairs, I own no shares. I have a salary as prime minister. And I have some savings which I get some interest from. And I have a house which we used to live in, which we now let out while we are living in Downing Street. That is all I have." - Cameron
3. TUESDAY AFTERNOON
"To be clear, the prime minister, his wife and their children do not benefit from any offshore funds. The prime minister owns no shares.
"As has been previously reported, Mrs Cameron owns a small number of shares connected to her father's land, which she declares on her tax return." - No.10
4. WEDNESDAY MORNING
"There are no offshore funds/trusts which the prime minister, Mrs Cameron or their children will benefit from in future." - No.10
Cameron was put under pressure in light of the scandal that revealed how celebrities, business leaders, criminals, sports stars and politicians from around the world used banks, law firms and offshore shell companies to hide their assets.
The prime minister's late father, Ian Cameron, set up the Blairmore Holdings Inc company in the 1980s. It managed tens of millions of pounds for the wealthy, but has did not pay tax on UK profits.
Writing for The Huffington Post, Labour MP Jess Philips said David Cameron should not receive "praise for paying his tax" and said Ian Cameron's behaviour had been "utterly disgusting".
"He's not a very clever boy, he's a very average boy who used privilege rather than brains to get where he got. Perhaps we could all buy our babies a better life if only we weren't burdened with being decent human beings," she said.
"What does he want, a round of applause? Tory MPs in defence of their premier last night took to Twitter to almost congratulate a man for saying he pays tax. What a guy, what a hero."
She added: "Applauding such mediocrity seems unusual. Are we now to expect celebrations because he can tie his shoe laces or that he can grow hair. He's not a toddler, he's the sodding prime minister."
NSA whistleblower Edward Snowdon attacked Cameron's original insistence that the news was a "private matter", writing in a post on Twitter: "Oh, now he's interested in privacy."
The documents published on Monday have already seen Iceland's prime minister Sigmundur Davíð Gunnlaugsson resign.
He was accused of setting up a company in the British Virgin Islands with the help of a law firm at the centre of the Panama papers leak.
The documents alleged the Gunnlaugssons' offshore company owned bonds in Iceland's failed banks.
Gunnlaugsson himself was involved in negotiations as prime minister that may have affected the worth of those bonds.
He has denied any wrongdoing and said he and his wife have paid all their taxes and done nothing illegal.
He also said his financial holdings didn't affect his negotiations with Iceland's creditors during the country's acute financial crisis.
Opposition lawmakers say Gunnlaugsson's offshore holdings amounted to a major conflict of interest with his job.