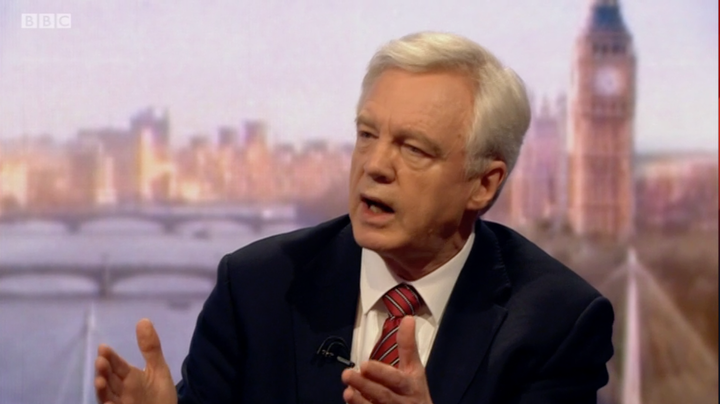 Britain will get its own "Trump moment" if MPs vote to delay Brexit, David Davis has warned.
The former Brexit secretary said any move to extend Article 50 would be a "democratic disaster" that would leave the Conservative Party "massively damaged".
"It would absolutely undermine belief in democracy in this country and certainly belief in the establishment political parties," he told BBC's Andrew Marr Show.
"Britain will get its Trump moment. The British people who voted for this – and a large number of Remainers who didn't vote for it but still think it should be carried through because they believe in democracy – will see a government, a parliament, walking away from a question that they themselves put to the people."
MPs could get the chance to extend Brexit this week if Theresa May's deal to leave the EU is once again rejected by the Commons and MPs vote to take no-deal off the table.
Davis said on Sunday: "The House will have to choose between something that might have a risk of some short-term but manageable economic turbulence or something which for certain would be a democratic disaster – namely not delivering on the referendum."
That could leave big parties like the Tories and Labour vulnerable in future elections, he continued.
"The British people would say: 'We want to teach you a lesson.'"
The comments from Davis – who resigned from the government in July because he did not "believe" in Theresa May's Brexit plan – come just 19 days before Britain is due to leave the EU.
The UK is still locked in negotiations with the European Union, with the government attempting to get legally-binding assurances that the UK could not be trapped in the backstop.