Thousands of City workers risk being out of a job as Deutsche Bank confirmed it will cut 18,000 jobs across its global business by 2022.
The German banking giant started the process of laying off a fifth of its global workforce on Monday as part of a £6.6 billion reinvention set to tip Germany's largest lender into yet another annual loss.
The move is one of the biggest overhauls in its investment bank since the global financial crisis.
Deutsche has been on a 10-year decline since the last financial downturn, and the cutbacks are seeking to trigger a fresh chapter following years of reputational blows.
Paul Achleitner, chairman of the bank's supervisory board, said: "Deutsche Bank has been through a difficult period over the past decade, but with this new strategy in place we now have every reason to look forward with confidence and optimism.
"This fundamental transformation is the right response to the major changes and challenges in the financial industry."
Why Are There So Many Layoffs?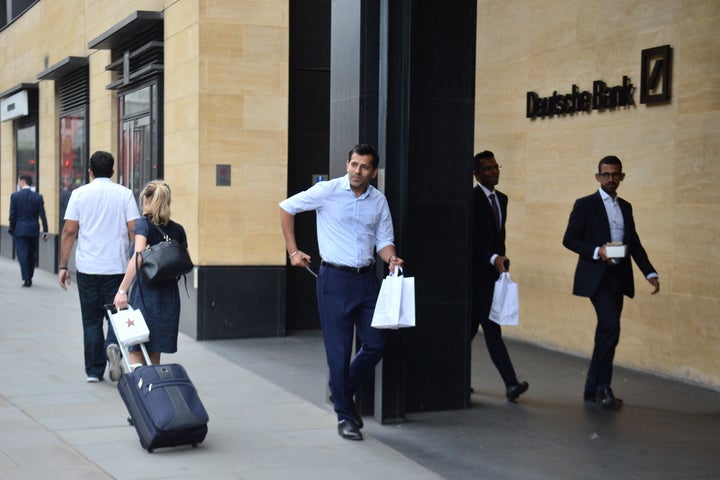 Deutsche Bank said on Sunday it would scrap its global equities operations and cut some jobs in fixed income.
The move is a retreat from a long-held ambition to make its struggling investment bank, which employs 38,000 people, a force on Wall Street, Reuters reported.
Chief executive Christian Sewing told journalists from the bank's London office, where many of the cuts are expected, that he was "doing nothing short of reinventing" Deutsche Bank, which will have been in the red for four out of the past five years.
Where Are The Jobs Being Lost?
The bulk of the cuts are expected in Europe and the United States.
Sydney, Hong Kong and elsewhere in the Asia-Pacific region began the working day with cuts and several Deutsche bankers said entire teams in sales and trading were going.
A person with knowledge of the bank's Australia operations said its four-strong equity capital markets (ECM) team was being disbanded, but most of its mergers and acquisitions (M&A) team was not immediately affected, according to Reuters.
On its website, Deutsche said it had employed 4,700 people at its main regional offices in Sydney, Tokyo, Hong Kong and Singapore.
Its investment banking team for the Asia-Pacific region had about 300 people before the cuts, of which 10% to 15% will be laid off, almost all in its ECM division, said a senior Asia banker with direct knowledge of the plans.
The bank has not yet given a geographic breakdown of the jobs at risk, however Sewing said job cuts would continue in London and New York.
The firm employs around 8,000 in the UK.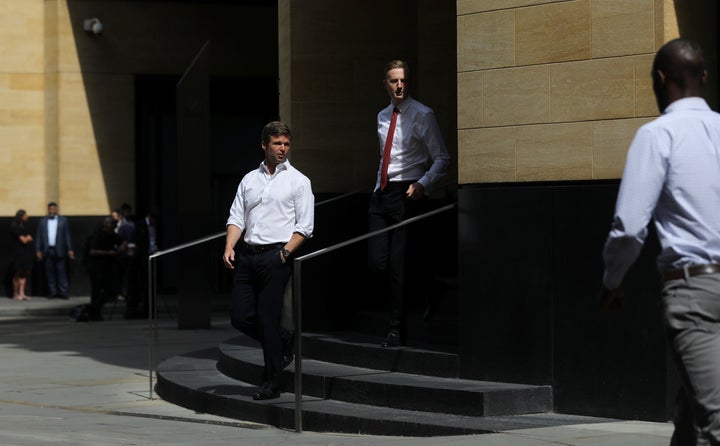 On the ground, bankers were seen leaving Deutsche Bank's Sydney office on Monday saying they had been laid off, according to Reuters, but declined to be identified as they were due to return later to sign redundancy packages.
One laid off equities trader in Hong Kong said the mood was "pretty gloomy" as people were called in to meetings. "They give you this packet and you are out of the building," he said.
Several workers left offices holding envelopes with the bank's logo. Three employees took a picture of themselves beside a Deutsche Bank logo outside, hugged and then hailed a taxi.
"If you have a job for me please let me know. But do not ask questions," said one Deutsche employee.
The banking giant also said in 2017 that it could axe up to 4,000 roles in the UK as a result of Brexit, but this does not appear to be a factor at play here.
What Are The Implications?
The bank – which is expected to dish out billions in severance payments – is seeking to "refocus the bank around our clients", Sewing said.
But it will feel the cost straightaway. Deutsche is expecting costs of around €7.4 billion (£6.6 billion) by the end of 2022, which will include €3 billion (£2.7 billion) in the second quarter of 2019, as part of the restructuring.
The Frankfurt-based bank expects to make a €2.8 billion (£2.5 billion) loss for the current quarter, following the job losses, the Press Association reported.
A spokeswoman would not comment on details but said the bank would be "as sensitive as possible implementing these changes".
"We are creating a bank that will be more profitable, leaner, more innovative and more resilient," Sewing wrote in a note sent to staff on Sunday.
It comes as the CEO flagged the restructuring in May, promising shareholders "tough cutbacks" to save more €1 billion (£880 million). It followed Deutsche's failure to agree a merger with rival Commerzbank AG, saying the risks and costs involved were too great.
"We are creating a bank that will be more profitable, leaner, more innovative and more resilient"
The bank will set up a so-called bad bank to wind down unwanted assets, with €74 billion (£66 billion) of risk-weighted assets.
However one senior banker, still in a job, questioned how well the slimmed down franchise could compete, Reuters reported.
"Will clients stick with us or is the game over?"
Meanwhile, shares in the bank which has almost 91,500 staff around the world, were slightly lower in Frankfurt as the bank's finance chief said there was "significant uncertainty" whether it would break even in 2020.
What Are Analysts Saying?
Ratings agency Moody's said Deutsche Bank faced "significant challenges" to executing the plan swiftly and said it would keep its negative outlook on the bank, Reuters reported.
"It's a risky manoeuvre, but if it succeeds, it has the potential to bring the bank back on course," a person close to one of the top 10 biggest shareholders said.
JP Morgan analysts called the plan "bold and for the first time not half-baked" but questioned the credibility of execution, revenue growth and employee motivation.
What Led To The Bank's Decline?
The decline is a culmination of the bank "tinkering at the edges" of a business growing "too big and too quickly" in the 10 years before the global financial collapse, said New Financial's William Wright, City AM reported.
The lender had been hit with failed stress tests in the US and raids by German police in November as part of money laundering investigations.
Meanwhile, shares have tumbled more than 70% over the last five years.
Wright said: "Deutsche Bank was a disciple of the 'promised land' theory of investment banking: if we can just keep going for a few more years, we'll be able to print money on the other side when others drop out and this all blows over."
He added: "But the structural challenges haven't blown over, its main rivals haven't dropped out and Deutsche's cost base, culture, structure and share price have finally caught up with it."