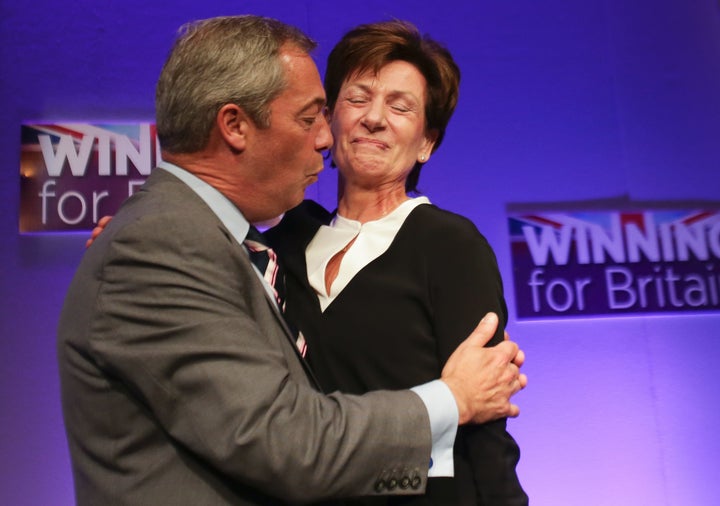 Diane James has explained what went wrong that led to that photo of her with Nigel Farage.
When James was elected leader in September, she was greeted on stage by Farage and the pair shared an awkward embrace - which was widely mocked.
Speaking to BBC 5 Live today, James explained what went wrong.
"Nigel and I spoke just before I went on stage and he said, 'Look this is what we're going to do. The plan is I'm going to give you a greeting and there's going to be a kiss on the cheek,'" she said.

"And we agreed which side the kiss was going to be … I went to him with the appointed cheek and he went the other way … That's why there was a little bit of awkwardness."
James also revealed why she decided to quit as Ukip leader after such a short period of time in charge.
"One can obviously continue to bang your head against a brick wall, going to bed at night hoping things might change and that you might be able to make a breakthrough," she said.
"But when it became clear I couldn't make that breakthrough, I felt it was the right decision for me and the credibility of the party that someone else assume the mantle.'"
James also rejected the claim, that was put around at the time she quit as leader, that her husband was on his "death bed".
"My husband was not very ill, and neither was he at death's door, and it was quite frankly irresponsible journalism," she said.
"By concocting a story and deciding that family illness could be a factor, that story then effectively grew, developed legs and went viral, and it caused an immense amount of upset and anxiety and unhappiness."
Reaction to that 'kiss':