Disabled people's ability to live independent lives has been eroded by years of cuts to social care and payments, a leading human rights body has warned.
Changes to benefits and care under austerity have led to the disabled being "increasingly marginalised and shut out of society", the Equality and Human Rights Commission warns as a UN committee meets to evaluate Britain's track record on their rights.
It meets on Wednesday in Geneva to re-evaluate how well Britain is implementing the UN Convention on the Rights of Disabled People, which the UK government ratified in 2009.
Last year, the same committee concluded that changes to social security had led to "grave and systematic violations" of disabled people's rights, blaming cuts to housing benefits, changes for the criteria for parts of the new Personal Independence Payment and the Independent Living Fund's closure.
The EHRC's warning also comes after 51,000 disabled people lost their specially adapted cars between 2013, when the benefits system was changed, and 2017.
EHRC chairman David Isaac said: "There is a real concern that disabled people are being increasingly marginalised and shut out of society as they bear the brunt of the accumulated impact of cuts in public spending."
Sue Bott, the deputy chief executive of charity Disability Rights, said the EHRC's findings reflected the charity's own submission to the UN.
She said the Government needed to commit to ensuring its policies didn't combine to limit disabled people's rights.
"All the policies that are introduced need to be looked at through that lens. What we see is a series of measures that seem innocuous in themselves but when they're all put together, they reveal a damaging picture to disabled people's human rights," she said.
Disability Rights held events up and down the country with disabled people as it prepared to make a submission to the UN investigation.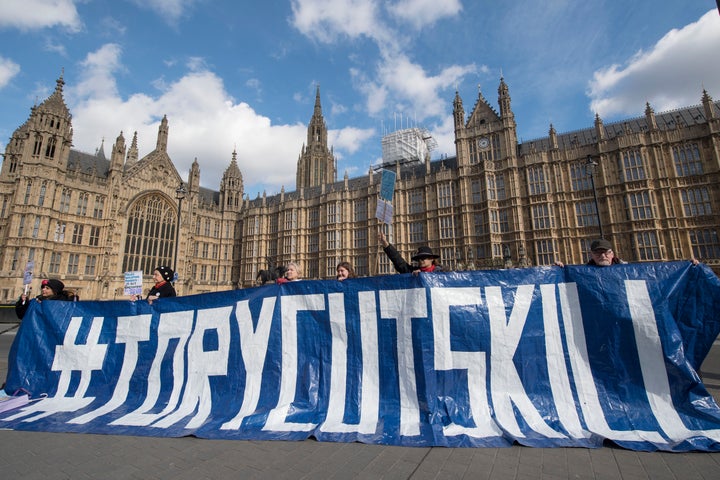 Bott said, on several occasions, people who wanted to attend the events could not because cuts to their social care meant they had no one to drive them and they were forced to stay at home.
Bott added: "That's what we're hearing more and more. That social care has become so basic and so poorly funded that people just aren't able to get out of their own homes."
She said cuts "right across the board" were infringing disabled people's rights.
She added the Personal Independence Payments were "far more restrictive" than the Disability Living Allowance they replaced and had led to people losing their cars adapted for their disability.
"We're finding people are losing their cars in very large numbers," Bott said. "You need your car to get to work. This is serious stuff."
The EHRC's report cites research from earlier this year that suggests half of all foodbank users are disabled and unable to work. The same research also said "the people using food banks are groups who have been most affected by recent social security reforms, including disabled people".
Bott said the disabled people's rights were undermined "right across the board... by one measure or another".
The EHRC is calling for the Convention on the Rights of Disabled People to have its status within law enhanced. It is also urging that gaps in the law be plugged to better protect people against disability discrimination.
Isaac added: "Disabled people have won hard fought battles in recent decades to ensure that they can live independently to exercise choice and control over their support. Evidence of regression must be confronted and urgently addressed."
He said the Government had to take disabled people's human rights more seriously "as the UK and devolved governments' track record on disability rights comes under the international microscope".
"Everyone is entitled to the same opportunities and respect," he said.
A Department of Work and Pensions spokesman told HuffPost UK: "The UK is a recognised world leader in disability rights and equality, which is why we supported the development of the UN convention.
"Almost 600,000 disabled people have moved into work over the last four years and we spend over £50 billion a year to support disabled people and those with health conditions – more than ever before.
"This first periodic review will help build on our progress to empower disabled people in all aspects of their lives."