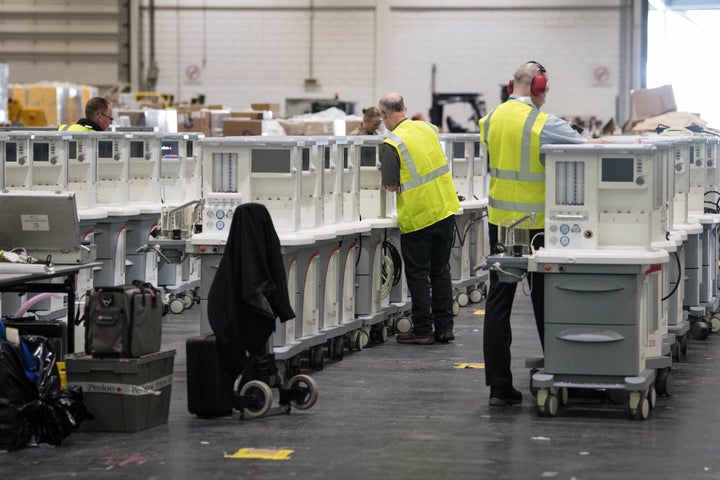 Coronavirus has changed everything. Make sense of it all with the Waugh Zone, our evening politics briefing. Sign up now.
Age UK has sounded the alarm over "morally repugnant" treatment of the elderly amid reports some were under pressure to sign 'do not resuscitate' forms.
The NHS is preparing for the UK's coronavirus crisis to explode over the coming days, with demand for ITU beds, ventilators and medics set to reach unprecedented levels.
But the charity has cautioned healthcare chiefs "nobody should feel pressured into refusing treatment" after it was claimed older people faced "undignified" care.
The NHS official guidance is that there should be no blanket decision on end-of-life care for any group.
But a series of disturbing reports have surfaced that GPs and in one case an entire care home have been asked to get some patients to agree to 'do not attempt CPR' (DNACPR) forms.
HuffPost UK reported on Tuesday how Llynfi GP practice, in south Wales, had written letters to some of its sickest patients underlining "several benefits" of the forms.
They warned that those with serious conditions such as incurable cancer, motor neurone disease, and untreatable heart and lung conditions were "unlikely to be offered hospital admissions" and "certainly will not be offered a ventilator bed".
It went on to encourage them to complete the DNACPR form as "scarce ambulance resources can be targeted to the young and fit who have a greater chance" of recovering from the virus.
Llynfi surgery has since apologised and acknowledged the letter did not represent official guidance.
GP practice managers have also told HuffPost UK they have been asked to check on patients' conditions and ensure DNACPR forms are "up to date".
While conversations about end-of-life care in many cases are normal and good practice, families and care home staff have raised concerns that some may feel pressured as the Covid19 pandemic tightens its grip.
Caroline Abrahams, charity director at Age UK, has told HuffPost, the topic must be approached with "great sensitivity" and no-one should be "told" what to do.
She said: "Thinking ahead about what kind of treatment you would prefer to have, or not have, if you become seriously ill is a thoroughly sensible thing to do, but especially at a time like this the topic needs to be approached with great sensitivity.
"Conversations around 'advanced care planning', as it is called, should be shared between patients, healthcare professionals and families, based on an honest assessment of the risks and benefits, and factoring in people's wishes and preferences.
"Nobody should feel pressured into refusing treatment and neither should they be forced to have these conversations in a dispassionate and undignified way.
"The idea that, say, all the residents of a particular care home should be 'told' by anyone, including a local health body, that they now have to have a DNR in place would be morally repugnant & deeply wrong. These are individual decisions and choices and must always be approached in this way."
Asked about the issue at Friday's Downing Street press conference, Health Secretary Matt Hancock said coronavirus patients living in care homes will not be refused admittance to hospital.
He added there were 2,029 spare critical care beds available in the NHS and health chiefs would make decisions about how they were used based on clinical need.
"It is absolutely not a blanket rule that people shouldn't go to hospitals from care homes," he said. "Hospital is there for people when they need it, when the doctors advise that they go."