It's official, dogs are the best. A study suggests they can help you live longer – and is it any wonder when they're such a huge benefit not only for your physical health (walkies!) but for your mental health too?
The latest study analysed data from 3.8 million people and revealed owning a dog can lead to better cardiovascular outcomes, especially for heart attack and stroke survivors who live alone. Compared to those without a dog, owners experienced a 24% reduced risk of all-cause mortality and were 65% less likely to die after a heart attack.
With this in mind, and because we don't really need any excuses to sing the praises of man's best friend, here are six people on the complete and utter joy of dog ownership – and the many ways they help provide comfort, support and unfaltering love when we need it most.
'He genuinely helps me survive depression.'
Kate Leaver rescued her two-and-a-half year-old Shih Tzu Bert from Battersea Dogs Home at the beginning of 2018 and cannot praise him enough – she's even writing a book about him (and the benefits of dog ownership).
The journalist and author tells HuffPost UK: "My dog honestly improves my life exponentially, just by keeping me company. He gets me out for a walk in the park every morning, which keeps me at least a little bit active and gets me some nature time."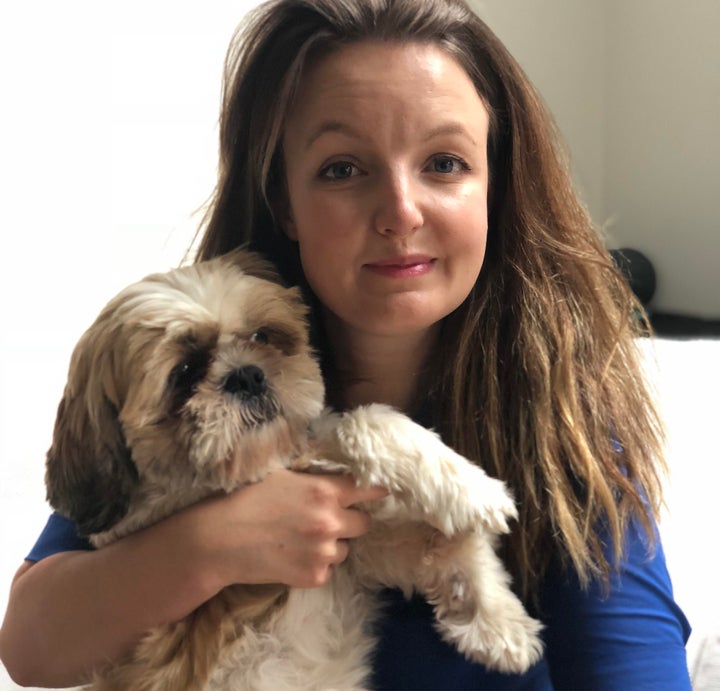 He also provides a light distraction from the daily grind. "He makes me laugh every day. If anything, he's too cute," she says. "His sweet nature and general enthusiasm about cuddles make me happy on a daily basis. His affection and warmth and company mean so much to me, particularly because I work from home.
"He helps with loneliness and he genuinely helps me survive depression."
Kate admits she spends more time with Bert than any other living creature and wouldn't have it any other way. He's also incredibly intuitive when she's struggling with mental health issues.
"If I go through a depressive episode or have anxiety, he knows and he will not leave my side," she says. "If I go back to bed because I can't deal with being awake/upright, he follows me and lies across my chest. It's extremely calming.
"His presence in those times is restorative in a way I can't express. He actually reminds me why I want to live."
'I gain so much strength from being outside and from walking with him.'
"I can categorically say that my dog keeps me grounded, happy and mentally healthy," says Sarah Wolf, 45, who lives in Frome, Somerset.
She's had her dog Widget since December 2017 and says he has been instrumental in helping her gain physical strength – something she's achieved through exploring mountains, lakes and hills with him.
She recently entered a 25km ultra trek ("I came 20th out of 450," she exclaims) as a direct result of being a dog owner.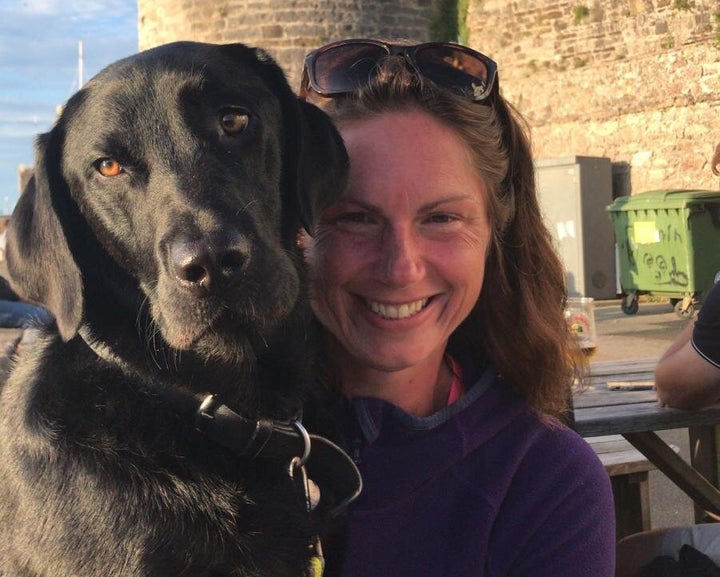 Widget, who is two, has also helped her navigate grief. Sarah's mum was diagnosed with cancer in July and sadly died at the end of September this year.
When she was helping to care for her mum, in the last weeks of her life, she would often take her dog out for walks along the Cornish coast. "It helped to alleviate stress, grief and despair," she says. "On the day mum died – she was in a hospice for the last 24 hours – I walked the dog in the middle of the day.
"The walk on the 28th September was one of the most uplifting ever. I was in the midst of a horrible situation seeing my mother fade but the dog gave me structure, the walk gave me respite and the fresh air reminded me of the perpetuity of nature."
'He makes me happy.'
For some dog owners, such as Mark Sleight, their pets are a great source of happiness. The 40-year-old, from Milton Keynes, picked up his Golden Retriever called Oscar as an eight-week-old puppy. Eight years on they're as thick as thieves – Mark even takes Oscar to work.
"On a day-to-day basis Oscar makes me happy, keeps me grounded and incredibly grateful," says Mark. "There have been many moments when life could get you down, but a cuddle and some love from Oscar completely changes your perspective on life."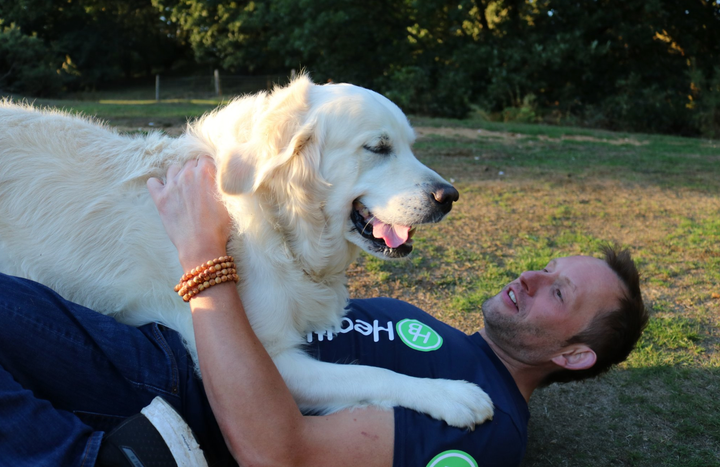 One example he gives is when his dad had two consecutive cardiac arrests. "I found that incredibly tough but we have a tiny family and I had to be there for my mum at a time when my own relationship had started to near its end," says Mark.
"Oscar was my only outlet. Dogs are great at knowing when you have emotional needs."
'I have regained my independence.'
For some people, dogs can be a lifeline. Talya Hambling, 19, lives with a range of medical conditions including Ehlers Danlos Syndrome (EDS). As such, she requires support from her loyal Golden Doodle called Coby, who was trained through the charity Dog A.I.D.
Talya lives with chronic pain and suffers from blackouts, hot flashes, shakes, loss of vision and heart palpitations. As such she relies on her dog to bring her medication, find her phone, fetch water and pick up any items she might drop (so her dizziness isn't exacerbated by leaning down).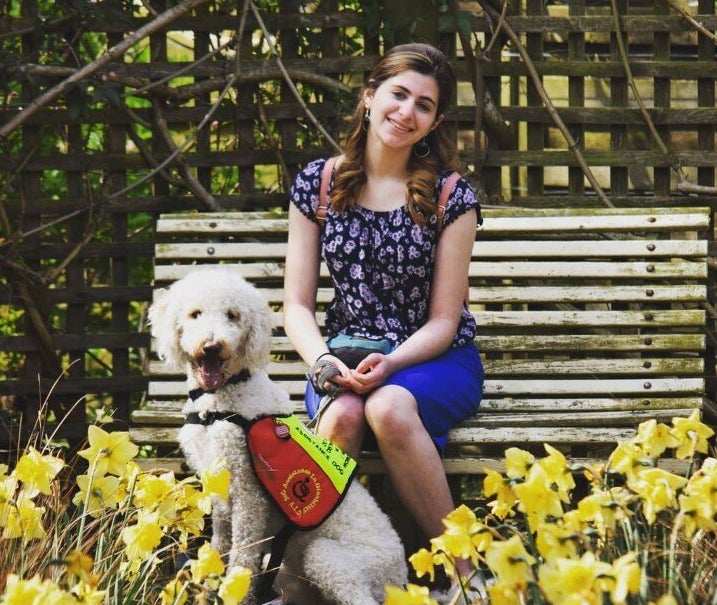 "The difference I have felt since having Coby in my life is incredible," she says. "I'm so much more confident going out alone now and no longer feel the need to rely on others just to leave the house.
"I am far happier, less anxious and truly feel I have regained my independence because Coby is there to not only calm me down but to help me physically as well."
'A morning walk with him does wonders for my mindset.'
For some, having a dog has been life-changing – not just on a personal level, but also for their relationships with others. Jasmine Granton struggles with anxiety and depression.
She would struggle when her partner was away with work or social events, she reflects: "It actually made me hold him back from doing things as I couldn't face being alone for long periods."
But since adopting her 12-year-old staffie Tai, she says she feels so much happier – even when alone.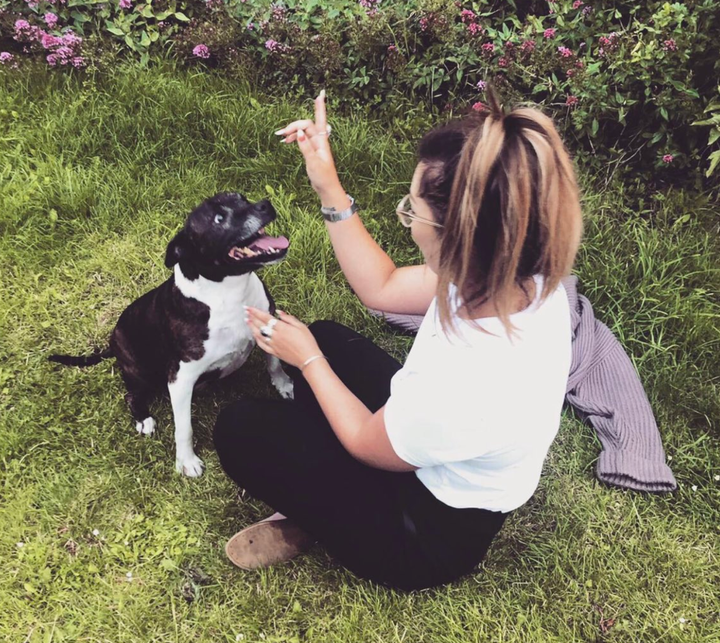 "He's comforting, funny and picks my mood up when I'm low," Jasmine says. "He knows when I'm sad, I'm sure of that, and always pops his head on my leg when I'm sobbing about something or other."
He also gives her a sense of purpose, she notes, as she can't just stay in bed. "He needs me, he needs his walk, he needs his food," she says. "I have no choice but to be active... and a morning walk with him does wonders for my mindset.
"It's hard to explain how much he's done for me. I love him more than anything in the world."
'He's given me a reason to get out of bed.'
At the end of 2017, Yasmin Thomas's life turned upside down when her boyfriend and grandfather passed away within weeks of one another.
"As you can imagine it was quite a depressing time," she says. Being an only child, her mum persuaded her to get a dog for company and comfort – so she adopted Ziggy from Battersea Dogs Home.
"I've been trying to get a graduate job and unfortunately haven't been successful," says the 24-year-old from Hackney, London. "Ziggy has been very therapeutic for me to have around through my grief and search for a job.
"He's literally given me a reason to get out of bed some days."