Almost four years after it last appeared on our screens, Downton Abbey fans are being treated to one last appointment with the Crawley family – this time in film form.
With the big-screen adaptation of the hit ITV drama about to be released, Hugh Bonneville (Lord Grantham), Phyllis Logan (Mrs Hughes), Allen Leech (Tom Branson) and Michael Fox (Andy Parker), sat down on the BUILD sofa for a chat.
Sharing their memories from the set, as well as teasing what's in store in the new film adaptation, here's 12 things we learned from the interview...
1. Although Downton Abbey became a huge success on both sides of the Atlantic, you might have forgotten its first series wasn't met with much fanfare
"To be honest, that first season we couldn't get arrested in terms of publicising the show," Hugh Bonneville admitted. "The general vibe was 'costume dramas are dead, no one wants to see a show about a faded country house'. We couldn't even get interviews on ITV, which was the channel the show was going out on!
"And then that first episode went out, and the chatter started… you usually expect the figures to be respectable and the second to drop by 50%. But these went up, the figures went up. And that's when ITV quickly said 'can you come on our chat shows, quickly, quickly', and we realised it was beginning to snowball. Only then did it really start to sink in."
2. But the show's impact was undeniable
Hugh revealed: "When we were filming at Highclere Castle, the butler told me they had 60 coach visits a year. By the time we went back for the second season, he said they had 600 coach visits a year."
3. Allen Leech got snubbed by Hugh Bonneville after filming the series finale
"Hugh gave out these lovely mugs at the end of the show that said 'I survived all 52 episodes'," Allen Leech revealed, only to be told by his co-star: "Well you weren't in all of them, were you?"
"So then he got a Sharpie and scribbled out '52' and wrote 'I survived most of Downton Abbey'," he added.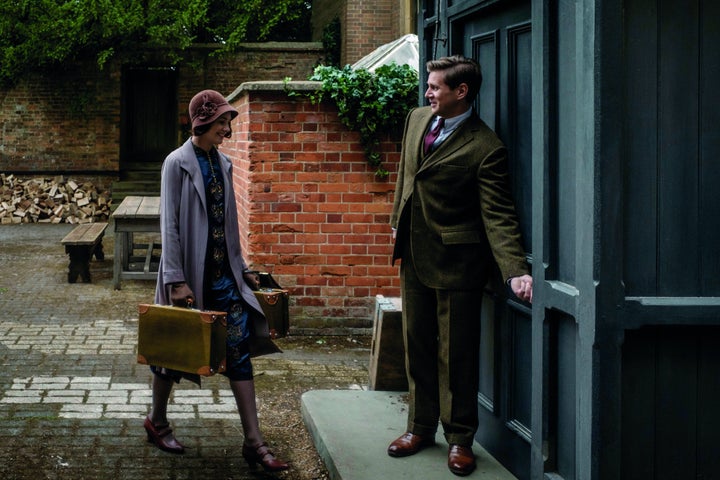 4. None of the cast members had any qualms about coming back for the film
"It's been such a special part of all of our careers," Allen said. "And I think we all agreed that once the script was there, and there was a great story, which Julian delivered, I think we were all very happy.
"It was more of [an issue] getting all the schedules to work."
Hugh also noted: "And I think if four or five of us from the core cast hadn't wanted to do it, it probably wouldn't have happened, or wouldn't have worked in the same way. So there was a leap of faith, everyone sort of linked arms and jumped together."
5. Hugh described the atmosphere on the film's set as a "school reunion that went well"
"There was a sense that it was a finite period of time," he explained. "With the series you were there for months and months and months, and possibly another year after that.
"If you were doing a dining room scene, for instance [in the show], your heart always slightly sinks because they take forever – but we only had a couple of them [in the film], so everyone, actually, was in a constant good mood, because we knew we were out on parole in 10 weeks."
"It was a bit of a party atmosphere," Phyllis agreed.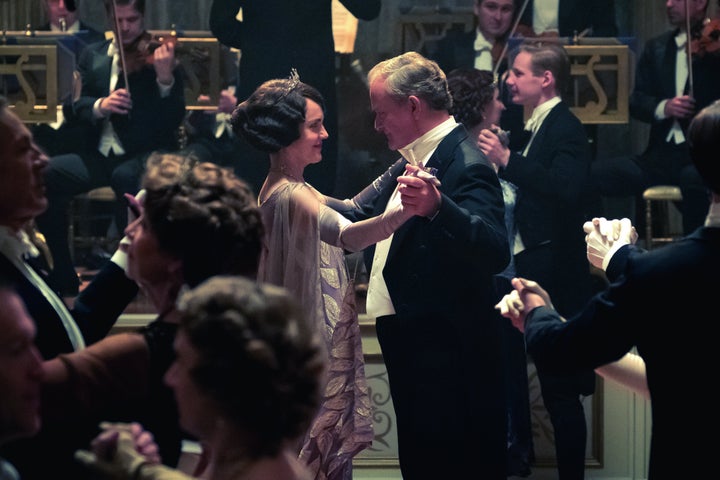 6. Michael Fox admitted it was a bit daunting having the first line of the film
"Actually the line was halved, wasn't it?" Hugh Bonneville recalled.
"It was originally, 'blimey, this'll make 'em jump," Michael replied, of the moment his character discovers the royal letter. "And then obviously I couldn't nail that so they just gave me 'blimey'. Ideas above my station. I was like 'oh here we go…'"
7. Fans can look forward to seeing a different side to Andy in the film
"Andy's usually sort of fresh-faced, bright-eyed, and respectful of everyone," Michael said. "And then suddenly, something happens… and he has to do something to show his true colours and hopefully impress Daisy."
He continued: "With all of Julian's stories, the course of true love is never smooth, and it's the same for Andy and Daisy. They haven't settled."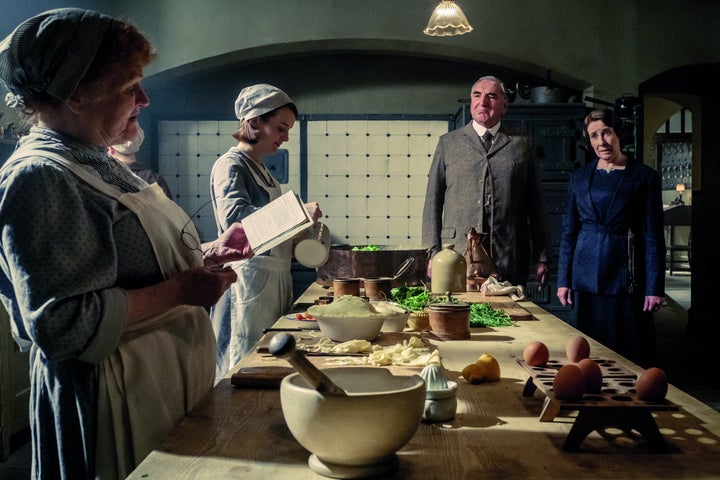 8. Allen Leech was probably the busiest member of the cast during filming
"Branson is sort of Action Man in the film," Hugh joked. "As I said to Allen when we first read the script, you've got more plots than an allotment. He dashes from plot to plot, and it's very exciting, for the younger generation.
"Lord Grantham has just sort of retired, and sort of sits in the background eating."
Allen said: "You never really know what you're going to have with the script when you first get it, and I was really delighted to have the storylines that I do. Where Branson left off at the end of season six, I really wanted things to happen for him, and I'm delighted to say that they do."
9. The cast all struggled to contain their laughter during Kevin Doyle's most hilarious scene
"There's a moment in the film which I won't give away – you'll know exactly which one when you see it – that when we were filming, we were in hysterics," Michael revealed. "As the camera goes past us and we're out of shot, our shoulders are shaking, and the directors behind the cameras' shoulders are shaking.
"He got a round of applause at the premiere, actually, just because it's so funny."
10. No, the actors don't get any say in what happens to their characters
"Chance would be a fine thing!" Phyllis exclaimed, when asked if she contributes to what happens to Mrs Hughes.
Allen continued: "Laura [Carmichael, who plays Lady Edith] was talking about this the other day. At one point, there was a character called Gregson and she loved the relationship between Edith and Gregson. But he disappeared, and she was constantly wondering when and if he was ever going to come back.
"So she wrote to Julian [Fellowes] about it, pleading with him, she really wanted Gregson to come back. And a couple of episodes later, Hugh had a line, 'they found bits of him in Germany'."
"There was absolutely no question," Hugh added. "He was also doing a play at The National, which is why he's not coming back…"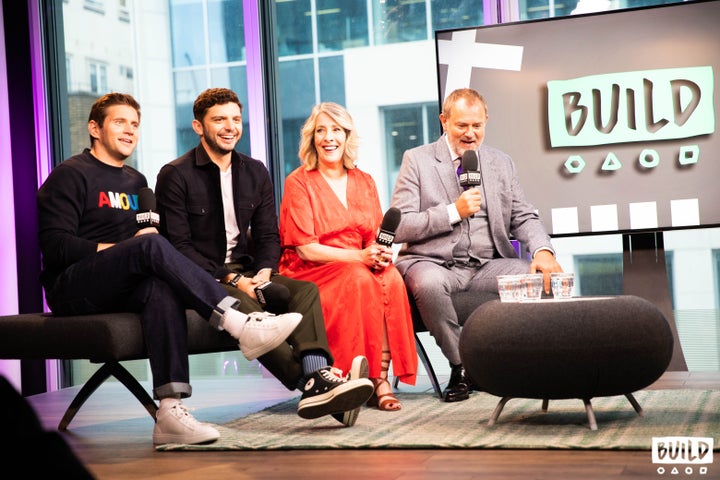 11. The cast are still being recognised, even four years after the last episode of Downton Abbey
"We were being tourists, me, Phyllis and Leslie, who plays Mrs Patmore," Michael revealed. "And we were at the top of the Rockerfeller Centre in New York, and asked a guy to take our photo."
Michael adds that as the apparent Downton fan was taking the photo, it suddenly dawned on him just who he was taking a photo of, ending in him trying to get in the photo himself.
12. But even though the doors of Downton are now firmly closed, the cast members are all open to a sequel
"I think if everybody goes and watches it, it's up to you," Pyllis said.
"Basically, we just have to keep Julian Fellowes alive, that's the main thing," Hugh joked.
Downton Abbey arrives in UK cinemas on 13 September. Watch the cast's BUILD interview in full above.