Waking up after a big night and instantly remembering texting someone is enough to give you that sinking feeling. Drunk tweets? Usually even worse.
But not for YouTuber Lucy D'Agostino, from Brighton, who direct messaged fashion website Boohoo's customer service and received a truly brilliant reply.
Earlier that evening D'Agostino had asked a question about an order she'd placed - but when they responded at 2am, she was enjoying a night out.
Initially D'Agostino asked why the customer service rep, Abul, was working so late - to which he replied Boohoo was open 24/7.
"Poor you," D'Agostino replied. "I'm clubbing lol think I might go to bed soon though my feet hurt! Thanks for being there for me Abul."
Abul said he hoped she got home safe, as if to end the exchange, but clearly D'Agostino was in a chatty mood.
"Kebab or no kebab is the next question," D'Agostino asked. "Maybe I will get some chips too."
To her surprise, Abdul actually replied with a pretty genius answer.
"If you are tipsy then kebab is not a good option," he said. "If you can still walk, I'd say chips."
D'Agostino took Abdul's advice, opting for cheesy chips. He then told her she had "awesome taste".
After the YouTuber posted their hilarious exchange publicly on Twitter, Boohoo customer service got in touch again, saying she made them "giggle".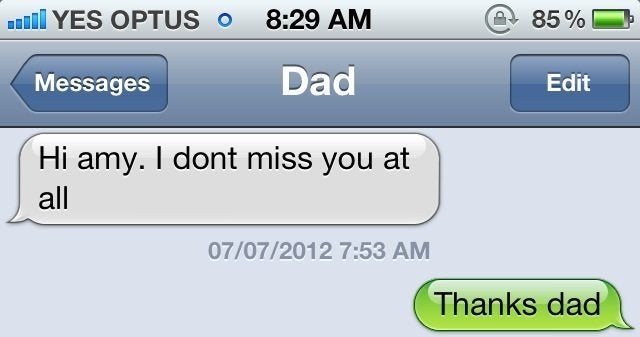 13 Hilarious Texts From Dad
Popular in the Community