Shocking footage has emerged showing passengers on the crashed Emirates plane fleeing down the runway as flames and black smoked engulfed the burning aircraft.
Emirates confirmed 24 Brits were on the flight and that none of the 300 people on the aircraft were injured. One firefighter died "saving the lives of the others", the General Civil Aviation Authority confirmed.
In a dramatic video posted online, passengers were seen streaming along the tarmac with the remnants of an explosion billowing in the background.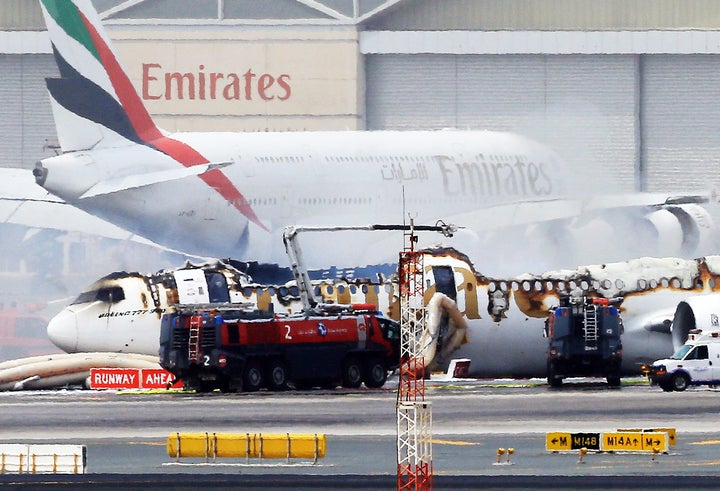 They were seen clutching suitcases and other belongings, while parents held their children as they ran.
The first video was posted on Twitter by Mohammed Al-Shiban, a man who claims to be a pilot and Boeing 747-8 captain.
His footage showed many of those who had been onboard the flight running for safety.
The burning plane's tail fin, featuring a section of the United Arab Emirates flag, could be seen in the background submerged in thick black clouds.
All departures at Dubai Airport were delayed by several hours following the incident.
Emirates confirmed that an "operational incident" had taken place and in a statement said: "We are expecting a 8-hour network wide delay, more information will be available on the Emirates website and social media channels."
Multiple flights out of Dubai to Hong Kong, Dubai, Kuwait, Doha and Geneva have been cancelled.
The Boeing 777 accident happened at 12:45pm local time (9:45am BST) and involved a flight due to land at 12:50pm local time (9:40am BST) having taken off from Thiruvananthapuram, India.
Multiple other passengers travelling through Dubai airport posted pictures and video of the burning wreckage - including one who captured a fireball ripping through the aircraft.
A spokesman for the Foreign Office told HuffPost UK they were ready to "support" British nationals affected.
"We are in contact with the airline Emirates following the incident at Dubai airport, and understand all passengers have left the aircraft safely. Our staff are ready to support any British nationals if required."
A full break-down of the nationalities onboard Flight EK 521 was released by the airline:
226 - India

24 - UK

11 - UAE

6 - US

6 - Saudi Arabia

5 - Turkey

4 - Ireland

2 - Australia

2 - Brazil

2 - Germany

2 - Malaysia

2 - Thailand

1 - Croatia

1 - Egypt

1 - Bosnia & Herzegovina

1 - Lebanon

1 - Philippines

1 - South Africa

1 - Switzerland

1 - Tunisia
The General Civil Aviation Authority revealed in a statement that a firefighter was killed helping passengers escape.
"We are very sad to announce that one of the firefighters lost his life while saving the lives of the others," the authority's director general said on Wednesday.
"On behalf of the General Civil Aviation Authority, I would like to offer my heartfelt condolences to the family of deceased.
"I salute his ultimate sacrifice that kept many from harm's way. Our thoughts and prayers are with his family."
Government-backed Emirates is the region's biggest carrier, and operates the world's largest airline fleet of the wide-body 777 long-haul aircraft.
Concerned friends and family members of those on board can call the following dedicated contact numbers:

UAE - 8002111
UK - +442034508853
US - +18113502081