Durham University's Champagne Society has been suspended over claims that its summer ball descended into a "potentially life-threatening" event, after students were reportedly served two bottles of champagne each.
Police officers at the event said guests ran naked into a lake, openly had sex and took cocaine.
Two students were taken to hospital following the ball and several more were found unconscious, while others vomited on police officers on coaches back to the university, the Northern Echo reported.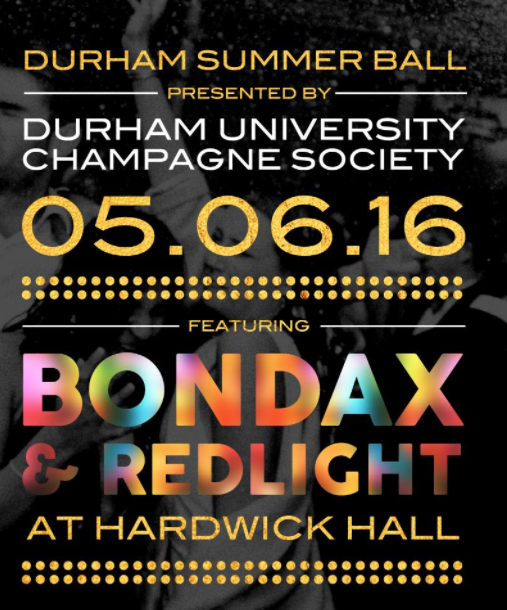 The event, which cost £99 a ticket, was held at Hardwick Hall near Sedgefield.
Described as the group's "largest, craziest and most extravagant ball to date" on its Facebook page, the event saw students reportedly given two bottles of champagne to accompany their meal, plus welcome drinks.
The venue also took £45,000 behind the bar from 1,300 students who attended.
Videos from the evening seen by The Huffington Post UK show guests pouring bottles of fizz into each others' mouths and spraying the drink across the dance floor.
Guests were also treated to a funfair and a raffle, with the winner bagging a 27 litre bottle of Champagne Drappier Brut Primat - the second largest bottle in the world.
The society said there was additional champagne at the event as suppliers had delivered magnums rather than single bottles.
According to reports, a small number of police had been set to attend the event to monitor students' behaviour, but the officers were forced to call for back up.
Durham's Champagne Society has been put on probation until after Christmas following an investigation by the chief executive of Durham's Student Union.
The university's pro-vice chancellor Professor Graham Towl told the Sun: "The toxic combination of excessive alcohol and students entering the water at Hardwick Park caused the partnership particular concern in light of previous events."
Between 2014 and 2015, three students died in the River Ware.
Responding to the claims, a spokesperson for the Champagne Society told the Northern Echo: "Many students felt that this event was the best event that they had been to in the entirety of their time in Durham.
"However, due to the scale of the event amongst other factors, we do recognise that there were problems at the ball.
"As a new executive committee we are fully committed to working in close alliance with both the police and the DSU in order to create events which are fundamentally safe for the student body."
Durham Student Union are said to be working with the society to develop an action plan for when the group is reinstated in January.
Hardwick Hall declined to comment on the matter.