"What I don't accept is mainstream media immediately slapping that down as not true, when they don't know it's not true," he said of the theory.
"No one should attack or damage or do anything like that, but it's very easy to say it is not true because it suits the state narrative. That's all I would say as someone with an inquiring mind."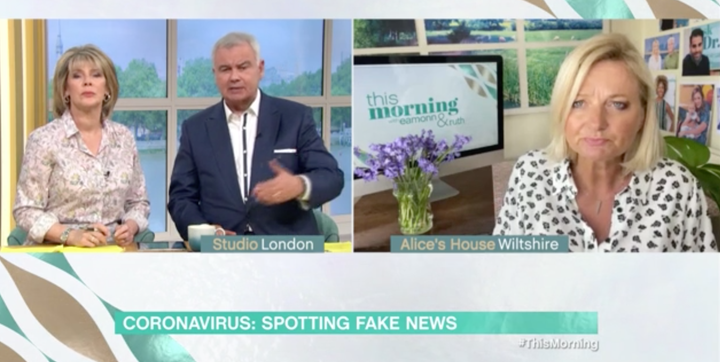 "His statements were also highly sensitive in view of the recent attacks on mobile phone masts in the UK, caused by conspiracy theories linking 5G technology and the virus," they said.
"We have taken into account the context provided by Alice Beer, This Morning's Consumer Editor, who strongly rejected theories linking Covid-19 to 5G earlier in this programme; the prominent caption which rooted the discussion in 'fake news' about Covid-19; and an on-air statement broadcast by Eamonn Holmes the following day. In view of these factors, we have issued guidance to ITV and its presenters."
An Ofcom rep added: "Broadcasters have editorial freedom to discuss and challenge the approach taken by public authorities to a serious public health crisis such as the coronavirus.
"However, discussions about unproven claims and theories which could undermine viewers' trust in official public health information must be put fully into context to ensure viewers are protected. These responsibilities are especially important when ongoing events – such as mobile phone masts in the UK being attacked – risk significant harm to the public."
"I want to clarify some comments that some of you may have misinterpreted from me yesterday, around conspiracy theories and coronavirus and this involved the roll out of 5G," he began.
"Both Alice Beer and myself agreed in a discussion on this very programme on fake news that it is not true that there is a connection between the present national health emergency and 5G and to suggest otherwise would be wrong and indeed it could be possibly dangerous. Every theory relating to such a connection has been proven to be false and we would like to emphasise that."
He continued: "However, many people are rightly concerned and are looking for answers, and that's simply what I was trying to impart yesterday but for the avoidance of any doubt I want to make it clear there's no scientific evidence to substantiate any of those 5G theories."
Eamonn previously hit back at one Twitter user who accused him of "spread[ing] the baseless 5G/Coronavirus conspiracy theory" shortly after the broadcast, insisting: "I didn't spread it.... I reserve the right to listen and question."