When we got to Nashabieh town in East Ghouta, we were faced with one of the worst health and nutrition situations I've seen in Syria.
The long siege has devastated people who were already poor and vulnerable. There is a shortage of health and nutrition services and only small quantities of food. People have little cash, so they can't even buy food when it's there.
Many of the children I saw at the medical point in the town were severely malnourished, some moderately and others were normal for their age. I screened a two-year-old boy and his arm was like my little finger. The situation is deteriorating day by day.
There are not many doctors in the area and those who are there are not well trained to treat complex and difficult cases of severe malnutrition.
A recent survey of 27 locations in East Ghouta carried out in early November found that 11.9% of children under five-years-old are acutely malnourished – the highest rate recorded in Syria since the beginning of the conflict.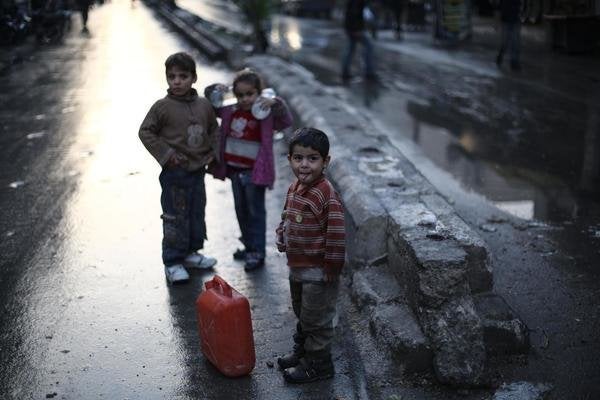 Mothers can't breastfeed. Why? Because they don't have enough food to eat themselves. All the mothers and children I met looked yellow in the face because of a lack of food and nutrition. They are suffering from different forms of vitamin deficiency.
For days after the visit, I couldn't eat like normal because the situation was in my mind. I would have dinner with my children and it's in my head. I would imagine the kids I met.
I can't do what I need to do and I feel helpless, it is hard to imagine how difficult life is. Children have very simple dreams, asking for chocolate or biscuits.
But when we get humanitarian access we can make a difference. Unicef supplies therapeutic food and brought in health and nutrition supplies on the last convoy into the town. It helps for a while. Without these interventions, the nutrition and health situation would become even worse, very quickly.
To help the children of Syria this winter please donate to the HuffPost UK Christmas Appeal at unicef.uk/huffpost
Related