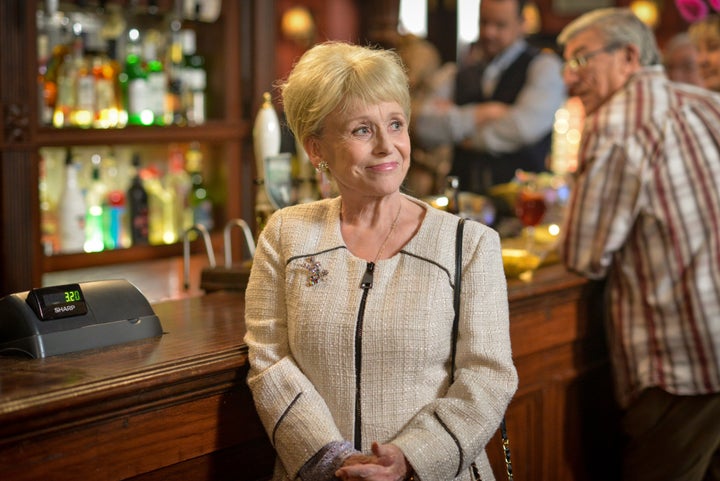 Now, Barbara has spoken to The Huffington Post UK in an exclusive interview, dishing the dirt on her teary exit, what it was like working with the Mitchell brothers again, and her hopes for the soap's future…
What was it like being reunited with Pam St. Clement after all those years? Was it your idea to bring her back?
Well Pam and I are great friends and we still see each other socially and telephone each other regularly. In fact, it was not my idea to bring Pat back but when Dominic [Treadwell-Collins, 'EastEnders' executive producer] told me of the plan and when Pam agreed to do it, I was absolutely thrilled and it seemed only right that the characters were reunited again in some way.
Were you disappointed not to have scenes with Danniella Westbrook?
I only worked with Steve [McFadden] and Ross [Kemp] which, as always, was a pleasure and privilege. To work with Steve is always incredible as he is such a fine actor and comes totally prepared. I never thought, to be honest, that the three of us would ever do a scene together again, so when Ross agreed to return it was pure magic.
I don't believe there is a stronger sight in soap history than the Mitchell brothers either side of Peggy. We are also close friends off set and I never see a day when we are not. There was never any mention of Peggy and Sam crossing paths.
None at all. Why would I? Peggy is deceased by that point.
I will be watching as I am sure it will be done with sensitivity and I'm sure a little drama along the way. I will also be keeping an eye on who looks most upset that she's gone and who looks quite happy! Mind you, they are all such good actors I won't be able to tell.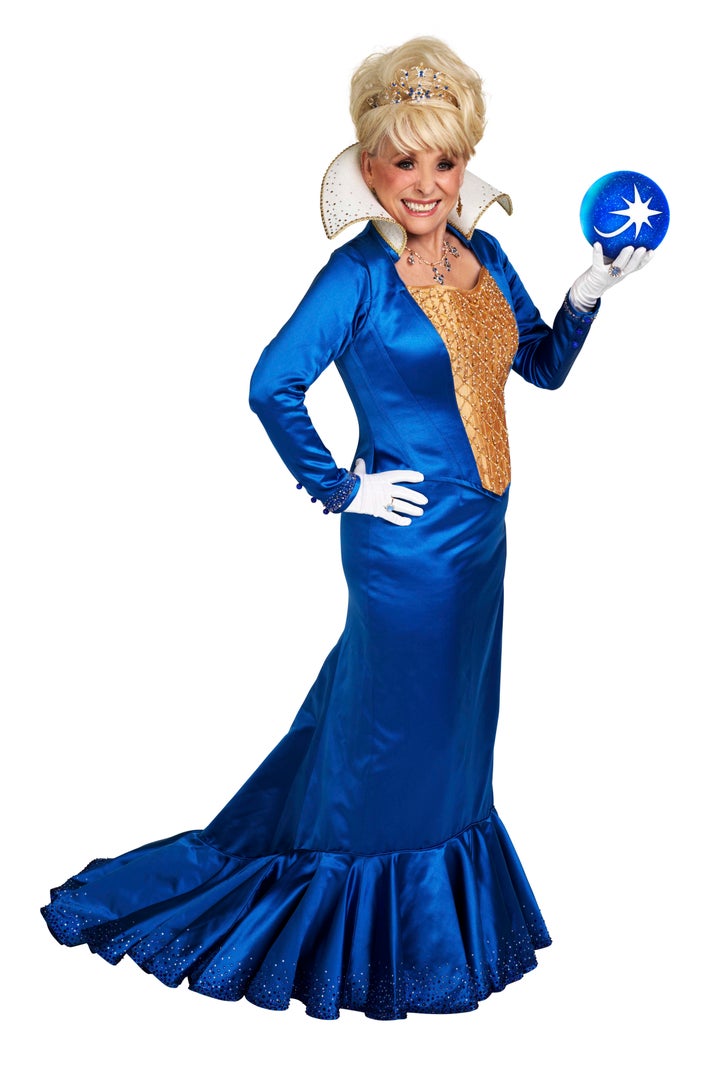 Ross is returning again this summer, what would you like to see happen with the Mitchell family next?
In an ideal world I would like to see Ross make regular returns to the show and for the Mitchell brothers to put their differences aside and rule the square as a force together. It would be nice to think the whole family will unite and be at peace together… but this is 'EastEnders' and the Mitchells we are talking about… So we can expect more rows, more drama, fights, affairs and goodness knows what.
The truth is that most people don't live in an ideal world and everyone has their own problems to deal with within their life and family.
What's the reaction been like, considering Peggy's exit was quite a controversial storyline? Has it surprised you?
It's been overwhelming to be honest. I never expected it to be as big as it was and the media attention has been incredible. Yes it was controversial and it has been a mix of people who felt sad and identified with how Peggy felt and then the opposite of organisations who criticised the BBC for the storyline.
I believe that we must respect both sides of the argument, but I believe the producers did everything they could to take care over such a sensitive subject matter. Both the Samaritans and health specialist that 'EastEnders' worked with on the storyline have praised them for the way it was handled.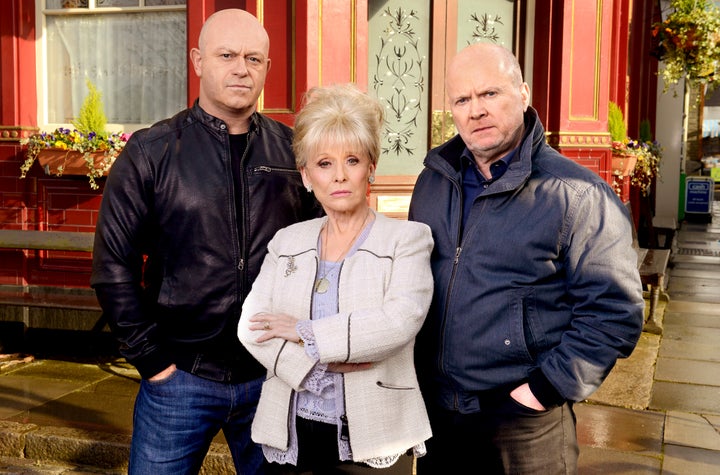 Which 'EastEnders' character could possibly be the next Peggy Mitchell?
I think one has to look at Sharon played by the wonderful Letitia Dean. It almost feels like her birth right to take over that mantle in the show. But there are a couple there who most certainly could have comparisons made. Time will tell and I will be an eager viewer and fan of the show.
You're working with Jackpotjoy, what's the one moment where you really felt like you hit the jackpot?
Well meeting my husband Scott would be very high up on that list. We have been together 23 years now and still adore each other and are the best of friends who don't stop laughing.
Those Jackpot wins don't often come up in people's lives. Another would be my career as I have been in a job I love since the age of 14 and I am still working and receive so much love from the public. And of course being the Queen of Bingo for Jackpotjoy is another winner!! And I love it!
It reminds me of my 'Carry On' days in many ways with the ads often showing the Queen of Bingo having fun and giggling a lot. I see it as a nod to the characters I played in those films.
Fancy winning up to £5,000 for free with Jackpotjoy? Barbara Windsor, the Queen of Bingo, challenges you to take part in the Grab-a-Jackpot event. For more information and to register to play, visit www.Grabajackpot.com.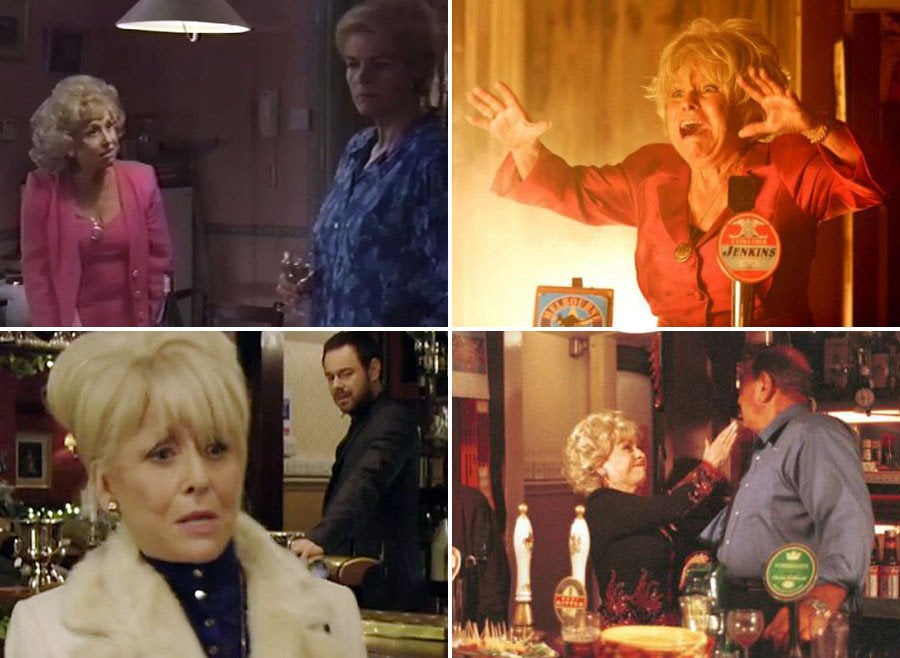 Peggy Mitchell's Most Iconic 'EastEnders' Moments