Good food doesn't require a long list of ingredients. In our new series, £5 Meals, we'll bring you recipes that keep things simple – and under a fiver.
Writing your shopping list for the week ahead? It can be easy to fall into the habit of buying the same food on rotation (pizza, pasta, stir fry, repeat?).
So this week, we're sharing some mid-week meal inspiration to shake things up, with a recipe created by Dom Sherriff, the Brighton-based co-owner and head chef of vegan restaurant Bonsai.
His miso glazed aubergine with seasoned rice is healthy, simple to cook, and works out at just £1.24 per person.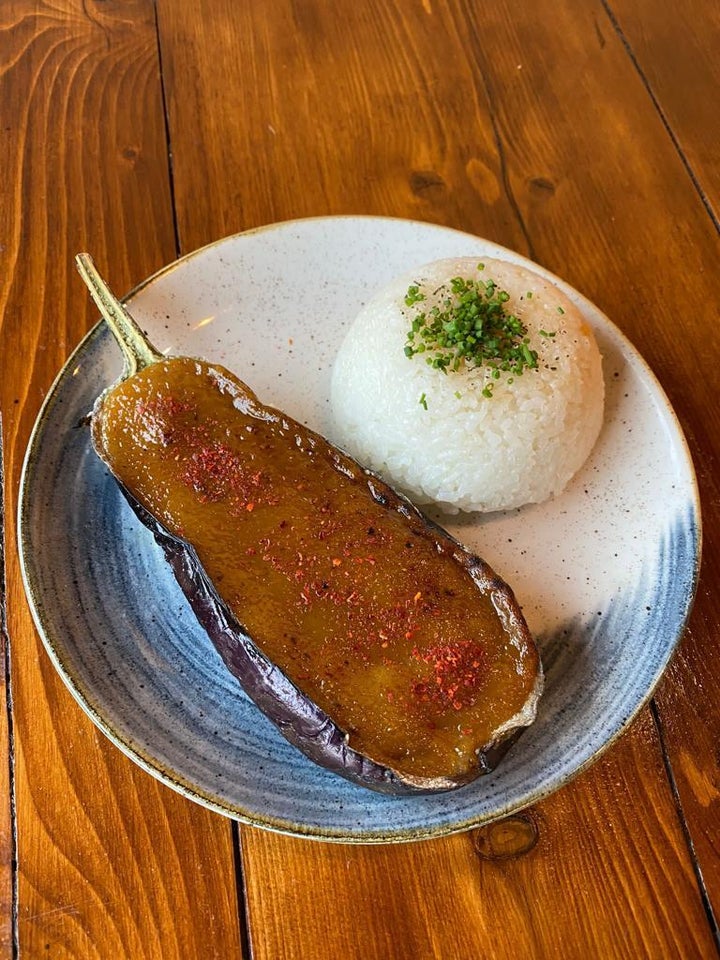 Ingredients (serves 4)
Garlic 1 clove, finely chopped £0.06
Pure Sesame oil 10ml £0.33

(optional coriander garnish)
Total cost from Tesco = £4.96
Method:
For the glaze, finely chop one clove of garlic and place in a small saucepan, add in white miso, maple syrup, water, and mix together with a whisk until combined, heat up to a simmer and then set aside.

Cut both aubergines in half lengthways, heat up a frying pan, pour 50ml of oil into the pan. When the oil is at a medium heat, place the aubergine halves face down and cook until golden brown.

Preheat oven to 200°C. Place the aubergines onto greaseproof paper on a tray flat side facing up, cover with tin foil and roast in the oven for 20 minutes, remove from the oven, take the tin foil off and evenly cover with the miso glaze. Return to the oven for a final 5 minutes.

Place 420g rice in a medium sized saucepan and rinse with cold water. This helps to wash away the starch, repeat this process three times, then cover the rice with 600g of cold water.

Place the pan on a medium high heat with a lid, bring to a simmer and cook for 12 minutes.

After 12 minutes remove the lid and ensure all the water has been absorbed. Take off the heat and place the lid back on. Leave the rice to rest for 10 minutes with the lid on.

Finally fluff the rice with a fork and mix through the soy sauce and sesame oil.
Place half an aubergine on each plate. Divide the rice into four equal parts. Taking a small ramekin or coffee cup, dunk it into cold water and press the rice into the ramekin – the water will stop it sticking to the ramekin. Then, turn it upside down next to the aubergine to release the newly formed rice castle. Finely chop the coriander and sprinkle over the rice and serve. Garnish with chopped coriander or chives.
*Prices correct at time of publication, based on volumes needed.