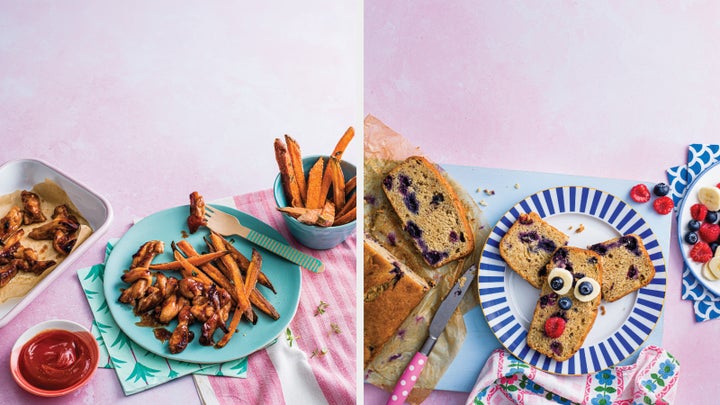 Getting children involved in the kitchen is something mother and author Annabel Karmel is incredibly passionate about.
So it's perhaps no surprise then that her latest (and 50th) recipe book My First Cookbook is jam-packed with simple yet nutritious recipes that adults and kids can both get involved with making.
As busy working parents it can be hard to find the time and creativity, not to mention ingredients, to devise nutritious home-cooked meals, which is where My First Cookbook can help.
Expect fun lunchbox ideas such as Caterpillar Sandwiches, big batch meals like Teddy Bear Pasta and seasonal specials like Monster Pizzas and Gingerbread Men.
The book helps children learn essential hands-on kitchen skills – from simple sandwich making all the way to cake baking.
If you're stuck for mealtime inspiration this weekend – and have a bit of time to spare to get your kids involved in the kitchen – we've got two of her brand new recipes to share.
Sticky chicken with sweet potato fries
Nobody can resist this sweet, sticky chicken, especially with healthy baked fries.
Serves 4 | Prep time 40 mins | Cooking time 25 mins
You'll need: baking tray, baking paper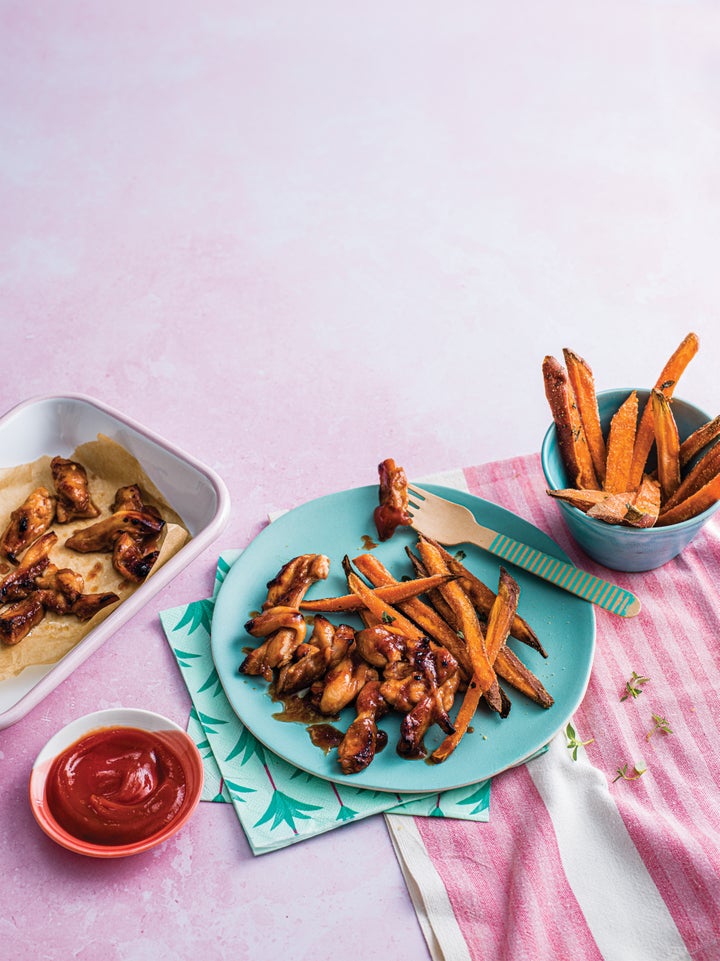 Ingredients
3 tablespoons ketchup
3 tablespoons soy sauce
2 tablespoons honey
2 cloves of garlic, crushed
500g (18oz) boneless chicken thighs, sliced into strips
3 medium sweet potatoes, scrubbed
2 tablespoons sunflower oil
1 teaspoon chopped thyme
3 tablespoons semolina
Method
Put the chicken into a medium mixing bowl. Add the ketchup, soy, honey and garlic, and mix together to coat the chicken. Leave for 30 minutes, then arrange on a baking tray lined with baking paper.
Preheat the oven to 200°C (400°F) Fan. Slice the sweet potatoes into thin chip shapes. Place on a baking sheet lined with baking paper. Add the oil and thyme. Season with salt and pepper, and coat with semolina to make them crispy. Mix everything up with your hands. Spread out on the baking sheet in a single layer.
Put both baking sheets into the oven. Cook for about 25 minutes, until the chicken is cooked and golden brown and the fries are lightly golden and cooked through.
Banana and blueberry loaf cake
Slice up this fruit-filled loaf to make a delicious doggy face.
Serves 8 | Prep time 20 mins | Cooking time 60 mins
You'll need: 900g (32oz) loaf tin, baking paper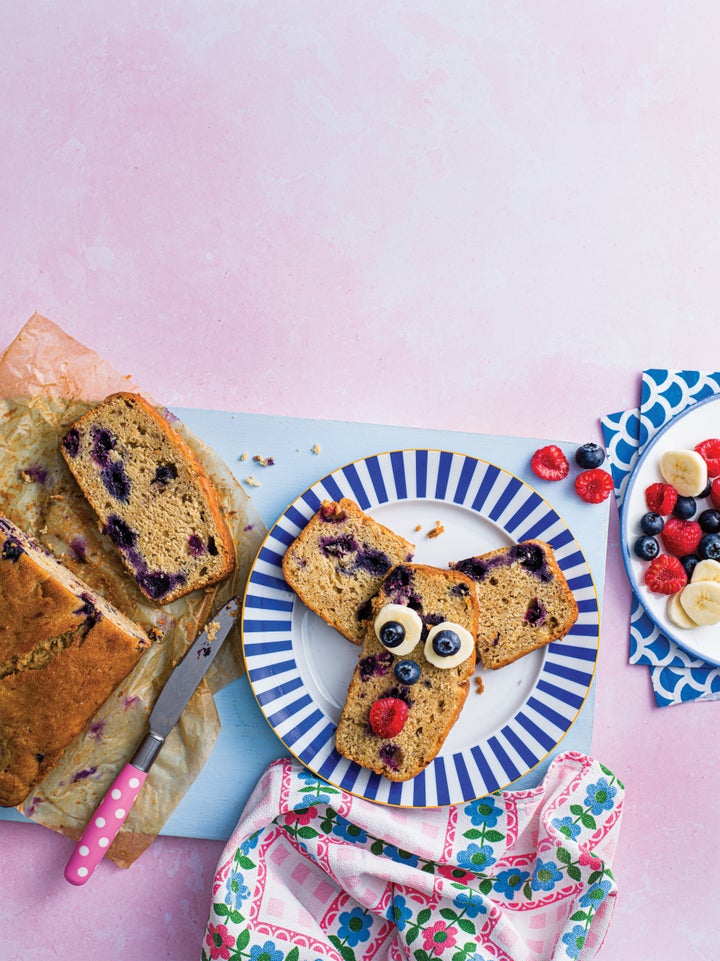 Ingredients
150g (2/3 cup) butter, softened
125g (3/4 cup) light brown sugar
2 eggs
1 teaspoon vanilla extract
200g (7oz) overripe bananas, mashed, plus extra slices
225g (2 cups) self-raising flour
1 teaspoon mixed spice
100g (3.5oz) blueberries
To decorate
banana

a few blueberries
a few raspberries
Method
Preheat the oven to 160°C (325°F) Fan. Grease and line a loaf tin with non-stick paper.
Whisk the butter and sugar together in a mixing bowl until fluffy. Add the eggs, vanilla, bananas, flour and mixed spice. Whisk together using an electric hand whisk.
Fold in the blueberries and spoon into the loaf tin. Bake in the oven for 50 mins-1 hour until well risen and lightly golden.
Slice into slices and arrange on a plate to look like a dog's face and ears. Add banana slices and blueberries for the eyes and nose, and a raspberry for the tongue.