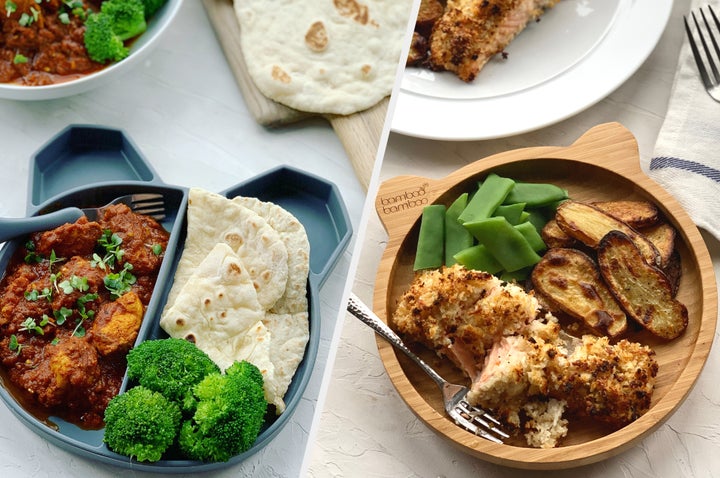 Rebecca Wilson is a household name among baby and toddler parents. Famed for her bestselling weaning book, What Mummy Makes, the author can often be found sharing quick, easy and allergy aware meals for parents on social media.
Mum to six-year-old Nina, Wilson knows all too well how stressful it can be when the summer holidays end and you need to get back into a routine of cooking for kids after a busy work and school day.
It's perhaps no surprise then that her latest book release, Fast Family Food, is another mini-foodie bible filled with "simple, healthy and delicious everyday meals" that parents can cook with just 10 minutes – yes, really – of prep time.
To mark back-to-school week, the bestselling author has shared a series of quick and easy mid-week meal ideas with HuffPost UK (with some bonus recipes for parents to try at the weekend, too!).
Monday: cheesy broccoli 10-minute pasta
Packed full of veg and ready in the time it takes to boil your pasta.
Serve 4 | Takes 10 minutes to make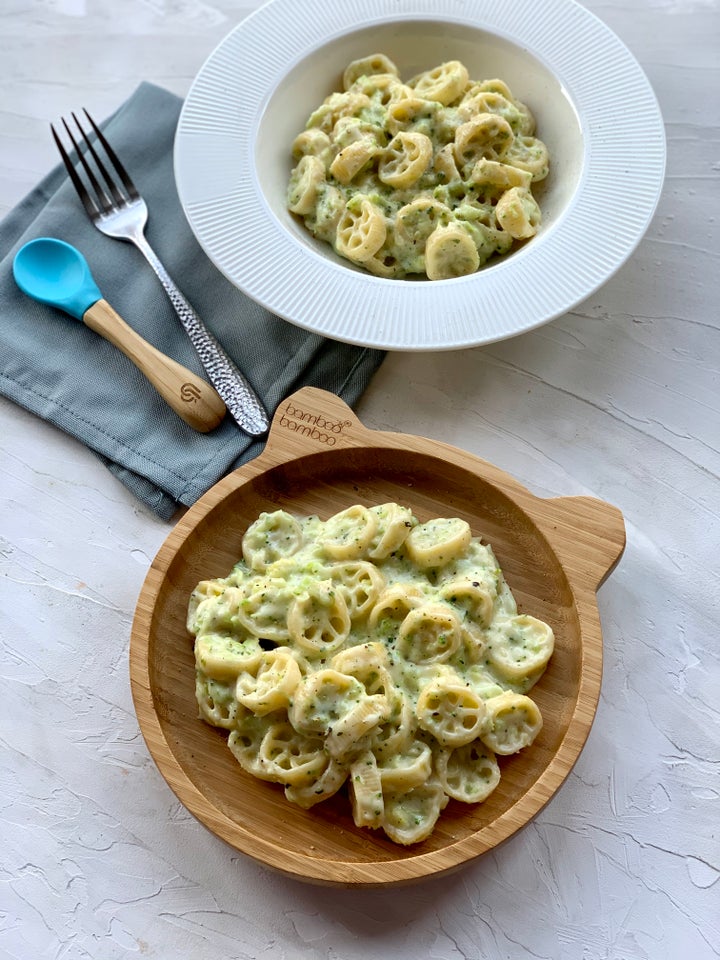 Ingredients
200g of dried pasta – choose a nice long shape like fusilli or spiral for babies under one as it's easier for them to hold

Half a head of fresh broccoli

Half a litre of milk (cow's or plant-based)

A knob of unsalted butter around 20g (can substitute for plant-based alternatives)

1 low salt chicken or veg stock cube

A good grinding of black pepper

A handful of grated cheddar cheese (can sub for vegan cheese or two tablespoons of nutritional yeast)
Method
Get your pasta on to boil. Meanwhile, using a coarse grater, grate the broccoli into fairly small pieces. Don't worry if some are larger than others.
Add the milk and broccoli to a microwaveable jug and heat for 2.5 mins. If you would like a super smooth lump free sauce you can blitz the cooked broccoli milk with a stick blender now.
Meanwhile melt the butter in a frying pan, then add the cornflour and whisk continuously cooking for a minute before gradually adding the milk. Whisk until thickened nicely, then remove from the heat.
Add the cheese, crumbled stock cube and pepper and stir into the sauce. If the sauce is too thick, add a ladle of the pasta cooking water. Once the pasta is cooked, drain and add to the sauce and serve.
Suitable from six months old. The sauce is freezable for up to three months.
Tuesday: pastry pizza wraps
Deliciously flaky pastry with a flavourful tomato sauce, topped with your favourite pizza flavours.
Serves 4 | Takes 30 minutes to make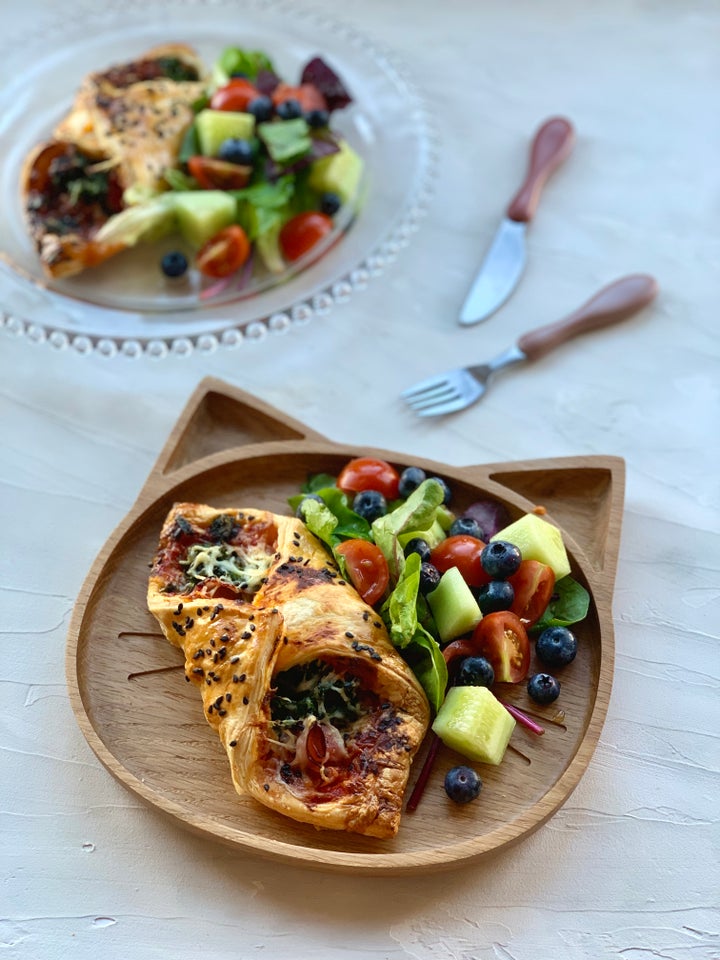 Ingredients
1 sheet of ready rolled pastry

2 tbsp of tomato puree

3 tbsp of cold water

1 tsp of crushed garlic

1 tsp of mixed dried herbs

A good grinding of black pepper

Half a tsp of smoked paprika

3 cubes of frozen spinach – defrosted and the liquid squeezed out (you can also use fresh spinach, wilt in a pan and squeeze out the liquid)

Small handful of chopped butchers ham – optional

Approx 70g of grated cheese or dairy-free version

1 egg beaten or milk

1 tbsp of black sesame seeds (optional)
Method
In a small bowl, mix together the tomato puree, water, herbs, paprika, pepper and garlic till you have a smooth paste.
Unroll your puff pastry and cut into six squares.
Diagonally, apply a layer of the tomato sauce, around 2 inches wide. Then top with spinach and ham, or your chosen toppings.
Egg wash any exposed pastry. Take the two corners with no sauce and hold over one another and seal the corners together. Egg wash the tops of the pastries and sprinkle with your sesame seeds.
Bake at 200°C for 20-25 minutes till puffed up and golden.
Wednesday: garlic bread salmon
Succulent, soft, flakey salmon topped with a crispy garlic crumb.
Serves 2 |. Takes 30 minutes to make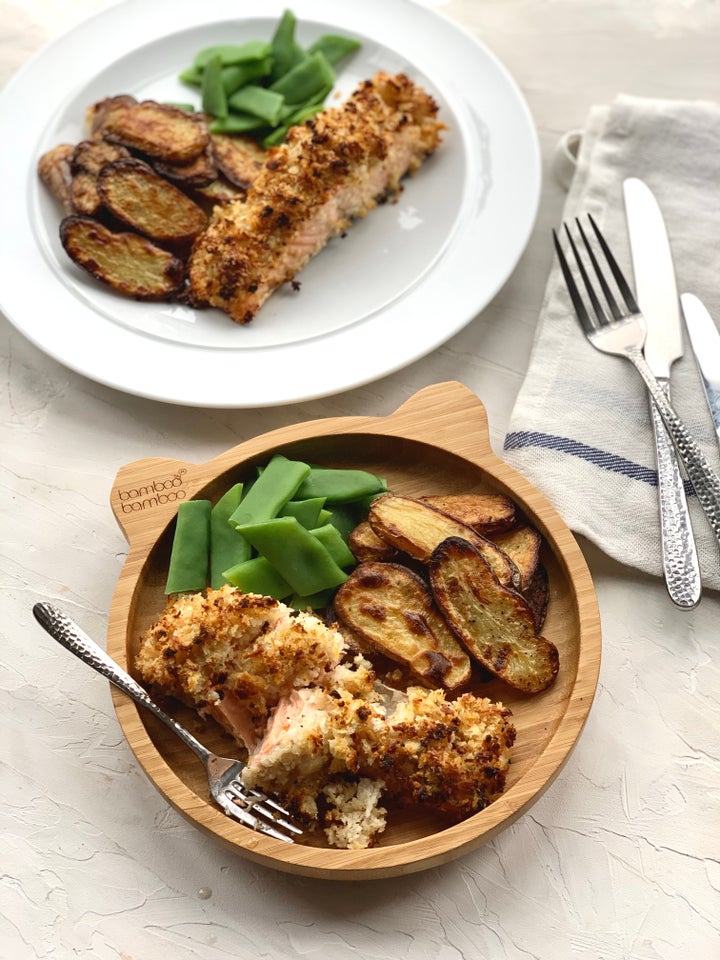 Ingredients
2x 120g salmon fillets

1 slice of bread (or 3 tbsp of panko breadcrumbs)

Zest and juice of half a large lemon

1 large garlic clove, crushed

30g of grated cheddar or plant-based alternative

Good grinding of black pepper

1 tbsp of garlic infused olive oil

Large handful of new potatoes

Half a teaspoon of new potatoes

Black pepper
Method
Slice the potatoes to 0.5cm thick and lay flat on a large baking tray – avoiding too much overlapping, drizzle with a little oil and pepper and get in the oven (200°C) for 10 minutes.
Meanwhile whizz the slice of bread in a food processor, then add to a bowl along with the lemon juice and zest, garlic, herbs, cheddar, pepper and oil.
Once the potatoes have been in for 10 minutes, flip them over and make space in the centre of the tray, add the salmon fillets, skin side down. Spoon over the crumb generously then pop back in the oven for 15-20 minutes until the salmon is cooked through.
Suitable from six months old – gently flake before serving. Leftovers can be stored in the fridge for one day or frozen for one month.
Thursday: spinach and ricotta stuffed pasta shells
Stuffed pasta shells on a bed of chickpeas in a smokey paprika tomato sauce.
Serves 4 | Takes 45 minutes to make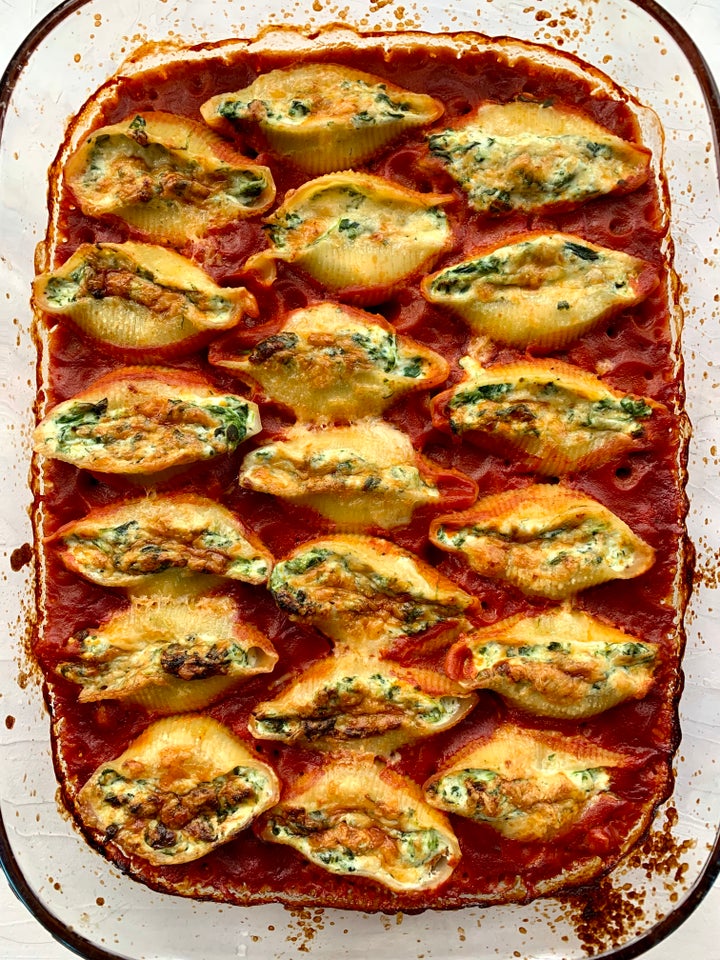 Ingredients
250g of pasta shells
400g tin of chickpeas, drained
500g packet of passata
400g tin of chopped tomatoes
Heaped tsp of smoked paprika
1 tsp dried mixed herbs
A good splash of Worcestershire sauce (optional)
1 clove of garlic
1 tsp of coconut sugar (optional)
Black pepper
250g of ricotta
5/6 blocks of frozen spinach, defrosted and drained
2 medium eggs
Approx 40g grated cheddar cheese
Method
Cook your pasta shells in boiling water according to the packet instructions. Once al dente, drain and rinse in cold water to cool quickly so you can handle them easily.
Meanwhile make your tomato sauce by adding to a saucepan the chopped tomatoes, passata, chickpeas, smoked paprika, herbs, garlic, Worcestershire sauce, coconut sugar and a good grinding of black pepper.
Stir and let this simmer for 15 minutes while the pasta cooks. In a bowl, mix together the spinach, ricotta, eggs and a good grinding of black pepper. Now add your tomato sauce to an oven dish, stuff the pasta shells with the spinach and ricotta mixture, and place in the tomato sauce.
Top each shell with a little grated cheese and bake for 25 minutes at 200°C until golden on top.
Suitable for babies from six months old. Can be frozen for up to three months.
Friday: quick family pizza
Need a quick, last-minute dinner for you and the kids? Whip up this extremely simple pizza base and top with your favourite pizza toppings.
Serves 2 | Takes 25 minutes to make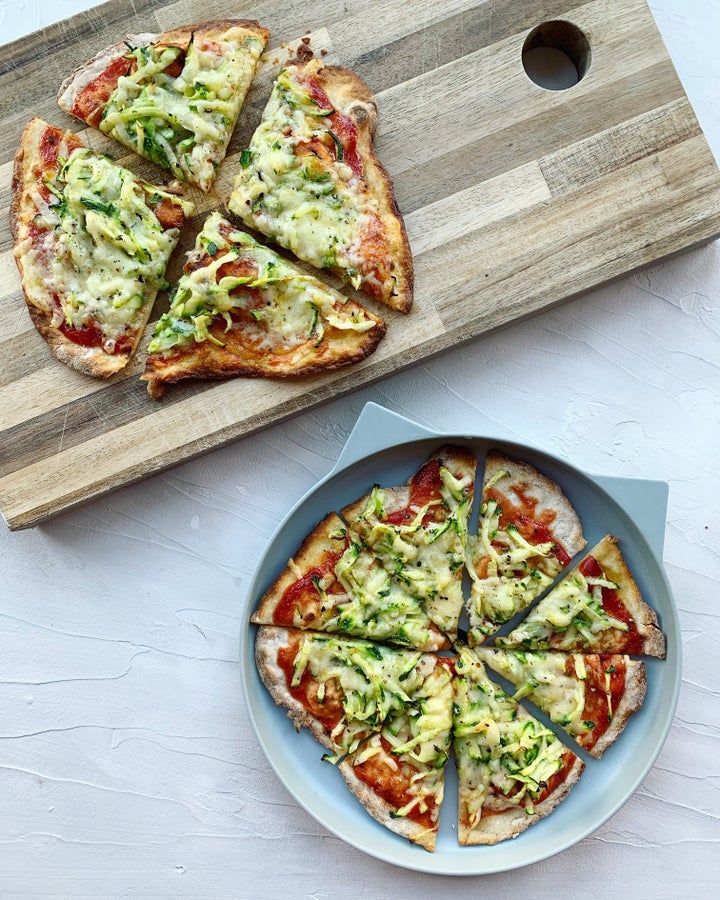 Ingredients
1 tbsp tomato puree
1 tsp garlic infused olive oil (half a crushed garlic clove)
Approx 2 tbsp of water
Grinding of black pepper
Half tsp mixed dried herbs
Half tsp smoked paprika
4 heaped tbsp of self raising flour
2-4 tbsp of plain greek or natural yoghurt – can substitute for dairy free yoghurt alternative
Half tsp of baking powder
70g of grated cheese (or dairy-free cheese)
Your choice of pizza toppings
Method
Mix the tomato puree, garlic oil, water, herbs, black pepper and paprika in a bowl until you have a smooth paste and set aside while you make the base.
In a bowl, mix together the flour and yoghurt until you have a ball of dough. As you work the dough, tip the contents on a clean work surface to help you combine. You may need to add a little more yoghurt to help bind the mixture, every flour and yoghurt is slightly different so play it by ear. You want a dough that is soft and forms a ball, but is not sticky.
Dust with flour and roll into your desired pizza shape around 0.7-1cm thick.
Transfer to a lightly oiled baking tray, then spread over the tomato sauce. Top with your desired toppings, followed by the grated cheese. Here we have grated some courgette, squeezed out the juice and used it as our pizza topping.
Bake at 220°C for 10-15 minutes till golden and cooked through.
Store in the fridge for two days or freezer for three months.
Saturday: chicken pie
This comforting pie – hidden with veg, flaky, crispy and cheesy – is everything you need on a miserably cold day and a great way to use up leftovers too.
Serves 5 | Takes 30 minutes to make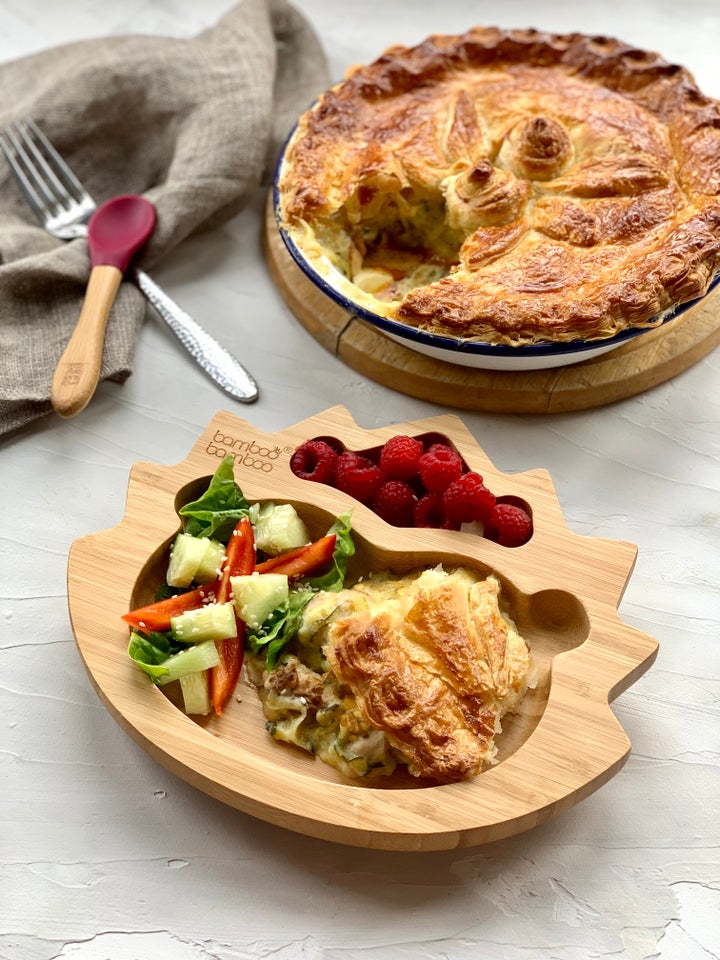 Ingredients
2 medium courgettes, grated
Freshly ground black pepper
2 tablespoons of cornflour
300ml of milk
150g of grated cheddar cheese (or 2 tbsp of nutritional yeast)
A small knob of butter (or coconut oil)
Half a packet of ready roll puff pastry
1 low salt stock cube (chicken or veg)
1 egg or more milk
2 handfuls of your chosen pie fillings – I used left over Sunday roast chicken and mushrooms
Hard boiled eggs
Roasted veg like butternut squash
Fresh fish chunks (fish pie mix would work well)
Cooked tinned lentils
Tinned beans
Sautéed leeks
Method
Add the milk to a jug and microwave for 2 minutes. Grate the courgettes and add to a saucepan with a small knob of butter, cook for 4 minutes.
Add the cornflour and cook for a minute then crumble in the stock cube, add the milk and black pepper. Keep stirring till thickened, around 2-5 mins.
Add your cooked pie filling to the sauce along with the cheese, stir and transfer to an oven dish. Top with pastry, cut a small hole in the middle to allow steam to escape and brush the pie with the beaten egg or milk to glaze.
Bake at 200°C for 25 minutes until golden and puffed up.


Sunday: chicken curry
Succulent chicken pieces coated in a rich and mildly-spiced tomato curry sauce.
Serves 3 | Takes 30 minutes to make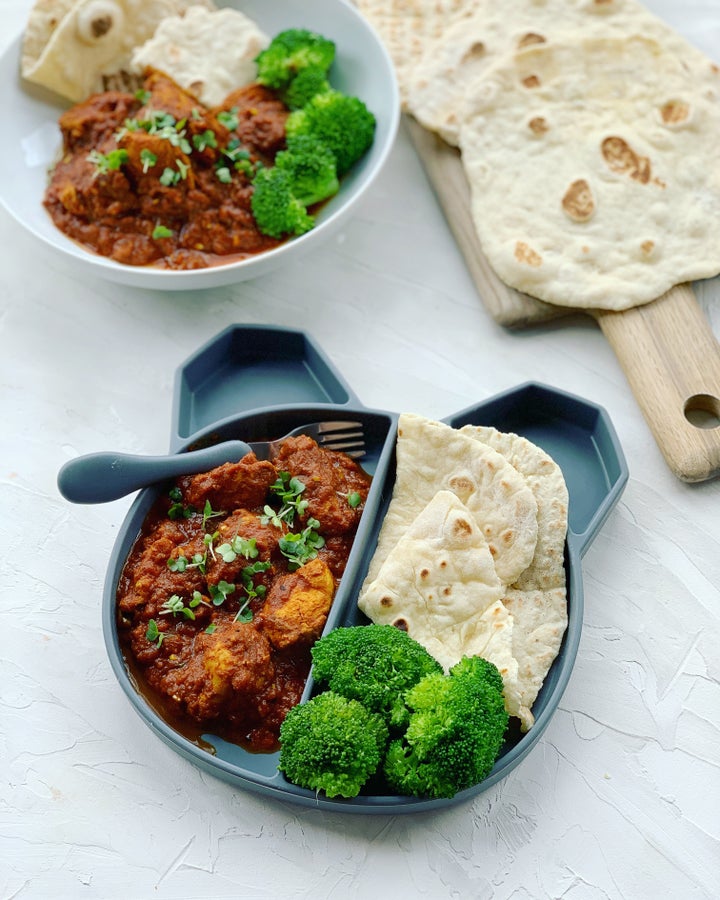 Ingredients
400-500g of diced chicken (thigh or breast)
400g tin or packet of tomatoes (chopped or passata)
1 large white onion, grated to form a paste
1 tbsp of sunflower oil
3 garlic cloves, crushed
2 tsp mild garam masala
1 tsp turmeric
Half a tsp ground coriander
1 tsp smoked paprika
Good grinding of black pepper
Method
In a large saucepan, brown the chicken pieces briefly in half the oil, on a high heat, so they take on colour but don't cook through. Set aside.
Add the remaining oil and cook the onion on a medium high heat for 4/5 minutes. Add a splash of water to stop them catching.
Take the pan off the heat while you add the garlic and spices, then return to the heat and cook for a further minute. Stir continuously to avoid the spices burning.
Add the tomatoes, stir and bring to the boil. Add the chicken to the sauce, lid on let it reduce down.
After 10 minutes, fill the empty tomato juice in the tin. Add to the curry, stir and reduce the heat to simmer and put the lid back on. Cook for a further 10-15 minutes while you cook some flatbreads or rice to go on the side. Serve with fresh coriander (optional).
Suitable from six months old. Freezable for up to three months.