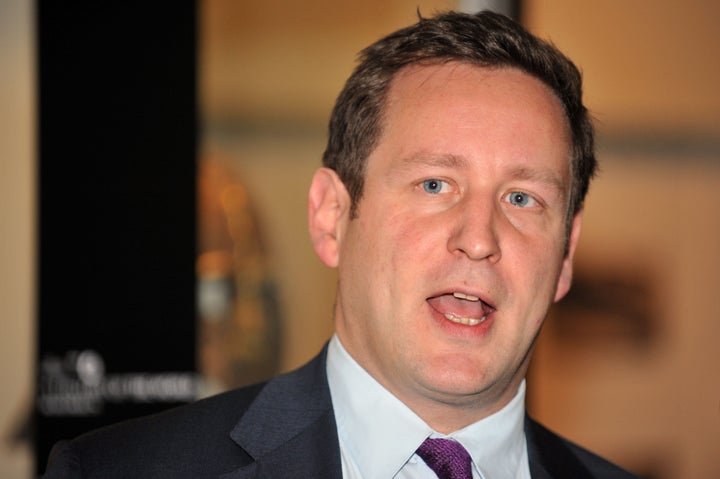 Former Tory Culture Minister Ed Vaizey revealed he is seriously considering running for London Mayor – and joked he would "thump" Labour's Sadiq Khan in any election.
Vaizey, sacked by Theresa May when she took over as Prime Minister in 2016, has long been rumoured to be eyeing up standing in the 2020 Mayoral Race as the Tory candidate against Khan.
The outspoken Remainer, who has been critical of the Government's Brexit strategy, told an audience in London on Wednesday night he was thinking about putting his name forward for the race for City Hall.
Speaking at a Brexit and the Creative Industries debate organised by Econ Films near Covent Garden, Vaizey – seen as leading figure in the liberal Conservative wing of the party – praised Khan for his attempts to keep London "open" after Brexit and his defence of the creative industries.
Vaizey said: "Should I say I like Sadiq Khan? Am I allowed to say that? I'm still thinking about running against him."
He added: "I will obviously thump Sadiq in an election if I choose to stand. When I win, I will continue Sadiq's work."
When pressed by BBC Daily Politics presenter Jo Coburn, who was chairing the event, if he was going to stand, Vaizey tried to backtrack, saying: "I'm far too lazy to campaign. I'm so lazy. There's a reason my surname is Vaizey."
Asked again, he said: "No I probably won't. I don't know. Will do a show of hands, should I run?"
After some members of the audience called for Vaizey to put his name forward, Coburn asked him when he was going to make a final decision on the matter: "You need get a, what's it called, a PAC, a Political Action Committee together, you've got to get all that worked out."
During the debate, Vaizey took issue with two Leave voting hecklers in the audience, saying: "What I want to convale against is this idea that somehow Remainers are this elite out of touch.
"There are 16million of us who voted Remain and 17million voted Leave, so the country is basically 50/50.
"How dare the Leavers talk down to us Remainers all the time."
He later added: "The trouble with these cake-and-eat-it Brexiteers is that they campaigned to get out of the European Union without actually telling us what the alternative was, so it was left to us as the Remainers, because the Brexiteers just say 'errr we can't decide what it's going to be.'
"We have to sort out your mess and decide what kind of Brexit we're going to get and every time we come forward with practical solutions you say: 'That's not what the British people voted for, that's not pure Brexit'.
"Frankly, you never told us what a pure Brexit was. What was your pure Brexit? You never told us."
The Tories lost control of City Hall in 2016, when Zac Goldsmith failed to follow the outgoing Tory mayor Boris Johnson into the capital's top job.
The Conservatives woes in the capital continued into the 2017 election, losing six seats and seeing its share of the vote fall by 1.7% from 2015 to 33.1%.
Labour have control of 49 of the 73 Greater London constituencies, and picked up 54.5% of the vote in 2017.
Robert Hayward said the Conservatives were in such trouble in the capital that Labour could get its highest ever vote share since its previous high in 1974.
Lord Hayward added the party's standing is so low in London it could be reduced to a 'rump' in a string of councils.
There are currently five boroughs in the capital where there is not a single Tory councillor and the number of 'wipeouts' could increase to eight.
Vaizey, 49, was elected to Parliament for the Oxfordshire seat of Wantage in 2005, and served as culture minister for six years from 2010.
He is part of the so-called 'Notting Hill' set of Tory modernisers, which includes Environment Secretary Michael Gove, former Prime Minister David Cameron and current Evening Standard editor George Osborne.