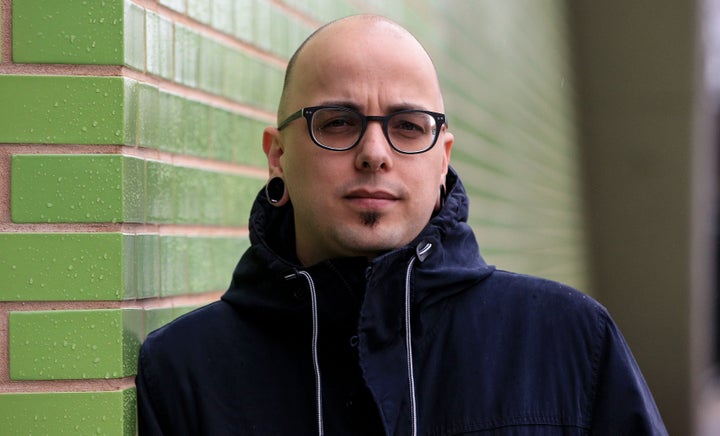 A rally held by far-right group English Defence League was dwarfed by Stand Up To Racism campaigners holding a counter-demonstration in Manchester.
Two arrests were made at the protest on Saturday, which saw police officers from Cheshire, Merseyside and North Wales attend to support local officers.
Some 150 counter-demonstrators turned up to outnumber the 50 EDL marchers who chanted to and from the city's Piccadilly train station.
Both groups heard speeches and were separated by lines of police and metal barriers on Saturday afternoon.
Images on social media show a small contingent of the Islamophobic group surrounded by police as they marched down a main road.
Dan Hett, whose brother Martin was killed in the Manchester Arena attack last year, criticised the EDL protest in a tweet that has gained around 25,000 likes.
Alongside a picture which clearly showed police high-visibility jackets outnumbering the tiny protest, he wrote: "This was the total attendance for the EDL's *national demo* today in Manchester, and I think I speak for everyone when I say: HAHAHA... *breathe* HAHAHA...".
He continued: "I am literally laughing in real life, they talk a big game but wow."
Hett, a creative technologist, earlier posted a statement accusing the protesters of "wasting valuable police time and resources".
He said: "Like so many other racist groups, the EDL proclaim to be somehow against extremism, but the truth is very clear: these groups use the actions of extremists like the one that committed the Manchester atrocity to justify their outright hatred of all muslims, all immigrants - thousands, millions of people - a huge part of our society and a vital part of the vibrant makeup of multicultural Manchester, or which I'm proud to be a part."
He signed off the statement with the words: "Reject the EDL, Reject racism. Reject fascism. Love Manchester.
Chief Superintendent Wasim Chaudhry of Greater Manchester Police, said of the march: "Today an EDL protest and counter-protest took place in Piccadilly Gardens in the city centre.
"In the lead up to this event, we worked closely with the organisers and our partners at Transport for Greater Manchester, Manchester City Council and British Transport Police to reduce impact on the public and minimise the risk or disorder.
″I am happy to say that the overwhelming majority of people who exercised their democratic right to protest have done so peacefully and the demonstration has passed with little disruption.
"There have been two arrests, which is not uncommon for an event of this size."
In an earlier statement, Chaudhry said: "I would like to emphasise that hate crimes will not be tolerated, anyone seen to be breaking the law will be dealt with accordingly."