The head of Egypt's forensics authority has dismissed claims an explosion caused the EgyptAir crash, saying suggestions at this stage of the investigation are "mere assumptions".
The unnamed official is part of the Egyptian team investigating the crash and had personally examined remains at a Cairo morgue. The claim was made based on the size of the 80 pieces processed.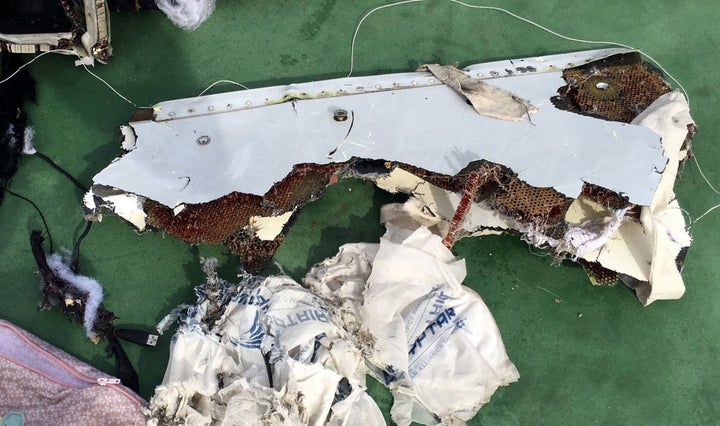 "There isn't even a whole body part, like an arm or a head," said the official, adding that one piece was the left part of a head.
"But I cannot say what caused the blast," he added.
However, Hisham Abdelhamid, head of Egypt's forensics authority, said that basing the explosion theory on the size of the remains recovered was "mere assumptions", Reuters reported. Abdelhamid said it was too early to draw conclusions.
At least two other sources with direct knowledge of the investigation also said it would be premature to say what caused EgyptAir flight 804 to plunge into the sea.
The plane and its black box recorders, which could explain what brought down the Paris-Cairo flight as it entered Egyptian air space, are yet to be located.
French investigators have said the plane sent a series of warnings indicating that smoke had been detected on board as well as other possible computer faults shortly before it disappeared on Thursday.
The signals did not indicate what may have caused the smoke, and aviation experts have said that neither deliberate sabotage nor a technical fault could be ruled out.
Political activists who worked at Cairo Airport were said to be behind the graffiti, written on the underside of the jet about two years ago.
Others also wrote "murderer" and "traitor" in messages directed at Egypt's president Abdel Fattah el-Sisi, The New York Times revealed following interviews with three separate EgyptAir security officials.
On Monday it was claimed that the pilot did make a distress call in the moments before the aircraft plunged into the sea.
That directly contradicted official accounts of the crash by the investigating authorities, which state no such call was made.
The Airbus A320 was en-route from Charles de Gaulle airport in France to Cairo, when contact was lost around 12:45am about 10 miles into Egyptian airspace.
Experts believe the crash was most likely the result of a terrorist attack.
Briton Richard Osman, a father-of-two originally from Wales, is among 56 passenger and 10 crew thought to have died in the crash.
The head of the Egyptian investigation team, Ayman al-Moqadem, said on Sunday that it will take four weeks for information to be compiled and published as pictures of recovered debris began to circulate.