A husband and wife have set up a trash to treasure business that prevents waste materials from going to landfill by giving them a second life as luxury accessories.
Elvis & Kresse began in 2005, when Kresse - who had previously worked for a start-up producing biodegradable packaging - had a chance meeting with the London Fire Brigade.
The entrepreneur discovered that the 22-metre-long fire hoses used by the emergency services are sent to landfill once they are damaged: "I felt there had to be a better life for it."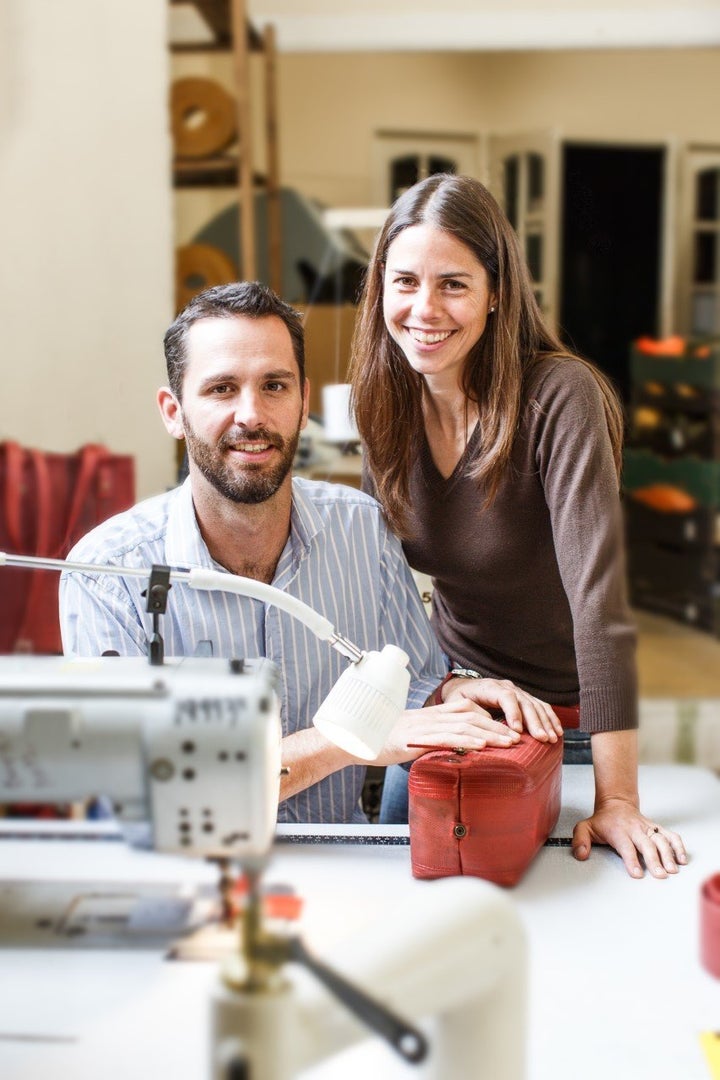 Instead of accepting that the product had served its full purpose, Kresse took it home to her husband Elvis, who previously worked as a company director, and now works as a designer.
"I had this intrinsic belief that he could help me transform it."
After lots of trial and error (from the bedroom of the house they shared with other people), the pair decided that there was space in the fashion industry for a product that could help tackle wastage while also promoting sustainability.
It is something they feel big businesses aren't doing enough about.
"You have sustainability divorced from the people who are marketing it," said Kresse, "unless this is lead by designers and marketers, it isn't going to work. It is the responsibility of these brands to really promote their sustainable lines, to promote it as their signature piece, as their top seller, as their campaign front, rather than other things.
"Customers will inevitably buy what is available to them, and right now that is on a spectrum of good, bad and ugly. And we want that to be only good. Just with battery eggs; if you're cooking scrambled eggs and you think about those battery farms you can't eat those eggs. "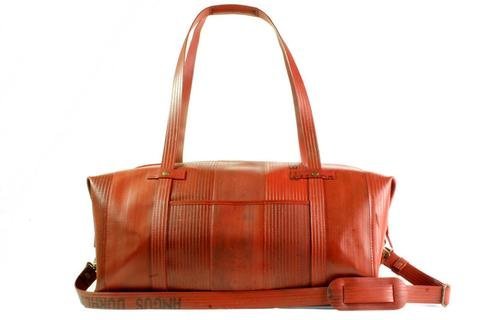 But it wasn't just sustainability and ethical production they wanted ingrained in the core DNA of the business, they are tackli other issues as well.
Kresse said: "The world is in a bizarre and devastating state. And there is no room for new businesses that aren't addressing problems. Problems of waste and unemployment, especially youth unemployment."
Elvis & Kresse run an apprenticeship program for young people in their Kent workshop that pays above the living wage: "It is important to us to run a business as the hope the world would be."
They also donate 50% of their profits to the Fire Fighter's Charity: "I describe the money as the WD40 – the grease in the wheels – that allows you to do better things. It isn't the end. I don't know, at what point, what happen to civilization that made it so money was the end goal for everyone."
Kresse encourages her conscious consumers to shop on websites such as Ebay and Gumtree, and to follow in the footsteps of our grandparents and up-cycle as much as possible.
Ultimately, they believe that by bringing their product into the fashion industry they are helping to change the landscape and encourage conversation around sustainability: "I genuinely believe that once we engage people they will change the decisions they make in the future.
"People have higher expectations and we want them to share that with their friends and family."
This September The Huffington Post UK Style is focusing on all things sustainable, for the second year running. Our thirst for fast fashion is dramatically impacting the environment and the lives of thousands of workers in a negative way. Our aim is to raise awareness of this zeitgeist issue and champion brands and people working to make the fashion industry a more ethical place.
We'll be sharing stories and blogs with the hashtag #SustainableFashion and we'd like you to do the same. If you'd like to use our blogging platform to share your story, email ukblogteam@huffingtonpost.com.