Labour's shadow foreign secretary was yesterday morning unable to name Jean-Marc Ayrault. Thornberry angrily accused the presenter of "pub quizzing" her in a way he would not have done if she were a man.
Thornberry later told BBC Radio 4's Westminster Hour she felt she had to "fight so hard" to prove she had the right to be taken seriously by Murnaghan whenever she appeared on his Sunday morning politics programme.
"I had been given every indication it was going to be a serious interview," she said.
"I am sure I should know the names of the foreign secretaries of all 196 countries - by I don't."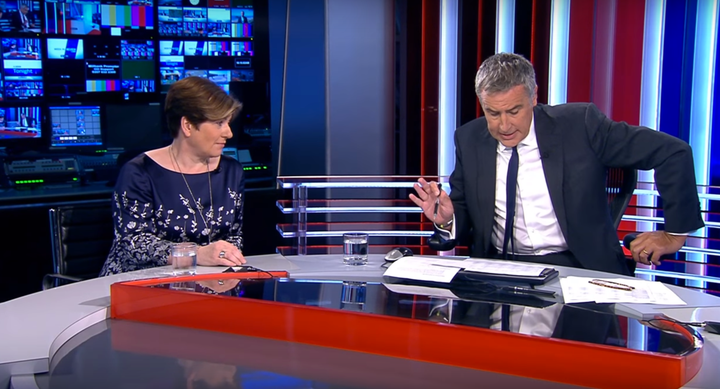 Thornberry said: "Demot and I, I have to admit, have a bit of history. When I was first made shadow defence secretary I remember getting loads of questions about 'what do you know about defence, you know nothing about defence', questions I have to say were never asked of [Conservative defence secretary] Michael Fallon.
"Then I would go onto Murnaghan and he would asking me about 'what's Defcon 4' and it was as if I was kind of needing to get permission to be heard."
She added: "I don't think those are the sort of question that have been asked of Boris Johnson, or David Davis, or Liam Fox."
"It's as if I have to fight hard to be taken seriously, answering questions which would never be asked of my male opponents because it's assumed that they would know."
During her interview on Sunday morning, Thornberry claimed there was more to be done on society on a range of issues, including sexism.
"Sometimes when it comes to sexism, some Sky presenters need to look at themselves too," she said, and then added: "It really upsets me that every time I come on here you do another pub quiz with me because you do not do it with anybody else and I do think it's patronising."
After Murnaghan said he was only asking questions related to her brief as shadow foreign secretary, Thornberry replied: "Let's take this off air because I've got a lot to say to you and I don't think a lot of it ought to be broadcast."
Also appearing on Radio 4 last night, Ed Miliband's former communications director, said quick fire questions were "the lowest form of journalism".