The 'La La Land' star was clearly overwhelmed by her win, and the fact there was an autocue machine counting down how long she had left for her speech didn't exactly help matters:
"I forgot everything that I ever have thought in my life," she told the A-list audience, before thanking the film's director, Damien Chazelle, for "this opportunity and for creating such a collaborative and beautiful atmosphere on set, we felt so heard by you".
"Ryan [Gosling], you're the best, that's just the truth. No-one can argue it," she continued, before taking time to praise her fellow Best Actress nominees, who included Meryl Streep and Natalie Portman, adding: "I was just going to say that I feel insecure a lot of the time, genuinely, and feeling like I could deserve any of this requires a bit of mental gymnastics for me.
"To get to be a part, even a tiny, tiny part, of a group of people that cares about reflecting society and bringing people joy and making them laugh and giving people hope, maybe, or, God, I know I have to wrap up, I feel like i'm going to faint."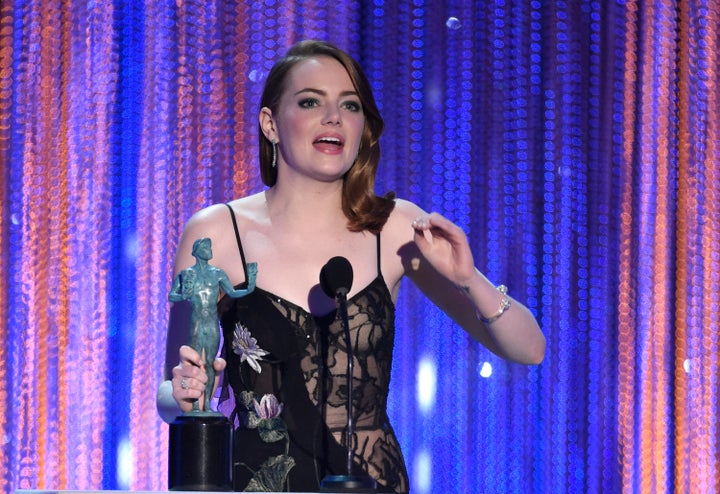 Emma then turned her attention to the political landscape, concluding: "We're in a really tricky time in the world, in our country, and things are very inexcusable and scary and need action and I'm so grateful to be part of a group of people that cares and wants to reflect things back to society so thank you.
"I said that twice, I'm sorry. Thank you goodbye."
Despite Emma's victory, the big wins of the night were made by 'Hidden Figures', which scooped the highest honour of Outstanding Performance By An Ensemble In A Motion Picture.
Ryan Gosling also missed out, as Denzel Washington took the Best Actor accolade for 'Fences', and his co-star Viola Davis scooped the Best Supporting Actress prize.