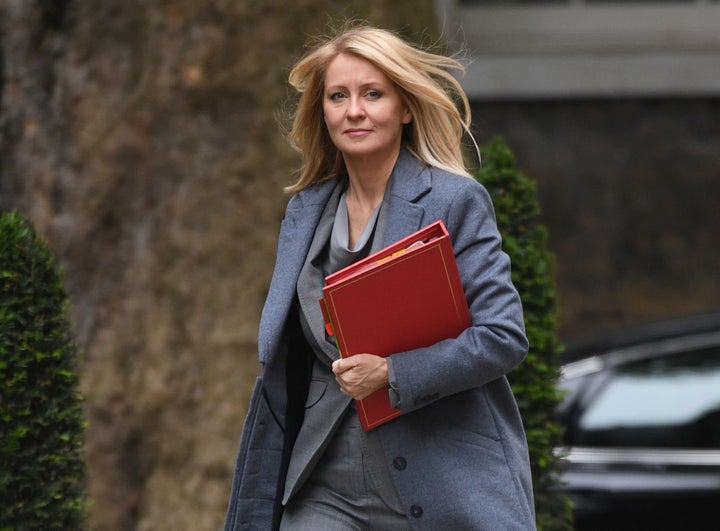 Work and Pensions Secretary Esther McVey has admitted "some people will be worse-off" under the Government's controversial Universal Credit benefits programme, as pressure mounted on ministers to halt its roll-out.
McVey was asked on BBC Radio 4's World At One about an estimate that three million people will be about to lose out on £1,800 a year due to the move to UC.
"I have said we made tough decisions and some people will be worse-off," the Secretary of State said.
She added: "What we did as a country was make decisions because we wanted to make sure work paid.
"If these people can work, what they will be losing is benefits, but what they have got now is work. Work will be paying, their wage will be increasing so they will be in work, which is what I think is lost in this sort of discussion."
Her comments come after Sir John Major warned the system could end up as Theresa May's "poll tax" as senior Tories made clear their unease with the reform.
In response, No.10 Downing Street stressed that the PM was "listening" to claims that millions of people could end up losing up to £2,400 a year once they take up the new benefit.
Margaret Greenwood, Labour's Shadow Work and Pensions Secretary, responding to Esther McVey admitting that people will be worse off under Universal Credit, said:

"Now that Esther McVey has admitted that people will be worse off under Universal Credit, this Conservative Government has no excuse for pushing ahead with their shameful programme.
"This exposes Number 10's claim this week that no family will receive less money under Universal Credit as fiction. The evidence shows that millions of people will be worse off.
"The Government must stop the rollout now before millions of families are plunged into poverty and put at risk of homelessness."
McVey also declined to comment on reports that she had told Cabinet colleagues that some claimants could lose £2,400 a year as a result of the introduction of Universal Credit.
Asked whether she had made this warning privately to colleagues, McVey said: "I won't say what I said in Cabinet.
"I had a very open conversation with my colleagues about how to support people."
Meanwhile, the architect of the new system, former work and pensions secretary Iain Duncan Smith, said an additional £2 billion must be pumped into UC to make it operate as planned.
And Labour leader Jeremy Corbyn said the system needed "dramatic" change to ensure that no-one loses out.
Universal Credit replaces a range of existing welfare payments, but has so far been applied only to new claimants or those with changed circumstances.
Conservative MP Nigel Mills urged ministers to slow down its introduction to millions of claimants of existing benefits until it has shown itself capable of making payments accurately and on time to those already receiving it.
"If you have any doubts that we can make it work for these volumes, let's slow down," the Amber Valley MP told BBC Radio 4's World At One.
"Let's not get this wrong for the sake of sticking to a timetable."
Mills is a member of the Commons Work and Pensions Committee, which announced on Thursday that it was launching an inquiry into the further roll-out of UC, amid what chairman Frank Field said were "widespread concerns about the approach the Government is taking".
Another Tory backbencher, Johnny Mercer said that UC was "politically undeliverable" in his Devon constituency, and called for a planned increase in income tax thresholds to be scrapped in order to make the benefit more generous.
"Stop the tax-free allowance rise and re-invest into UC, or I can't support it," said Mercer. "Not politically deliverable in Plymouth I'm afraid."