The post-Brexit spike in hate crime is linked to the referendum result and is likely the biggest surge of its kind ever, a senior police officer has said.
Mark Hamilton, who leads on hate crime for the National Police Chiefs' Council, said some people took the narrow vote to leave the EU "as a licence to behave in a racist or other discriminatory way".
There were 3,076 hate crimes reported in the week before and after the referendum, a 42% increase on the same period last year.
"We cannot divorce the country's reaction to the referendum and the increase in hate crime reporting," Hamilton told The Guardian. "I believe the referendum debate has led to an increase in reporting of hate crime.
"It is very clear in the last couple of weeks that more people have been aware of experiencing such incidents than we have had before."
Hamilton added: "It's probably the worst spike."
Hope Not Hate, a group that has campaigned against xenophobia and the Far Right, said the referendum "gave encouragement to people who already hate to hate even more" and does not reflect a rise in racist feeling.
A spokesperson said: "We cannot full into the trap of saying Britain is a more racist society. Britain is certainly a more polarised society than before the Referendum, that is certain.
Ironically, though, the organised far right is actually far weaker than ever before: groups such as the BNP and EDL have collapsed. In their wake have emerged some more nasty, virulent fringe organisations which have a far larger visibility on social media than their small numbers reflect in reality."
He added: "UKIP has soaked up some of the support that previously went to the BNP, whilst parts of the popular press and certain mainstream politicians have actually co-opted the kind of language that the BNP was using a decade ago.
"Those journalists and politicians should reflect hard on the tone they have been setting and the impact it has had on the nation."
Though the Leave campaign emphasised sovereignty as a reason to vote Leave, immigration was a motif of many's argument for Brexit.
Nigel Farage unveiled an infamous poster of a group of refugees attempting to enter the EU with the words "BREAKING POINT", a move that alienated and was condemned by fellow Leave campaigners such as Michael Gove, who said it made him "shudder".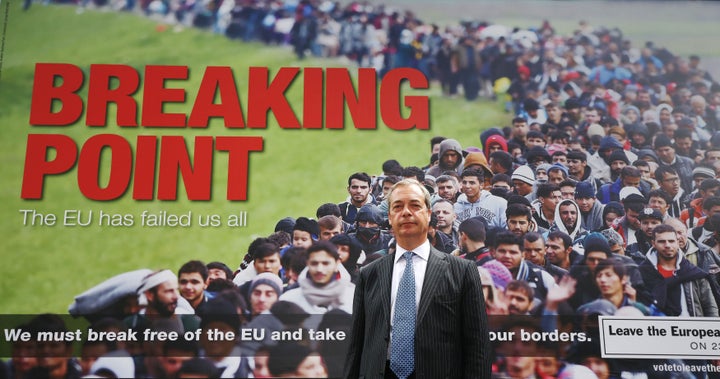 The most common type of offence is violence against the person, which is mainly harassment, common assault and other violence such as spitting or barging into people.
The second and third most common types of offence are public order offences and criminal damage.
Dr Paul Bagguley, from the Centre of Ethnicity and Racism Studies at Leeds University, told HuffPost UK that much of the hate crime was "celebratory" after the Leave vote.
He said: "It seems to be anybody who is different, anybody with a different accent, anybody from a different country, anybody who has a different religion … it's very general kind of xenophobia.
"I don't think we've quite seen that before. I think this is more a kind of celebratory racism. As if it's in celebration that white England has finally got something."
Speaking last week, Hamilton said the increase in reported hate crime was partly due to police forces monitoring it "most robustly" since the Paris terror attacks in November, 2015.
He said: "We now have a clear indication of the increases in the reporting of hate crime nationally and can see that there has been a sharp rise in recent weeks.
"This is unacceptable and it undermines the diversity and tolerance we should instead be celebrating.
"Forces have been monitoring and managing hate crime more robustly since the attacks in Paris in 2015. We believe that greater awareness and confidence in the police response has contributed to this increase in reporting."
He added: "Police forces across the country have heightened their response to hate crimes following these reports...
"Everyone has the right to feel safe and confident about who they are and should not be made to feel vulnerable or at risk."
Popular in the Community