Nine years ago I was in a university seminar with 10 other aspiring authors. We were all studying creative writing alongside our regular degrees at Lancaster. Each week, we'd write a short story and talk it through in class. Where did we get our inspiration from? How did we create our characters? What had we struggled with? We'd go round and read extracts of what we'd written and dissect them with each other. It could feel exposing but also thrilling.
One of the women in my seminar was Daisy Johnson, who happened to live in the flat next to mine in halls. Occasionally, we'd walk to lectures together, where Daisy would read out sections from her stories. And they were fascinating. Thought-out yet seemingly effortless.
I wanted to go into journalism, but Daisy just wanted to be an author. After university, I followed from afar (read: Twitter) as she went from a creative writing MA to seeing her first collection of short stories, FEN, published in 2016. Fast forward another two years and, walking into the office one afternoon, I saw Daisy's name on Sky News – she had become the youngest ever author to be shortlisted for the Man Booker Prize with her novel 'Everything Under'.
"I felt disbelief, a sort of panicked and wonderful joy, and nausea when I initially found out I had been shortlisted," Daisy, 28, tells me when we catch up on the good news. "I was babysitting, so we went to the park and ran around and climbed things, which seemed to help."
"It felt immense," she says. "It was not something I had even considered. It did not seem a possibility. I couldn't quite believe that this creature I had lived with and fought with for four years was doing well."
Two months later, Daisy discovered she had beaten 'The English Patient' author Michael Ondaatje and the hotly-tipped Sally Rooney to make the final six. Even now, she can't find the words: "That is not a great thing to happen to a writer, but it is true. I feel completely stunned and moved to speechlessness."
Headlines have highlighted Daisy's relative youth – both she and Rooney were 27 when long-listed – but ask what it means to her and she brings Val McDermid's comments to my attention, which stressed that age is irrelevant to Daisy's work. "I tried to read blind," said the author and Man Booker Prize judge. "It's the spirit of a novel, it doesn't have much to do with age."
"I couldn't believe this creature I had lived with and fought with for four years was doing well.""
"We are obsessed, as a society, with youth and I think that there are more interesting things about the shortlist," Daisy says. "I am young and I never imagined anything like this would happen at any age, let alone now, but I've also been writing for as long as I can remember. This is my second published book but it is perhaps the 10th book I have written."
'Everything Under' is an eerie reimagining of the Oedipus myth, set on the canals of Oxford. It tells the story of Gretel, who lived on a barge with her mother as a child but hasn't seen her since the age of 16 and now works as a lexicographer, updating dictionary entries. A phone call from the hospital interrupts Gretel's isolation and throws up questions from long ago.
Did Daisy have any idea her book would land so well? "Of course not!"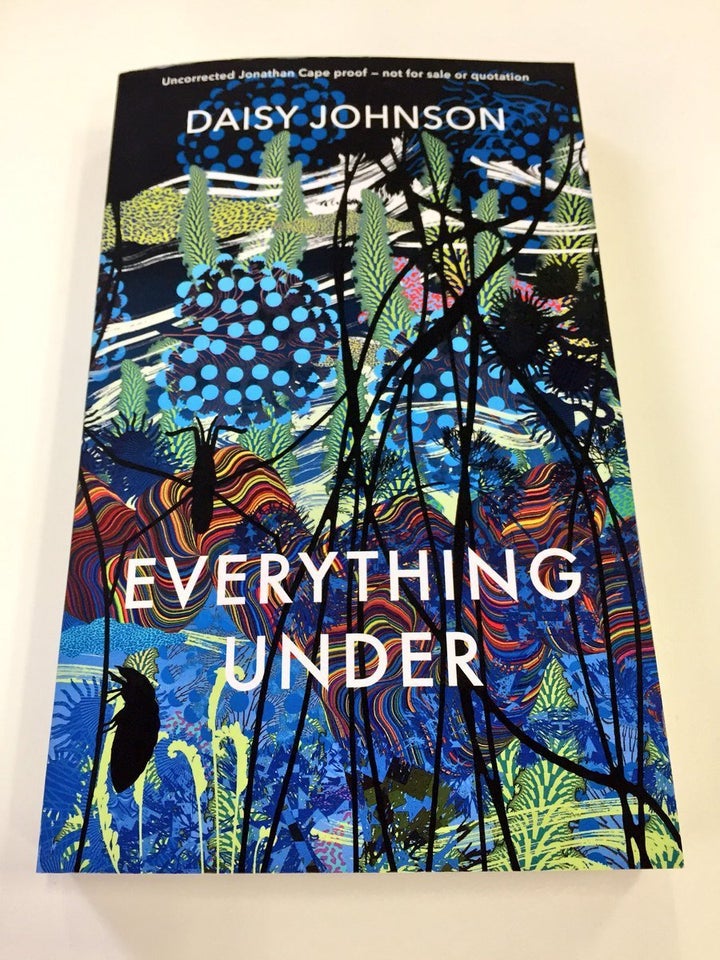 The story and its setting had been bubbling in the back of her mind since she finished her MA at Oxford. She studied the myth in drama at school and always loved it for its dark weirdness, with ideas of fate and family tangled up in it. But writing 'Everything Under' was by no means easy, taking four years.
"A book is a difficult, raging, sobbing, spitting child which you have to live with every day for years and the idea of finishing is nearly inconceivable," says the author. "The idea of the book heading out into the world and belonging to other people is terrifying.
"A book is a difficult, raging, sobbing, spitting child which you have to live with every day for years.""
"At times I loved 'Everything Under' and thought that other people might love it too, but mostly we wrestled and screamed at one another until something like a book emerged."
Ultimately, Daisy believes her book resonates with so many people because it's about things we have all experienced in some way: difficult families, the strangeness of memory, the impact of trauma. "I hope, also, that it is a good story, one which the reader can lose themselves in," she adds.
And she is well on the way to publishing another. She has her next novel – or an early draft of it – on the page. "And I'm already getting nightmares about it!"
Daisy Johnson's top three book recommendations:

1. 'White is for Witching' by Helen Oyeyemi

"This is one of the best haunted house books I've read. It is also the only one in which the haunted house actually has a voice within the narrative. A book about the buried (and not so buried) racism of the UK, the pull of our family and what it's like to be a teenage girl."

2. 'Freshwater' by Akwaeke Emezi

"Freshwater is not out until November but it is worth pre-ordering now and sitting by the postbox waiting for it. It's one of the best things I've read in the last five years. Emezi is entirely fearless in their portrayal of mental health and sexual coming-of-age. I struggle to find the words to describe the magnitude of this book but if it doesn't change the world then something has gone wrong."

3. 'All the Birds Singing' by Evie Wilde

"Wilde is one of those writers I know I will read and love whatever she writes. She does isolation and rural weirdness and women so well. Her books give the sense of falling towards something, inexplicably, unstoppable."
The winner of the Man Booker Prize 2018 will be announced on October 16.